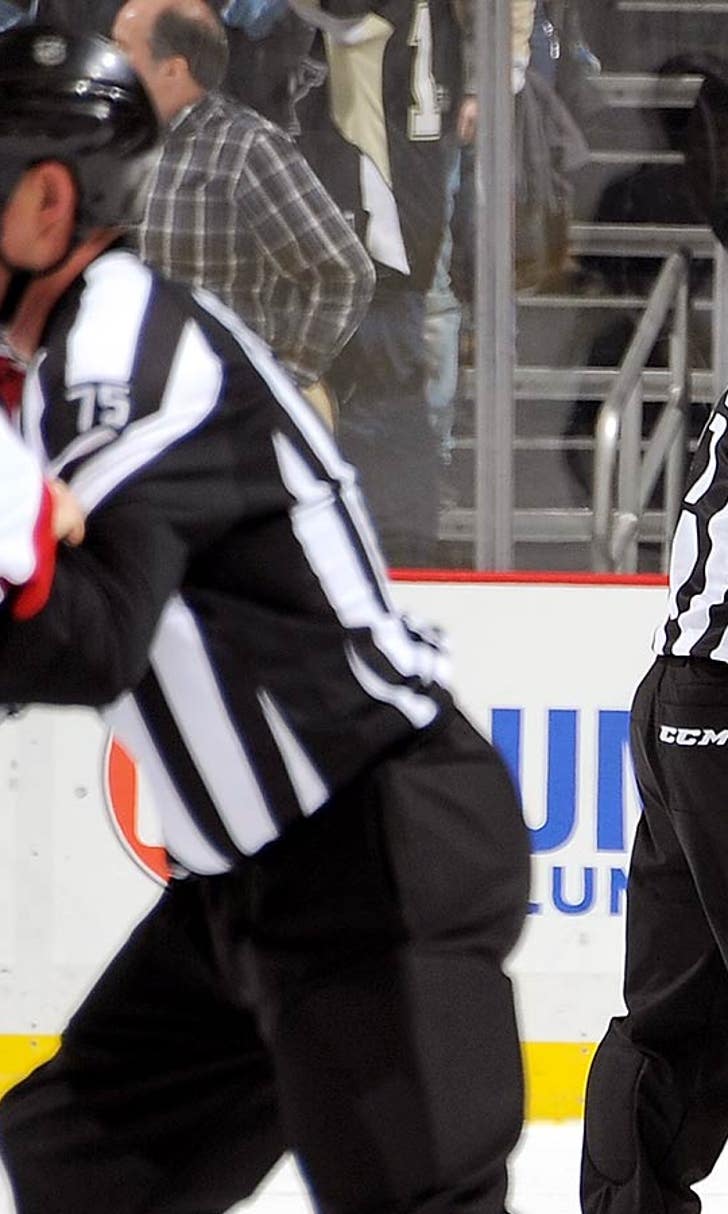 Jokinen scores twice as Penguins bounce back, crush Canadiens
BY foxsports • January 22, 2014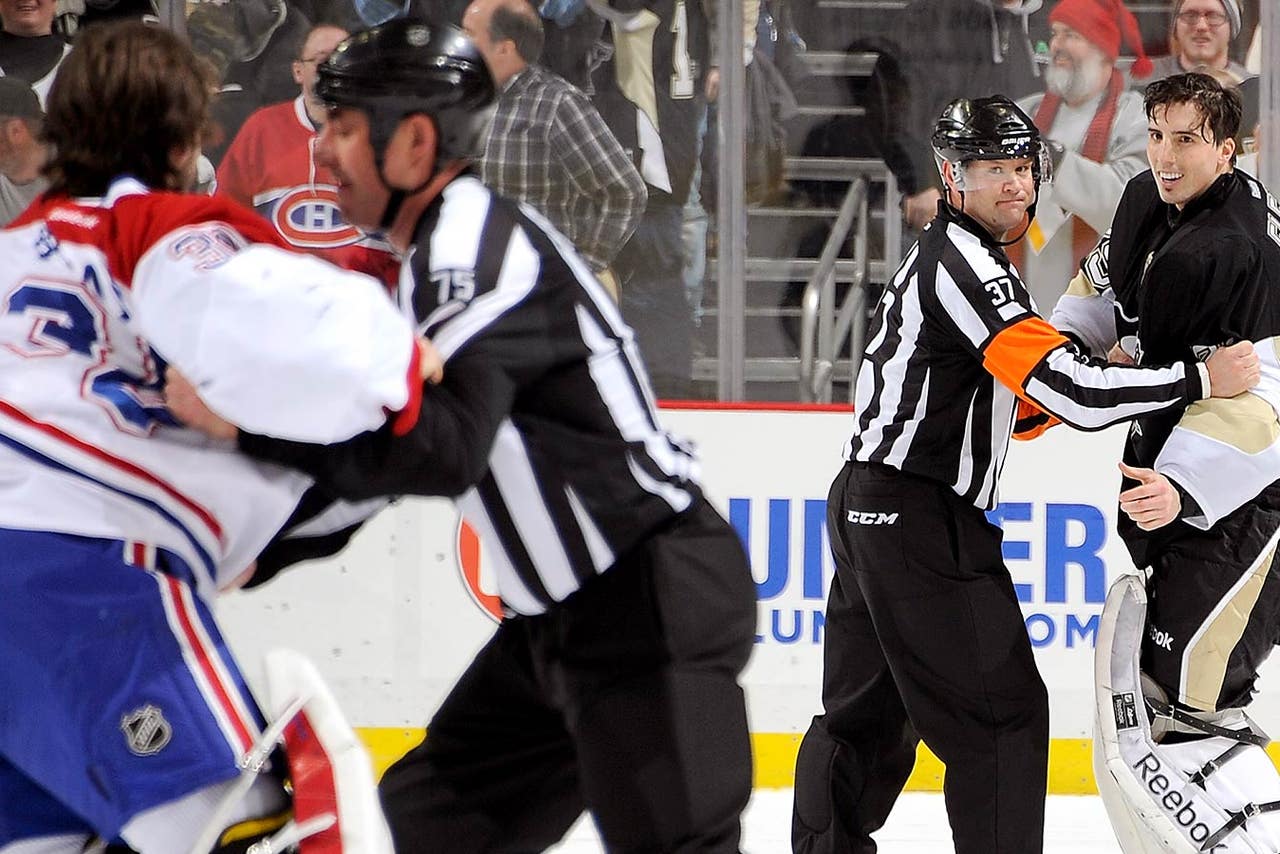 PITTSBURGH (AP)
Marc-Andre Fleury skated to center ice, eager to add an exclamation point to his 28th victory of the season.
The Pittsburgh goaltender was cut off, though, by referee Kyle Rehman before he could reach Montreal counterpart Peter Budaj. All Fleury could do was shrug his shoulders as Rehman guided him out of harm's way.
"Oh well," Fleury said with a laugh.
It was the only thing that didn't go Fleury's way on a night the Penguins restored order to their universe. Fleury stopped 23 shots, Jussi Jokinen picked up two goals and Pittsburgh dominated the Canadiens 5-1.
Evgeni Malkin added a goal and an assist, Sidney Crosby picked up his 26th of the season and Taylor Pyatt added a rare score as the Penguins rebounded from a dismal performance against lowly Florida on Monday by overwhelming Montreal.
"We definitely buckled down, especially defensively," Crosby said. "Didn't give them a ton and when we did (Fleury) made some great saves and we generated some good chances and capitalized on them. It was a good game to respond."
The Panthers snapped Pittsburgh's club-record 13-game home winning streak by outclassing the Eastern Conference leaders on both ends of the ice to send the Penguins to their worst home defeat in more than two years.
Coach Dan Bylsma called it the byproduct of a steady decline in play over the last three weeks and the rustiness that comes with the return of regulars like James Neal and Paul Martin to the lineup.
Whatever the problems were, they disappeared 48 hours later.
The Penguins were crisp in the neutral zone, responsible on defense and efficient on offense. They didn't pepper Price so much as they surgically picked him apart. All five goals were either the byproduct of deft passing or nifty stickwork.
Rene Bourque had his seventh goal for the Canadiens but Montreal spent most of the night fruitlessly chasing the Penguins. Carey Price stopped just 16 of 21 shots before being pulled late in the second period as the Canadians fell for the fourth time in six games.
"Pittsburgh is the best team in the conference, and they were the best team tonight," Montreal coach Michel Therrien said. "They played hard and they deserved success."
Jokinen, who tends to score in bunches, gave the Penguins the early lead after being on the receiving end of a bit of brilliance by Malkin. The Russian star took a pass from Matt Niskanen then darted around a flat-footed Montreal defender before feeding Jokinen with a centering pass that Jokinen easily slid by a diving Price 8:48 into the game.
"You can't let Malkin carry the puck like that up the ice," Bourque said. "It looked like he was playing a video game out there every time he went around us."
Pyatt doubled Pittsburgh's advantage later in the period, deflecting a Niskanen slapshot from the point to make it 2-0. After failing to score in his first 27 games this season — 22 with the New York Rangers and five with the Penguins — Pyatt has found the back of the net twice in three games.
Bourque briefly gave the Canadiens a lift by chipping the puck by Fleury late in the first, his seventh goal of the season coming via replay after his shot was initially waved off by officials.
The momentum shift didn't last. Jokinen fired a knuckling one-timer by Price 5:46 into the second period to restore Pittsburgh's two-goal lead and Crosby pushed his point total to an NHL-high 69 by redirecting a pass from Chris Kunitz that made it 4-1.
Malkin ended Price's night by swooping in from the right circle and putting in his own rebound. Price skated to the bench after being chased for the second time this season in favor of Budaj, who stopped all 10 shots he faced.
The saves will be long forgotten. The way Budaj nodded across the rink to Fleury to start a fight that never quite happened won't, though Budaj insisted it was nothing personal.
"I think there was just a scrum on the ice and there was built-up tension - you know, we were losing 5-1," Budaj said. "It was a disappointing night for us. So props to him that he wanted to do it. That's good."
NOTES: All six of Pittsburgh's defensemen had at least one assist. ... Penguins G Tomas Vokoun skated for about 45 minutes on his own Wednesday morning, the first tentative steps in his return from blood clots in his pelvis. The 37-year-old Vokoun was taken off blood thinners recently though it remains unclear when Vokoun will be cleared to practice. ... Montreal scratched F George Parros and D Raphael Diaz and Alexei Emelin. ... Pittsburgh scratched F Zach Sill and D Robert Bortuzzo. ... Pittsburgh plays at the New York Islanders on Thursday while the Canadiens play at Detroit on Friday.
---
---