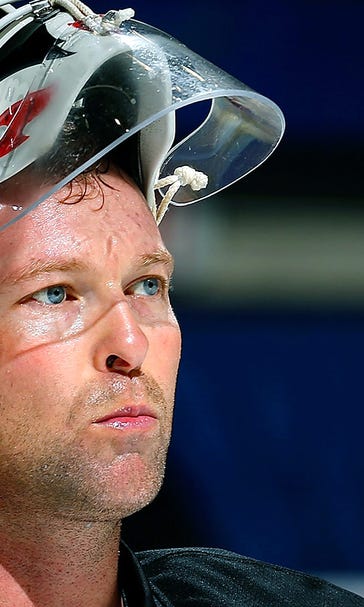 Is this (former) Devil due? Brodeur working out, still waiting for NHL call
BY foxsports • November 18, 2014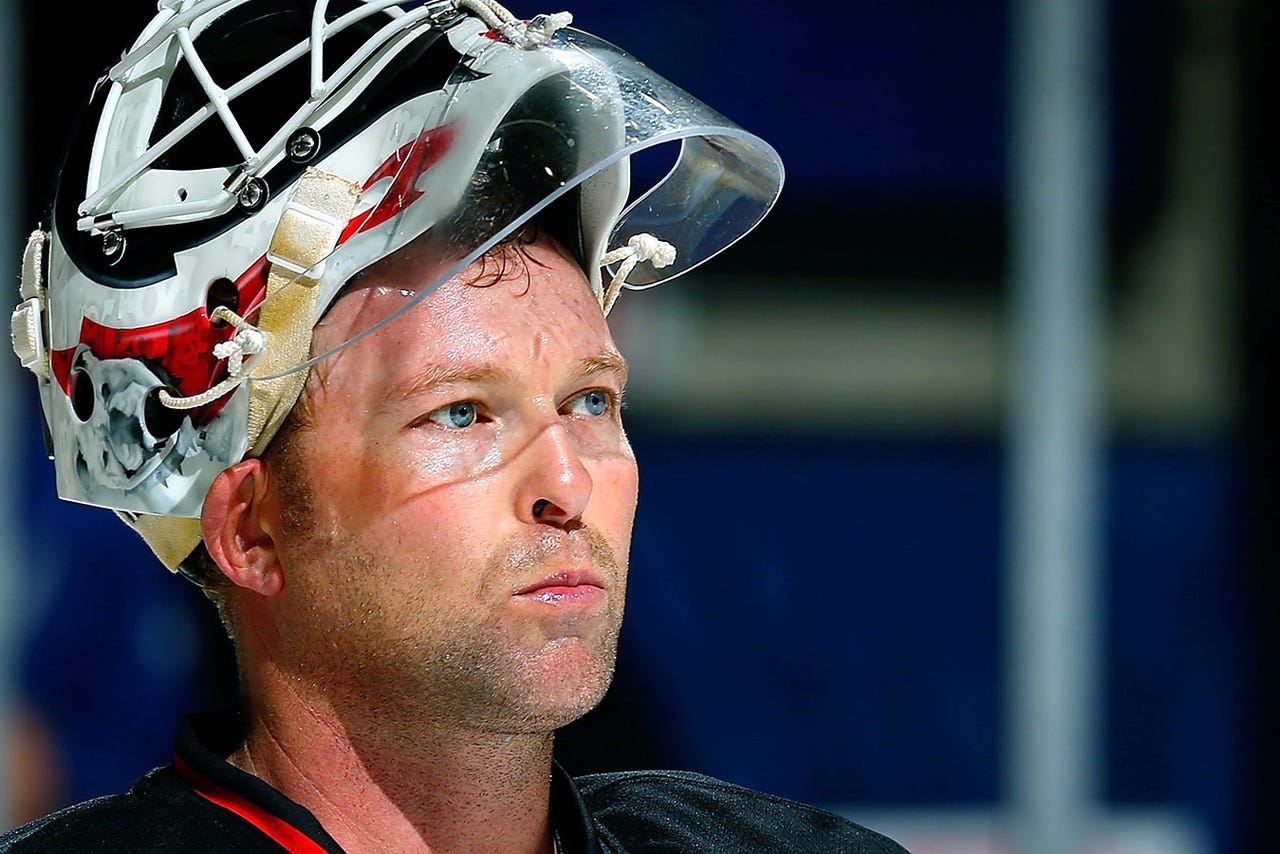 Martin Brodeur isn't burning up his phone trying to find a place to play. So while agent takes care of that business, the famed goaltender keeps working out and skating in hopes his NHL career isn't over.
More than a month into the season, Brodeur is 42 and without a job. But he hasn't given up.
"I don't want to cheat myself on any opportunities," Brodeur said Monday night before watching several greats get inducted into the Hockey Hall of Fame.
"I still have the fire, I'd like to play again, but it's understandable with the quality of goaltending around the league. The youth of the quality of goaltending is pretty tremendous. We'll see if my experience is valued to an organization or not," he said.
Brodeur is the all-time leader in wins (688) and shutouts (124) and won three Stanley Cups with the New Jersey Devils (1995, 2000 and 2003). He posted save percentages of .901 the past two seasons, split time with Cory Schneider his final year in New Jersey and wasn't re-signed by the Devils.
No team signed Brodeur on July 1 when free agency opened, and when he was asked how close he got to a contract, the Montreal native quipped: "Depends what you mean close. I'm still here, so it wasn't that close."
Brodeur conceded his wait for another opportunity was "getting a little long" but insisted he'll stay ready. In the meantime, he has been traveling, spending time with his children and watching games.
One thing Brodeur isn't interested in is playing for Canada at the upcoming Spengler Cup.
"That's not my goal ... to play around Christmastime in Switzerland, that's for sure," Brodeur said.
As for his NHL chances, Brodeur said the teams he could be interested in playing for and those who want him might be different. But the career starter is not going to be picky about being a starter again.
"I'm willing to play in any kind of role that would be offered to me to a certain extent, in the right fit and in the right market," Brodeur said. "For me, it's not about ego or anything. I just love to play the game, and I know I can help the team out somehow."
"I just want to try and get an opportunity. The role will be the role that will be assigned to me," he said.
It's hard to envision a perfect scenario for Brodeur. There already seems to be a surplus of goaltending, with the Minnesota Wild waiving Josh Harding and previous backups such as Jacob Markstrom, Dan Ellis, Kevin Poulin and Peter Budaj in the minors.
Schneider has started the first 18 games of the season for the Devils, who have alternated veteran Scott Clemmensen and rookie Keith Kinkaid as his backup.
Along with Brodeur, goaltenders Ilya Bryzgalov and Tomas Vokoun are without jobs and could be more attractive options because they're younger. Bryzgalov had a bit of a revitalization last year with the Wild and went to camp with them before getting released.
Brodeur never got that far, and it's difficult for him to stay in playing shape while getting ice time three or four times a week and practicing with a couple of shooters at a time.
"It depends, it depends the situation you're in," Brodeur said. "If you need a goalie tomorrow, that could be a tough one, but, hey, I'm willing to do it. It doesn't matter. I've done it before. I've came back from injury without playing for four or five months and jumped right in it."
Standing on the red carpet before the 2014 Hockey Hall of Fame induction ceremony, Brodeur didn't play into the talk about his own night potentially being a few years away.
"That's the greatest honor you can have as a hockey player is to be part of this," he said. "It's something that if it happens will be an awesome feeling."
Reminded that if he plays this year, it backs up his eligibility by a year, Brodeur smiled.
"That's all right," he said. "That's no big deal."
---
---