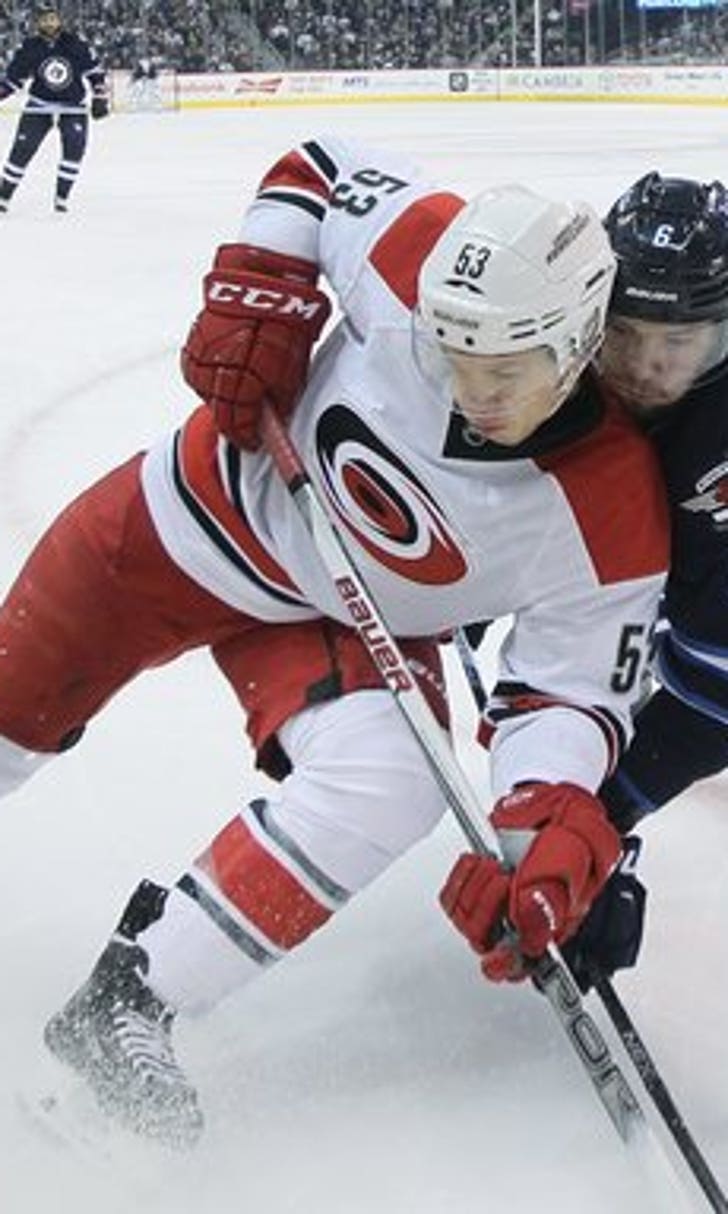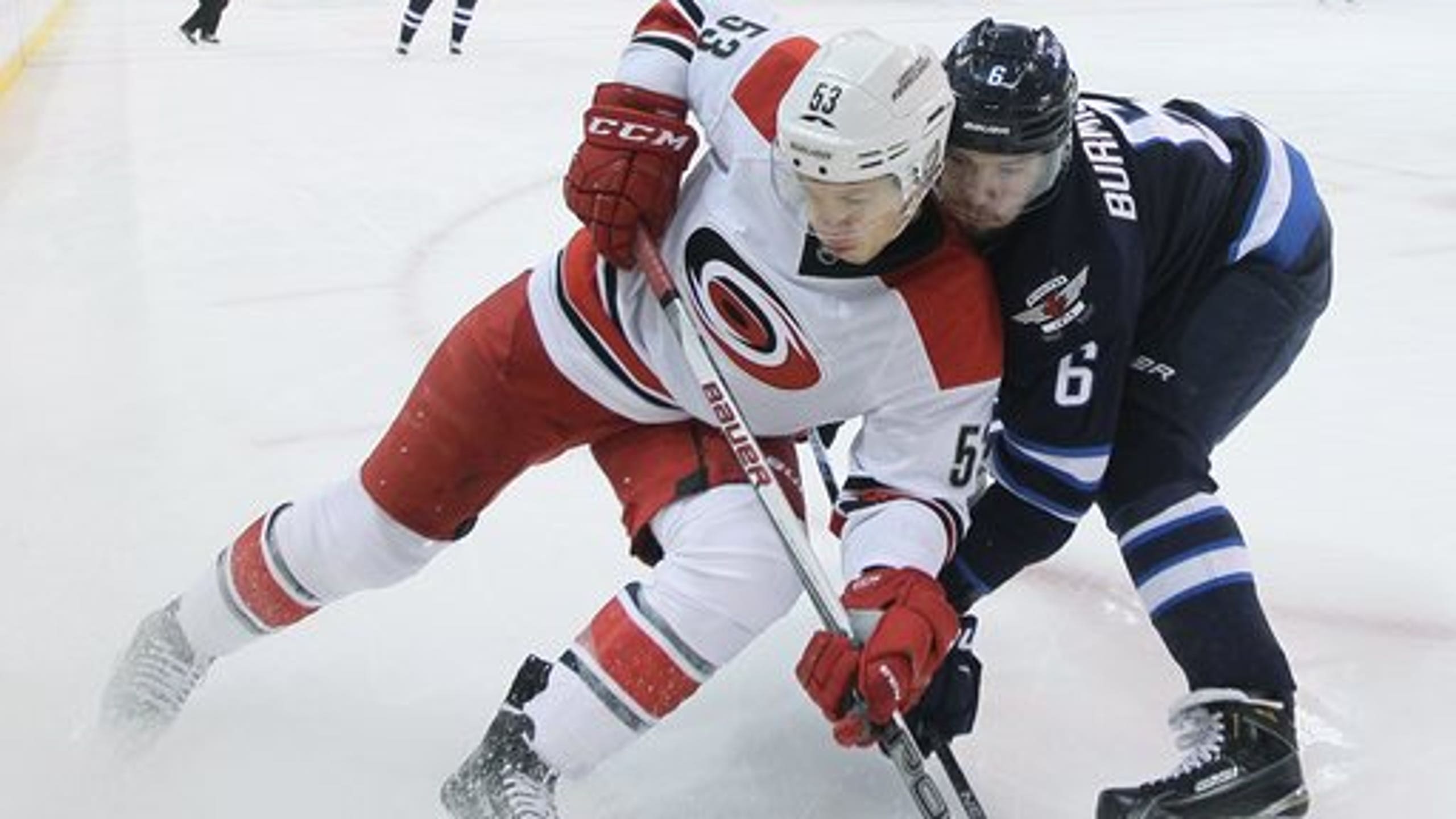 Hurricanes score 4 goals in first, hold on to beat Jets 5-3
BY foxsports • February 6, 2016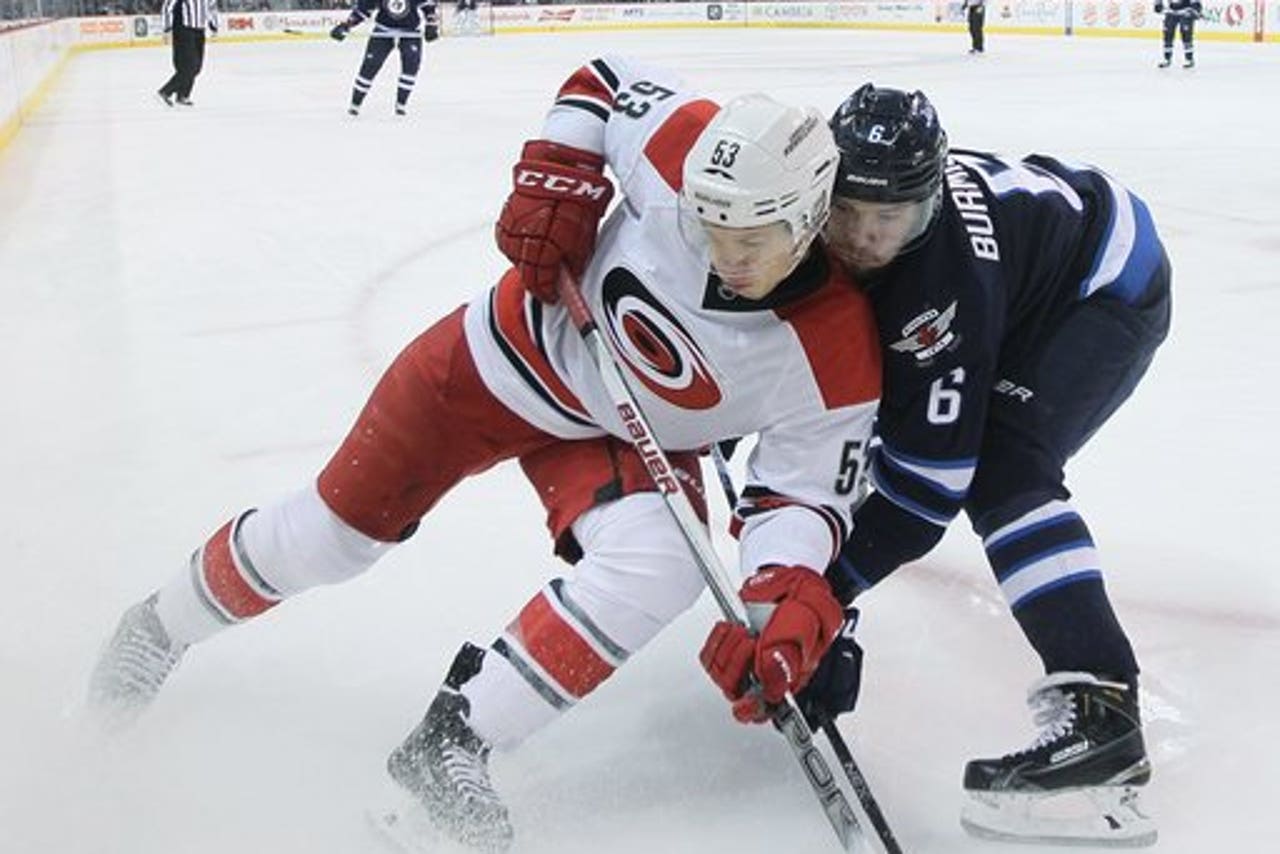 WINNIPEG, Manitoba (AP) Cam Ward was a bit nervous about getting back in net after missing six games with a concussion.
His Hurricanes teammates helped ease him back.
Phillip Di Giuseppe, Andrej Nestrasil, Jordan Staal and Justin Faulk scored in the first period, and Carolina held on for a 5-3 victory over the Winnipeg Jets on Friday night.
''Getting off to a 4-0 lead in the first period definitely helped relieve me,'' said Ward, who made 33 saves. ''I was a little anxious before.''
The Hurricanes scored four times on their first nine shots, taking a 4-0 lead just 10:04 into the game. Nestrasil added another goal in the third period. Staal and Joakim Nordstrom each had a pair of assists.
''I think we kind of caught them early and came out strong,'' Staal said. ''They're a good team, too, and they made a push back.''
Alexander Burmistrov, Andrew Ladd and Blake Wheeler scored for Winnipeg.
Jets coach Paul Maurice said his players responded in the right way after finding themselves down 4-0.
''When you are at that moment and things are awful and you're embarrassed by the way you're playing,'' he said, ''they handled it as best they could and did a hell of a job digging out of a hole.''
Jets rookie Connor Hellebuyck allowed three goals while facing only six shots before being replaced by Michael Hutchinson after Staal's power-play goal just 4:33 in. Hutchinson, who hadn't played since a 4-1 loss in Anaheim on Jan. 3, finished with 21 saves.
The loss wrapped up Winnipeg's season-high six-game homestand, which included just one victory.
''As a team, we just need to turn the page and get ready for (Saturday),'' Jets defenseman Jacob Trouba said. ''We don't have any time to really dwell on it and feel bad for ourselves.''
Carolina's first goal came after the Jets turned over the puck and Di Giuseppe scored on a sharp-angled shot at 1:43.
Hellebuyck then kicked out a bad rebound and Nestrasil tallied his 16th goal of the season in his 100th NHL game from almost the same angle at 3:05.
With Byfuglien in the penalty box for delay of game, Staal's shot beat Hellebuyck, ending the young goalie's night.
Faulk made it 4-0 when his team's third shot at Hutchinson went between his pads at 10:04.
The Jets came out at a faster, more aggressive pace to start the second period and it paid off with 1:25 remaining.
Andrew Copp and Chris Thorburn were battling a pair of Hurricanes behind the net when Thorburn poked the puck out front as he was falling and Burmistrov got his sixth goal of the season.
Ladd, who hit the post late in the second period, banged home a rebound with Hurricanes winger Jeff Skinner off for hooking at 9:07 of the third.
Byfuglien one-timed a pass from Nikolaj Ehlers that Wheeler deflected to make it 4-3 with 6:12 remaining.
Nestrasil sealed the win with his second goal at 18:40.
''Obviously we know how important a start is and it was an uphill battle all night tonight,'' Trouba said. ''To give yourself a chance in these games with these good teams, you can't really do that and spot them four goals to try to battle back from. But in the same breath, I thought we didn't give up, which is something we can be proud of.''
NOTES: Ehlers' assist extended his point streak to six games, with four goals and four assists. ... Winnipeg heads out for a two-game road trip starting in Colorado on Saturday. Carolina visits Montreal on Sunday.
---
---