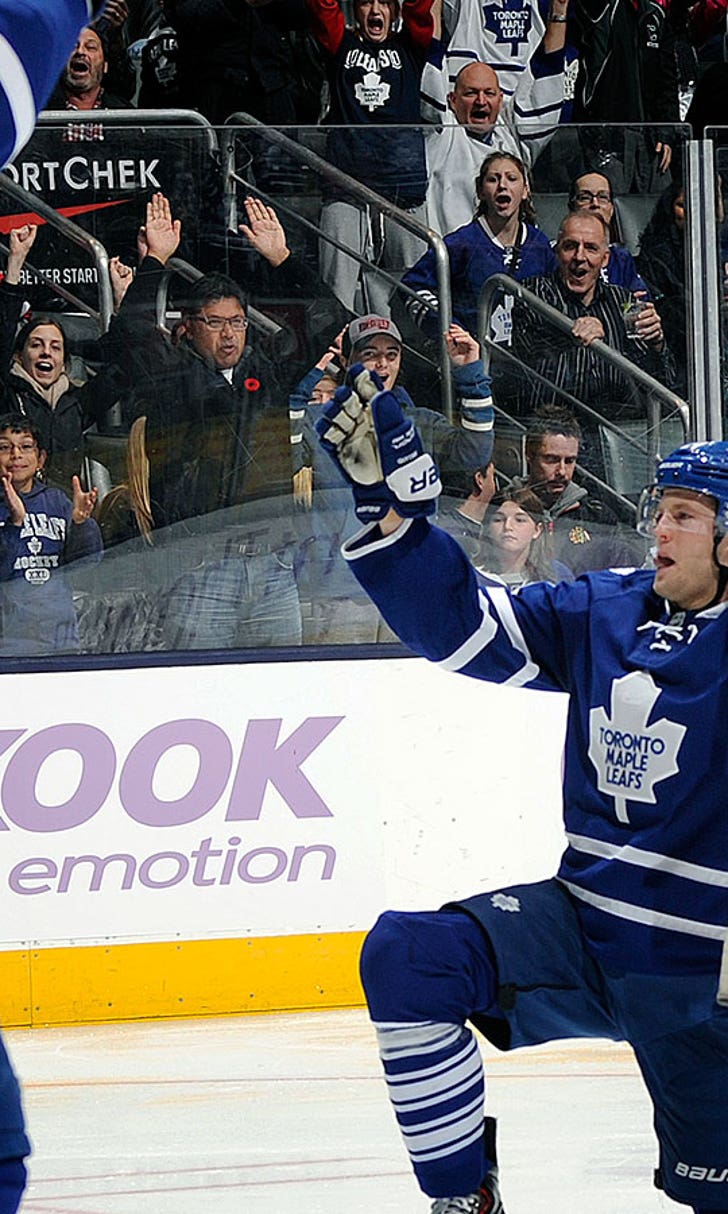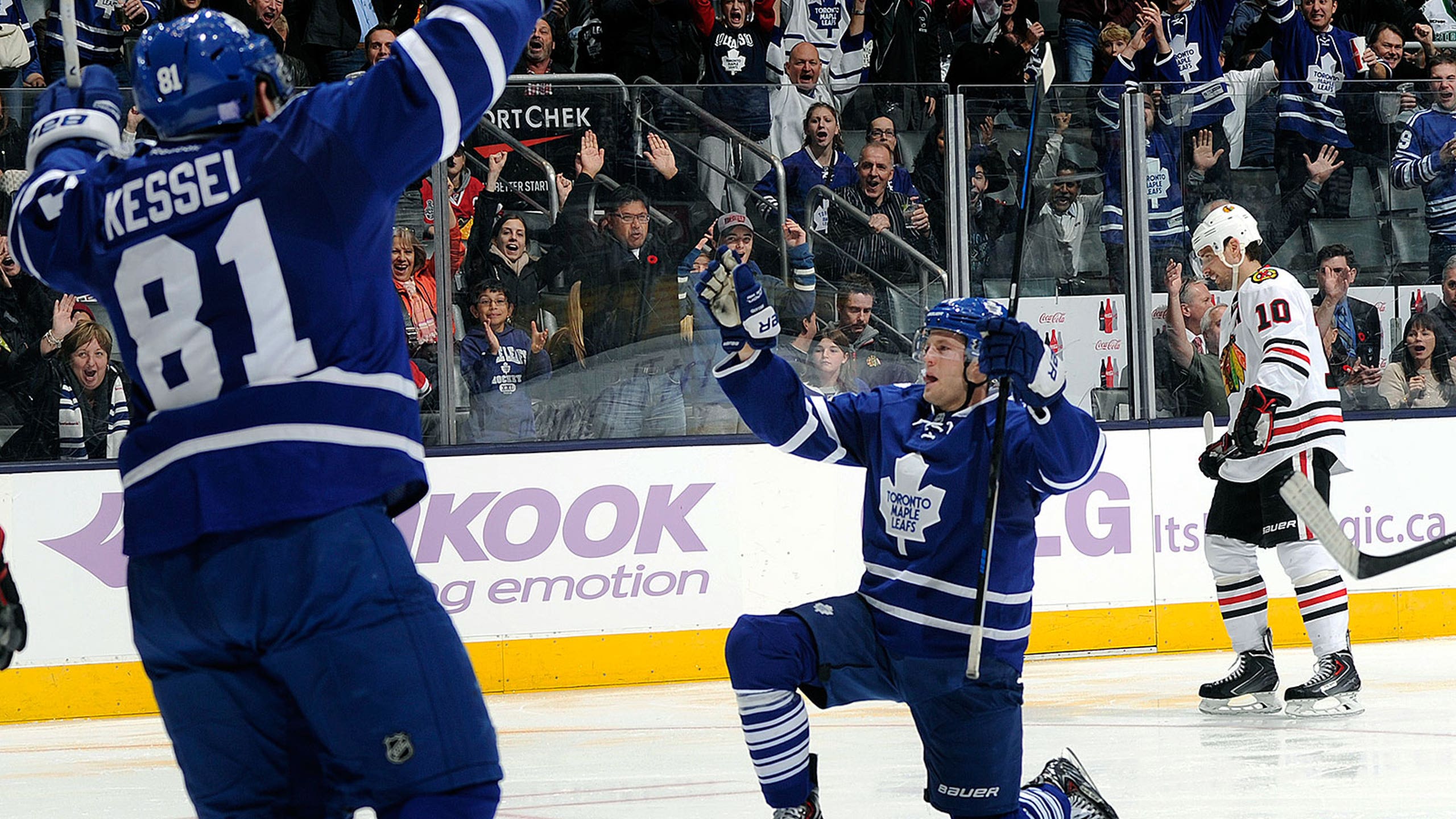 Holland nets game-winner as Maple Leafs edge Blackhawks
BY foxsports • November 1, 2014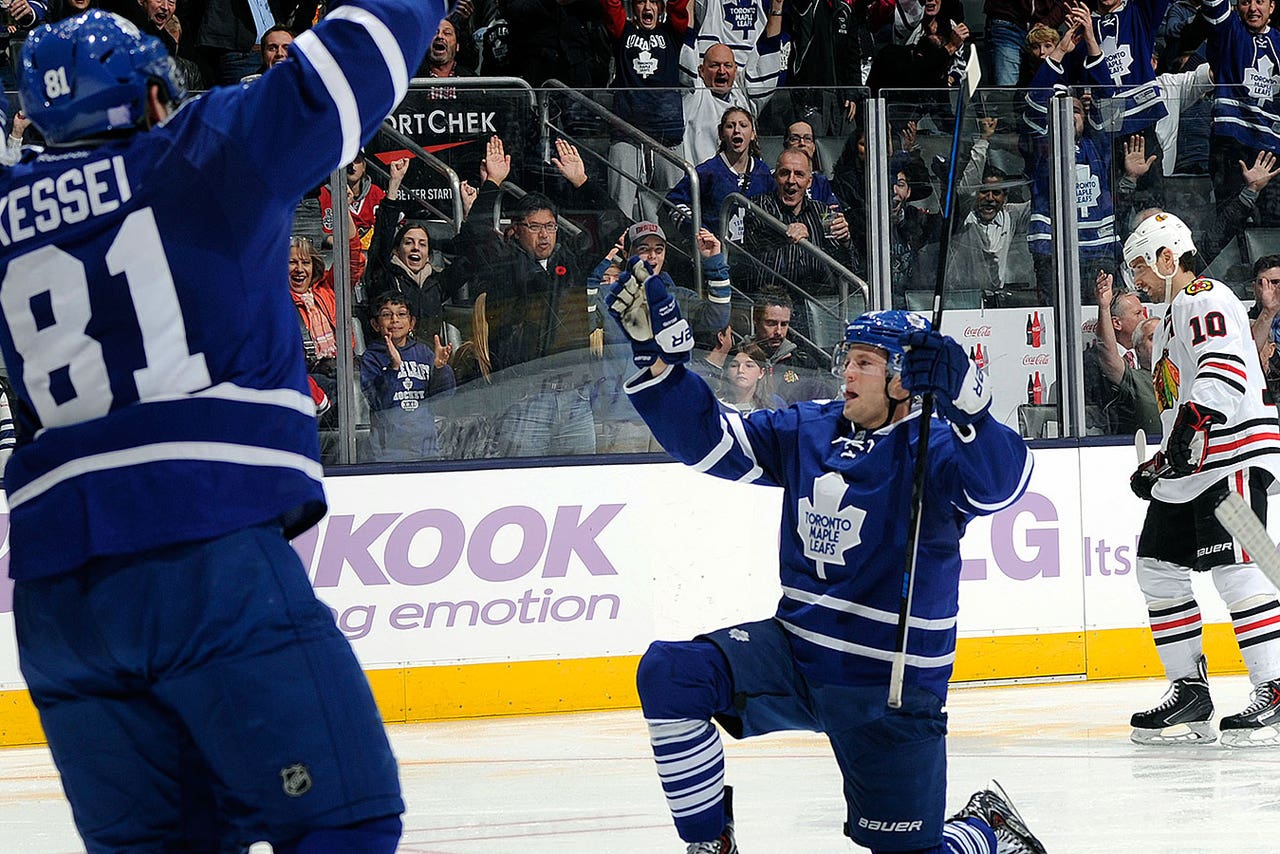 Usually able to block out crowd noise or ignore it, James Reimer heard the fans loud and clear. With 61 seconds left, they were chanting his name.
Reimer had 26 of his 45 saves in the third period, leading the Toronto Maple Leafs to an impressive 3-2 victory over the Chicago Blackhawks on Saturday night.
"He was first star, simple as that," coach Randy Carlyle said. "They had some point-blank chances and he stood tall to the task."
Peter Holland scored at 2:21 of the third period in Toronto's third consecutive win. Nazem Kadri and James van Riemsdyk also scored for the Leafs.
"We know they're obviously a powerhouse team in this league," Holland said. "You've got to give them a good game if you want to stay in it. I thought we got away from it in the third period a little bit, they started shelling our goalie, but he was there to back us up."
Reimer gave up a pair of power-play goals, one in each of the first two periods to Brad Richards and Brent Seabrook.
Seemingly at his best under siege in the third, Reimer made sprawling saves on the penalty kill at one point after a shot hit the crossbar.
"It's one of those things where obviously the tendency is to get really hyped up and try and work too hard or over-work," he said. "The thing is just to stay calm and stay in peace but still keep that competitiveness up to try and fight through the traffic."
After the game was fairly even for the first two periods, the Leafs were outshot 26-7 in the third. Chicago coach Joel Quenneville thought the third period was one of his team's best of the season so far.
"Had the chances, opportunities, missed a lot of tip shots, as well," Quenneville said. "You play like that you'll find a way to score goals."
In goaltender Corey Crawford's first start since Oct. 18 after being out with an upper-body injury, the Blackhawks lost for the fourth time in six games.
"You don't win, obviously there's cause for concern," winger Patrick Kane said. "Try to regroup here, we've got a big one tomorrow obviously going home playing Winnipeg, a division game, hopefully our fans give us a little bit of a boost and we can regroup."
While the Blackhawks return home to face the Jets, the Leafs will take a day off before travelling west for a two-game trip against Arizona and Colorado.
In addition to Reimer's performance, the Leafs got some timely offense. Van Riemsdyk's 100th career goal came in his first-ever game against brother Trevor, a rookie defenseman for the Blackhawks.
Holland's goal was his first of the season but fourth in four career games against Chicago.
"I seem to be a bit of a Blackhawk killer," Holland said. "I don't know. Just try and elevate your game against good teams."
NOTES: Carlyle said before the game that Joffrey Lupul will miss three weeks with a broken bone in his right hand. Lupul's injured hand will remain in a cast for at least 10 days before he can put a glove on it again. ... Blackhawks defenseman Niklas Hjalmarsson took a puck to the face in the second period. Hjalmarsson was cut just below his left eye and left the ice. Hjalmarsson returned at the start of the third period wearing a visor. ... "O Canada" was performed by 19-year-old Carley Allison, a survivor of trachea cancer who is battling double lung cancer. ... During the second period, PA announcer Andy Frost offered the team's well-wishes to Gordie Howe, who's recovering from a serious stroke. Arena videoboards featured the message: "Stay Strong Mr. Hockey."
---
---