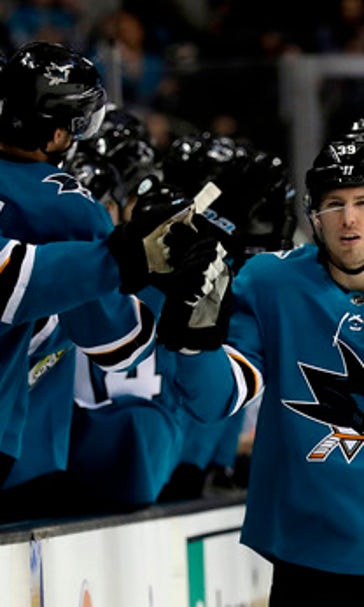 Healthy Couture key for Sharks heading into playoffs
April 10, 2018
SAN JOSE, Calif. (AP) Even the simplest of tasks like breathing and eating were painstakingly difficult for Logan Couture heading into the playoffs a year ago.
An errant puck had shattered his face and the injuries hampered Couture during San Jose's first-round loss to Edmonton. They weren't fully healed until the summer. The Sharks are counting heavily on a now healthy Couture to anchor a long playoff run this year starting Thursday night in Game 1 of their first-round series at Anaheim.
''It was tough,'' Couture said about playing through the injury a year ago. ''It was very difficult. I went from playing to not knowing if I would be playing in the playoffs. The injury, it affected my life more than hockey. It was difficult just waking up and dealing with day to day stuff. But I'm happy, happy to be healthy.''
Couture was hit in the mouth a year ago by a shot from teammate Brent Burns and missed the final seven games of the regular season with two fractures in his face. He came back for the playoffs with plastic and wiring to keep his teeth in place and played all six games, scoring two goals in a Game 4 victory, but he was far from his usual self.
Couture was a main factor in San Jose's run to the Stanley Cup Final in 2016, leading the NHL with 30 points that postseason before the Sharks lost in six games to Pittsburgh. He's hoping for the same type of spring this year.
''That was probably the most fun I've ever had playing hockey,'' he said. ''Just a blast to go to the rink every day. That was a special group that we had that year. It's different each year obviously when personnel changes. I think about that run quite a bit, just how much fun it was. Just hoping to relive it.''
As well as he played during that run, Couture might be at his peak heading into this year's playoffs after scoring a career-high 34 goals this season, posting 61 points and having the usual responsibility of trying to slow down the opponent's top scoring line.
That performance helped the Sharks overcome the loss of Patrick Marleau to free agency last summer and Joe Thornton to a knee injury in January and helped Couture win the team's MVP award, although he has loftier goals still in mind.
''I've felt good. The puck's gone in for me. That's the big thing. Just capitalized on opportunities. Scoring 34 goals is pretty cool. Definitely to be up in the top 20 in goal scorers in this league, in the best league in the world, is special for sure,'' Couture said.
''The season's not over. Obviously the goal for myself, and as well as our team, is to win it all. It's tough to say it's been a successful year until the year's done.''
Couture will have plenty of responsibility this series to make sure the season doesn't end too soon.
He'll be a main part of the top power-play unit, one of the team's most important penalty killers, tasked with slowing down Ryan Getzlaf's line and provide offense of his own.
''The one thing about Logan is he has the ability to raise his level in important moments, in important times of the year as he's shown in my time here,'' coach Peter DeBoer said. ''I expect the same thing. I think we kind of take it for granted but that's what he is. He's a great player and he has that ability.''
NOTES: DeBoer would not rule Thornton out for the series, saying only he wouldn't play Game 1. ... Eric Fehr and Melker Karlsson, who missed time late in the season, worked on the fourth line at practice Tuesday.
---
More AP NHL: www.apnews.com/tag/NHLhockey
---
---