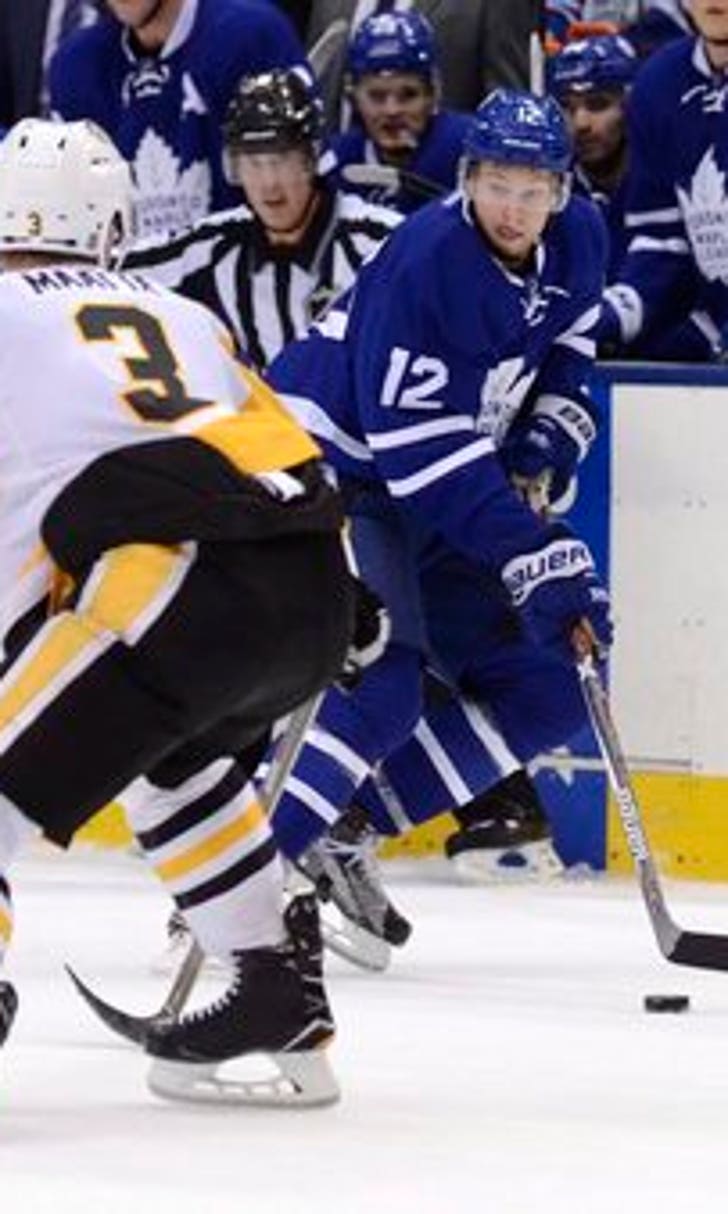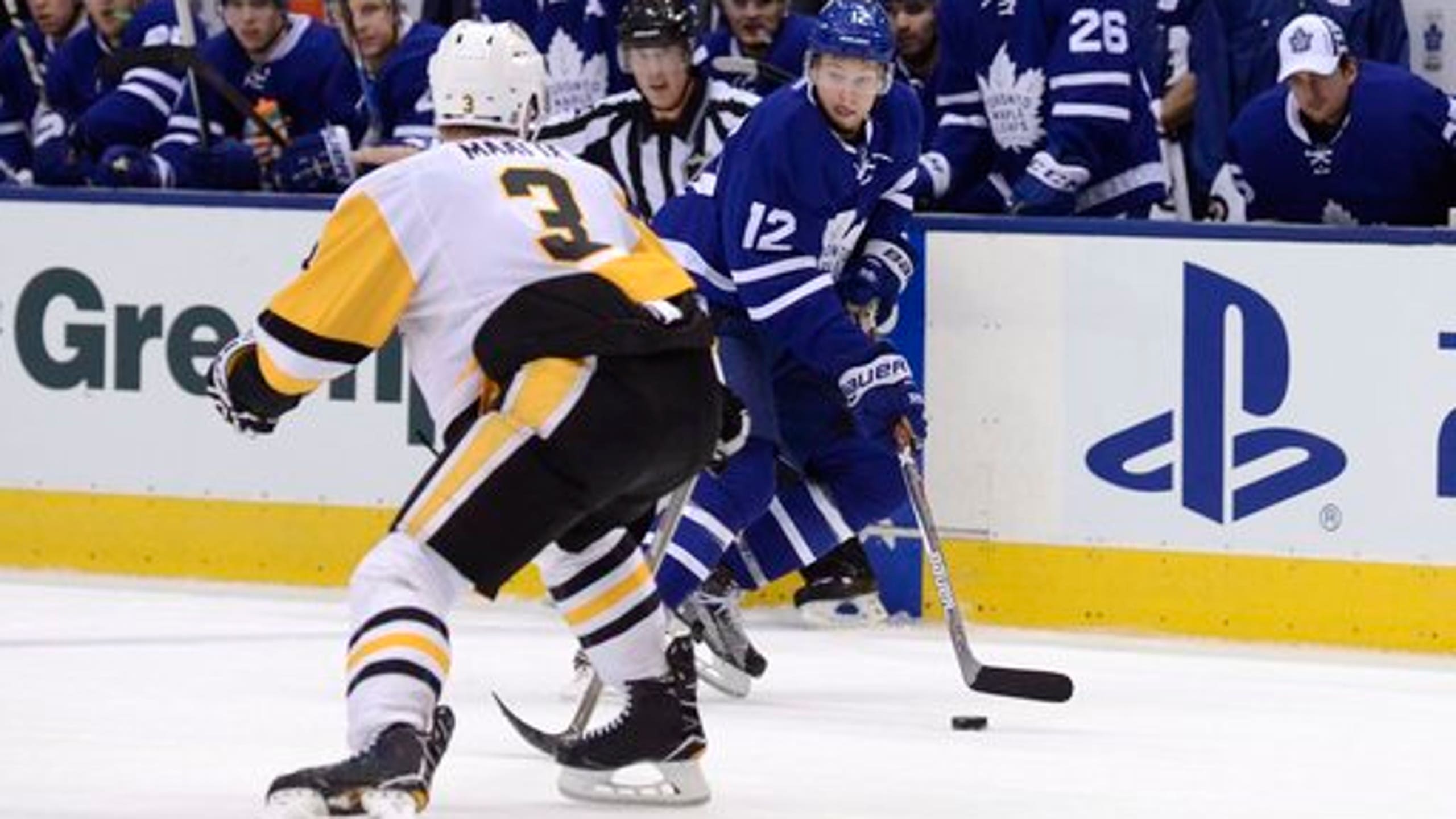 Gardiner scores in OT to lift Leafs over Penguins (Dec 17, 2016)
BY AP • December 17, 2016
TORONTO (AP) Confidence was running high moments after the Toronto Maple Leafs sealed an overtime victory over the defending Stanley Cup champions.
''We played about as good as we could tonight,'' said defenseman Jake Gardiner, who scored the winner in Toronto's 2-1 victory over the Pittsburgh Penguins. ''But it also shows we can play with anybody.''
Gardiner scored 2 minutes into overtime after being set up by Mitch Marner, whose shot just shuffled past defenseman Derrick Pouliot in front. Nikita Zaitsev also scored for Toronto.
The Leafs had dropped three straight - including the last two by shootout - and six of the previous seven games (1-3-3) despite outshooting and often outplaying the opposition. A 41-shot barrage against Mike Smith and the Arizona Coyotes ended in a 3-2 shootout defeat on Thursday night.
The young Maple Leafs outshot the defending Stanley Cup champions 49-34 and got 33 saves from Frederik Andersen.
''Shot counts have been through the roof,'' Toronto's Nazem Kadri said when asked about the Leafs inability to score in recent weeks. ''Lots of opportunities. Sometimes you just run into some hot goaltenders and they're hard to beat.''
Evgeni Malkin scored for the Penguins, and Marc-Andre Fleury and Matt Murray combined to make 47 saves. Fleury was forced to leave briefly in the first period after being cut on his neck by a skate. He got five stitches around his Adam's apple.
The game got a frantic start when Carl Hagelin was hooked on a breakaway attempt by Connor Carrick in the opening two minutes. Hagelin was awarded a penalty shot but was stopped by Andersen.
Less than a minute later, Fleury was injured on a dangerous play in front of his net.
Leafs winger James van Riemsdyk was tussling with Penguins defenseman Steve Oleksy when van Riemsdyk lost his balance. His left skate kicked up and caught Fleury right under his mask, and as the action turned the other way, Fleury signaled to the bench and the play was whistled dead.
The 32-year-old received treatment on the ice from a trainer before heading to the dressing room. Murray entered in his place, stopping all six shots he faced.
Fleury returned just past the midway point of the first period.
''I got lucky you know,'' Fleury said. ''I was talking to the (doctors) and it was close to the jugular.''
Pittsburgh went up 1-0 just under two minutes later on Malkin's 13th goal of the year. He was set up nicely by defenseman Justin Schultz, who faked a shot from atop the slot before sliding it over to Malkin. The Russian center whipped a one-time shot from one knee.
Sidney Crosby added an assist on the play. The Penguins captain had a season-long nine-game point streak end Friday night in a 1-0 overtime loss to the Los Angeles Kings.
The Leafs evened it up 14 seconds after Malkin's goal on Zaitsev's first in the NHL. The 25-year-old, a free agent signing from Russia last summer, fired a shot from the right point that was batted by Oleksy in front before caroming off Fleury's mask and in.
Zaitsev said he felt like he was 17 again after finally scoring. He had family in town for the game, but they opted to watch from a bar as opposed to in person.
''It's the joke of the day I think,'' Zaitsev said.
Toronto generated quality opportunities on a power play a short while later, including van Riemsdyk's attempt from the door-step that was stopped by the left toe of Fleury. Nikita Soshnikov sent Marner's feed from the slot wide moments later.
NOTES: The Penguins were playing without two of their top defensemen, Kris Letang and Trevor Daley, because of injuries.
UP NEXT
Penguins: Host the New York Rangers on Tuesday night.
Maple Leafs: Host Anaheim on Monday night.
---
---