Nashville Predators
Nashville Predators
From Hockey 101, Preds bring Stanley Cup Final to Music City
Published
Jun. 1, 2017 2:03 p.m. ET

NASHVILLE, Tenn. (AP) Terry Crisp sorely wishes that he and fellow broadcaster Pete Weber had recorded their ''Hockey 101'' sessions from the early days of the Nashville Predators.
The expansion franchise had tapped the original broadcast team to teach hockey rules in a market where fans knew what a sack meant in football and why conserving fuel can matter so much in NASCAR. The Predators held class in a small theater to explain the rules for a sport many had seen before only on TV or in minor leagues where the players excelled at fighting.
Crisp says he and Weber still chuckle when they think of the line changes that looked like fire drills to the new fans.
''No matter how often we explained it, no matter how we tried to explain it, they couldn't figure it out,'' Crisp said. ''Pete and I should have written all these down. It was fun, and we tried to make it educational.''
The fans learned well and their team has put on a master class this postseason in reaching its first Stanley Cup Final . The excitement in ''Smashville'' over their wild-card team should reach a new level Saturday night when the Predators host their first Final with Game 3 against Pittsburgh, which leads the series 2-0.
The bandwagon is bulging with country stars, pro athletes and people swelling with civic pride for the best show in Music City.
Just call it a bucket list item - even for those who can't get inside Bridgestone Arena - with the outdoor watch parties and star Alan Jackson giving a free concert before Game 3.
''I'm not working for the Chamber of Commerce, but I'm telling you, you and your friends would never regret a visit to Nashville to see a game ,'' Predators general manager David Poile said. ''It's a tremendous atmosphere. It's second to none. It's the best in sports right now.''
Not bad for a franchise that once handed out headphones allowing ticket buyers to hear the rules explained during games. Crisp, who won two Stanley Cups as a player and a third as a coach, and Weber were the franchise's biggest faces teaching hockey, both in the theater classroom and on both TV and radio.
At least fans recognized Steve Carlson and his brother as the Hanson brothers from ''Slap Shot'' fame when they busted into one Hockey 101 lesson.
''That helped our frames of reference in any case,'' Weber said.
Country music stars have helped from the beginning when Vince Gill and Amy Grant both appeared on billboards pushing ticket sales.
Now the biggest guessing game is which star will sing the national anthem next. Carrie Underwood, wife of Predators captain Mike Fisher, started it off before Game 3 against Chicago in the first round and has been followed by Luke Bryan, Keith Urban and Trisha Yearwood - with her husband, Garth Brooks, staying just off the ice.
Jason Aldean, the reigning Academy of Country Music entertainer of the year with multiplatinum hits like ''Big Green Tractor'' and ''She's Country,'' came to Nashville from Georgia about the same time as the Predators started setting up shop. He learned the rules of hockey thanks to video games on PlayStation and was in the stands for a recent game with his wife.
Will he sing the anthem?
''You never know,'' Aldean said. ''We got to be in town. Their schedule is crazy. I am hoping we are in town during some of these next few games so we can go to one.''
The Predators debuted for the 1998-99 season but didn't reach the postseason until 2004. The original owner sold the team in 2007 after Nashville finished third in the NHL with 110 points, tired of losing millions. A decade later, the Predators have sold out 58 straight games. High demand made attending Stanley Cup games in Pittsburgh cheaper than it would be in Nashville for some fans.
No major league franchise in Tennessee has ever won its sports championship, and this is the closest a team has come in years. The NBA's Memphis Grizzlies were swept in the 2013 Western Conference finals, and the NFL's Tennessee Titans' lone AFC championship came while reaching the 2000 Super Bowl.
''When you start to get close to something like that, that's what this city does,'' Aldean said. ''It just sort of rallies around whatever is going on. And we're no different.''
Also rooting are Grizzlies forward Brandan Wright, who grew up along with the Predators in Nashville, and 2012 FedEx Cup champion golfer Brandt Snedeker, who took the Ryder Cup with him to a playoff game earlier this spring.
The Titans, who hope to break their own eight-year playoff drought later this year, are fully on board, too. Pro Bowl left tackle Taylor Lewan, a first-year season-ticket holder, even tossed a catfish onto the ice late in Game 6 as Nashville clinched the Western Conference title against Anaheim. He was joined by his fellow offensive linemen and quarterback Marcus Mariota at two recent playoff games.
Lewan said the electricity around Nashville is just unbelievable - all for hockey in the South .
''This could be the next Titletown that if we hold our end of the bargain and the Preds finish it up man, this could be a really special place for sports,'' Lewan said. ''We're all really excited.''
---
Associated Press writer Kristin M. Hall contributed to this report.
---
More AP NHL: https://apnews.com/tag/NHLhockey
---
Follow Teresa M. Walker at www.twitter.com/teresamwalker
---
---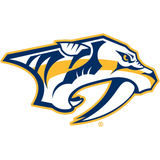 Get more from Nashville Predators
Follow your favorites to get information about games, news and more
---