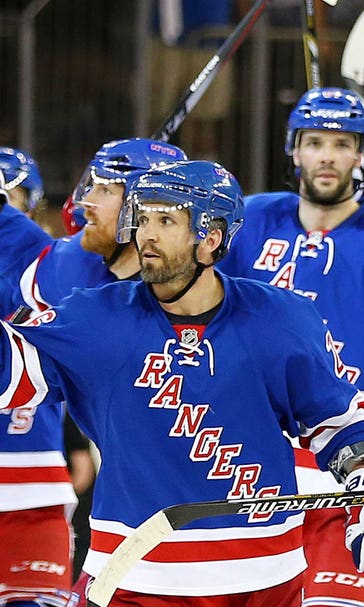 For mom: St. Louis scores, lifts NY days after mother's death
BY foxsports • May 12, 2014
Martin St. Louis' first-period goal on Mother's Day was the stuff reporters dream of on deadline. With his dad and sister in the stands just three days after St. Louis' mother, France, died of a heart attack at 63, the puck bounced in the net off the New York Rangers forward's knee, and he sprinted to the corner, clearly overcome with emotion as the Madison Square Garden crowd chanted, "Marty! Marty!"
"We set the tone right away, and when Marty scores that goal, it was such a beautiful moment," Rangers goalie Henrik Lundqvist told reporters after the game Sunday. "It really got emotional to watch that, and see him and what's he's been through. I think the entire team was feeding on that moment, and the entire building."
New York rode that wave to a series-evening, 3-1 win over Pittsburgh in the Eastern Conference semifinals, while Chicago rode its captain's back to a 2-1 win at United Center that gave it a 3-2 lead in its Western Conference semifinal series with the Minnesota Wild.
GAME OF THE DAY
New York Rangers 3, Pittsburgh 1: The Rangers have awoken, even if their power play went right back to sleep on Sunday with an 0-for-6 performance. St. Louis got things rolling on his emotional day, scoring 3:34 into the game, and New York never trailed in forcing Game 7.
PLAY OF THE DAY
Toews, from start to finish: Toews got Chicago's game-winning goal started by hammering Wild center Mikael Granlund into the end boards. With Chicago wing Marian Hossa fighting off checks to set up Patrick Sharp's shot, Toews went to the net and outmuscled Granlund again — this time for a loose puck that he slipped past goalie Ilya Bryzgalov for the decisive 2-1 margin 4:33 into the third period to rev up another rendition of Chelsea Dagger.
THREE STARS
1. Henrik Lundqvist, G, New York: Lundqvist was brilliant, stopping 36 Pittsburgh shots and turning in the kind of performance that gets in an opponent's head, leading players to get too fine with their shots and passes. No save was bigger than Lundqvist's shorthanded stop on a Brian Gibbons breakaway.
2. Corey Crawford, G, Chicago: Crawford bounced back from a poor showing in Game 4 with 27 saves in Chicago's critical Game 5 win.
3. Jonathan Toews, C, Chicago: Toews had a terrific game beyond his game-winning goal. He and Marian Hossa spearheaded Chicago's best line and best sustained pressure, and when the chips were down, the Blackhawks captain delivered.
RECAPS
New York Rangers 3, Pittsburgh 1
Series: Tied, 3-3
Key stat: The New York Rangers have trailed 3-1 in a playoff series 16 times prior to this year's Eastern Conference semifinal. They have never come back to win such a series.
Key player: Derick Brassard, C, New York. Has there been a more valuable Ranger in this New York rally? Brassard has four points in the last two games, including Sunday's key goal and Friday's winner, and he brings a physical presence. Another unlikely playoff hero has been born.
What we learned: Sidney Crosby is frustrated. The Penguins star still only has one goal in these playoffs and on Sunday, New York held him to one shot on goal and a minus-1 rating. Crosby vented some of that frustration late in the second period when he lifted his stick into Rangers center Dominic Moore's private parts — a play that should earn him a fine if justice in the NHL is even-handed. The play started a scrum at the end of the period during which Lundqvist squirted water into Crosby's face. New York still has to win a Game 7 at Consol Energy Center and that won't be an easy task with the Penguins focused, but Pittsburgh is a flawed team in many areas (forward depth, consistent defensive breakdowns, goaltending) and that aura of invincibility it had in 2008 and 2009 is long gone. Dan Bylsma could be coaching for his job on Tuesday. Goalie Marc-Andre Fleury wasn't noticeably bad on Sunday, but his counterpart is outplaying him and that could spell the difference if Lundqvist can keep it up. New York's power play reverted to its old playoff self and is 2 for 24 in the series, but New York's penalty killing has been superb, killing 18 of 19 chances.
Next game: Game 7: Tuesday at Pittsburgh, 7 p.m. ET
Chicago 2, Minnesota 1
Series: Chicago leads, 3-2.
Key stat: The ‪Blackhawks have not lost a playoff game after a series has been tied 2-2 in the Jonathan Toews/Patrick Kane era. They are 13-0 in games 5 and 6 in such series.‬‬
Key player: Marian Hossa, RW, Chicago. Hossa was the other key cog in Chicago's most dominant line. He was impossible to knock off the puck, shrugging off a Ryan Suter check as if he weren't there, and he eluded three players to help set up the game-winning goal. Hossa has nine points in the five games of this series and 15 in 10 playoff games against the Wild.
What we learned: In spite of that eye-popping Blackhawk stat above, this series has all the earmarks of a seven-game series. Minnesota had been dominant at home and the Hawks will likely play Game 6 (again) without gritty forward Andrew Shaw, whose presence really has been missed since he went down in Game 1 with an apparent leg injury — the details of which remain cloudy. Couple that with the second game of Brandon Bollig's suspension and the Hawks have little physical presence up front. Game 5 was anybody's game early, but once the Hawks got the equalizer on Bryan Bickell's deflection midway through the second period, they had their trademark possession game going and Minnesota generated very few quality chances despite its 28 shots. Lost in the shuffle of the Wild's impressive showing in this series has been the play of goalie Ilya Bryzgalov, who hasn't been great, but has been good — a big deal considering his playoff history with Phoenix and Philadelphia. Darcy Kuemper is still sidelined with an upper body injury and won't play in Game 6 so this is Bryzgalov's series and chance to prove himself again before he enters free agency. To the Wild's credit, Chicago has not looked itself for most of this series. Minnesota has taken away Chicago's transition game and taken away the middle of the ice. If Chicago ends up winning this series, it may be on playoff savvy. The Hawks have plenty of that.
Next game: Game 6: Tuesday at Minnesota, 9 p.m. ET
Final thought: Up is down and black is white in the bizarre Western Conference semifinal between the Los Angeles Kings and Anaheim Ducks that resumes Monday in Anaheim. In four meetings, the road team has won every game and in the past three games, the losing team had badly outshot the winning team. "We've done that a lot this year. Ask guys that have seen us play lots. We've seen a lot of those 50-to-20 deals," Kings head coach Darryl Sutter told Jon Rosen of LA Kings Insider on Sunday. "I'm not rattled. I'm just thankful I'm alive today. I'm fortunate to pull through after the devastating loss last night."
Follow Craig Morgan on Twitter
---
---