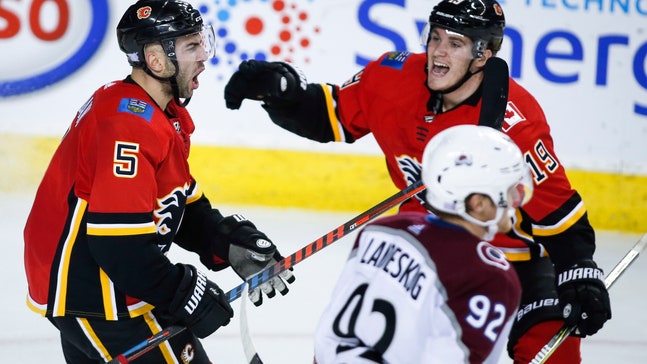 Flames score 5 straight in 3rd to rally past Avalanche 6-5
Updated
Mar. 4, 2020 12:15 p.m. EST
CALGARY, Alberta (AP) — Down by three goals going into the third period, the Calgary Flames were far from done.
Mark Giordano had a goal and two assists, and Calgary scored five straight times in the third to rally past the Colorado Avalanche 6-5 on Thursday night.
With the game tied 4-all, Giordano scored the go-ahead goal at 13:47 when he jumped up into the rush, took a pass from Mikael Backlund and snapped a shot over the blocker of goaltender Semyon Varlamov.
"If you're coming in late and their forwards are scrambling back, sometimes things open up," said Giordano, who has two goals and 12 assists this season. "I was happy (Backlund) found me there, it was a good spot to shoot from."
Backlund, Elias Lindholm, Sean Monahan, James Neal and Michael Frolik also scored for the Flames (8-5-1), who have won three straight. Matthew Tkachuk added three assists.
It's already the fourth time this season the Flames have come back to win when trailing after two periods.
Colin Wilson, Vladislav Kamenev, Sheldon Dries, Carl Soderberg and Gabriel Landeskog scored for Colorado (7-4-2), which has lost three of four.
It was the first career goal for both Kamenev and Dries.
"Five goals in the third is a lot. Give credit to them, but we definitely had a hand in letting them come back," said Avalanche center Nathan MacKinnon, who was held off the scoresheet and ended up minus-3.
Trailing 4-1 after two periods, Calgary began its comeback 47 seconds into the third on Lindholm's power-play goal, his team-leading ninth goal of the season.
The man advantage was the result of a charging major on Ian Cole late in the second period after his heavy hit crumpled Mark Jankowski as he was looking back for a pass. Shaken up, Jankowski went to the dressing room.
He returned to sit on the bench in the third, but did not play. After the game, he was deemed healthy.
It was the response to the hit from Sam Bennett, who immediately fought Cole, that players pointed to as the turning point.
"He's a feisty little kid. He definitely knows how to throw them," Backlund said. "That gave the team some momentum and some energy. Great job by him stepping up for the team and for Janko. It brought a lot of energy into the room going into the third."
The Flames drew within one at 5:21 when Monahan deflected Noah Hanifin's point shot.
The Saddledome crowd then roared at 10:52 when Neal got the puck in the slot and ripped a shot past Varlamov for his third goal and a tie game.
"It felt good, obviously, for me," said Neal, who had been off to a slow start with just two goals in his first 13 games. "Personally, I want to score goals, you want to help the team win. It's been a little bit of tough sledding here at the start, but I've been through it before. You just try to stick with it and you get rewarded like I did tonight."
The sequence leading up to Neal's goal began when rookie defenseman Juuso Valimaki caught Matt Calvert with a body check at the blue line, turning the puck over.
"He timed it perfect and to be able to keep the puck in the zone, all in one shot. That was a real turning point, too," Giordano said. "Really put them back on their heels and then we kept going."
Just more than a minute after Giordano's go-ahead goal, Frolik made it a two-goal lead, one-timing Tkachuk's feed for his sixth goal.
The Avalanche got a power-play goal from Landeskog at 18:57 to set up a harrowing finish.
Landeskog's goal first appeared to be Wilson's second of the game before the Colorado captain was credited with his 11th of the season. Wilson picked up an assist on the play.
Mike Smith got the win despite giving up five goals on 26 shots. He improved to 5-4-1.
Varlamov, who entered with a 1.62 goals-against average and .950 save percentage, made 31 saves. The five goals he allowed in the third period came on just 11 shots.
"Lack of detail and lack of commitment," Avalanche coach Jared Bednar said. "We resorted back to bad habits like circling away from the puck."
Calgary was controlling the game, outshooting the Avs 17-4, when a stray pass from Giordano resulted in Kamenev breaking up the ice on a short-handed 2-on-1 and scoring his first career goal.
Less than two minutes later, Dries got his first NHL goal when his rebound banked off the skate of Rasmus Andersson in the slot and went into the net.
NOTES: Monahan extended his point streak to five games (two goals, six assists). ... Colorado forward Mikko Rantanen has 21 points, tying the franchise record for October set by Joe Sakic in 1996.
UP NEXT
Avalanche: At the Vancouver Canucks on Friday night.
Flames: Host the Chicago Blackhawks on Saturday night.
---
---