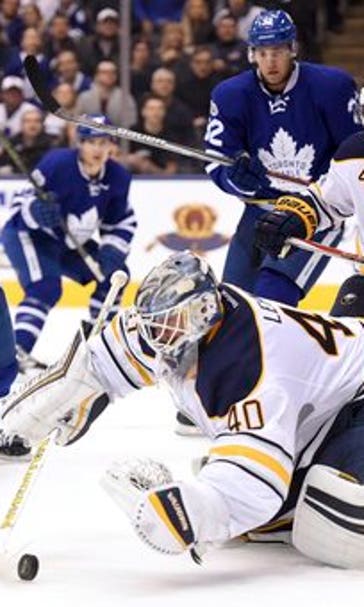 Evander Kane scores twice, Sabres beat Maple Leafs 3-1 (Feb 11, 2017)
February 12, 2017

TORONTO (AP) The Buffalo Sabres left the slumping Toronto Maple Leafs behind in a hurry.
Evander Kane scored twice, Jack Eichel had a career-high three assists and Buffalo beat Toronto 3-1 on Saturday night to hand the Maple Leafs their sixth loss in eight games.
''One of our better starts,'' Sabres coach Dan Bylsma said. ''It was our plan to come out and put a lot of pressure, establish a forecheck and turn it into offensive zone (time) and the third goal is a result of that.''
Sam Reinhart also scored for Buffalo, and Robin Lehner made 43 saves.
''I thought he was better tonight really and it wasn't a ton of big saves, huge saves that he had to make,'' Bylsma said about Lehner. ''It was a lot of traffic in tight. It was a lot of pucks in the blue paint and flurries, tight plays, back of the net, that he had to be strong at tonight and was.''
Mitch Marner scored for Toronto, and Frederik Andersen allowed three goals on 23 shots.
''We weren't ready to play any way you look at it,'' Maple Leafs coach Mike Babcock said. ''If you don't prepare you don't win, it's real simple. You can cheat the system once in a blue moon. Not good enough.''
The Maple Leafs went on a tear from mid-December until late January, taking 24 of a possible 32 points over a 16-game span, but they have since stumbled. Toronto is holding onto the final wild-card spot in the Eastern Conference with 61 points in 53 games.
Buffalo hit a crossbar less than two minutes in and scored a few minutes after that, the first of two on the night for Kane on a quick play off an offensive zone draw. Eichel beat fellow American center Auston Matthews for the faceoff before Reinhart shuffled the loose puck over to Kane.
Eichel's partial break on the next shift drew a hooking penalty from defenseman Jake Gardiner and another goal ultimately for the Sabres, this one on the power play from Reinhart.
Buffalo led 2-0 before Toronto had even landed a shot on Lehner. The Leafs finally got their first one more than nine minutes into the game.
In between the goal parade for the Sabres was a rare fight for James van Riemsdyk and Rasmus Ristolainen - the third each for both - as well as a Marcus Foligno's hit on Nikita Zaitsev that sent the Toronto defender into his own bench. It was van Riemsdyk's 500th career game in the NHL.
Marner finally got the Leafs on the board with four minutes left in the second on a power play. The 19-year-old rushed along the right side of the Sabres zone, circled the net and then fired an attempt that pinged off the right skate of Ristolainen before caroming once more off Lehner's stick and into the goal.
UP NEXT
Sabres: Host Vancouver on Sunday night.
Maple Leafs: Host New York Islanders on Tuesday night.
---
---