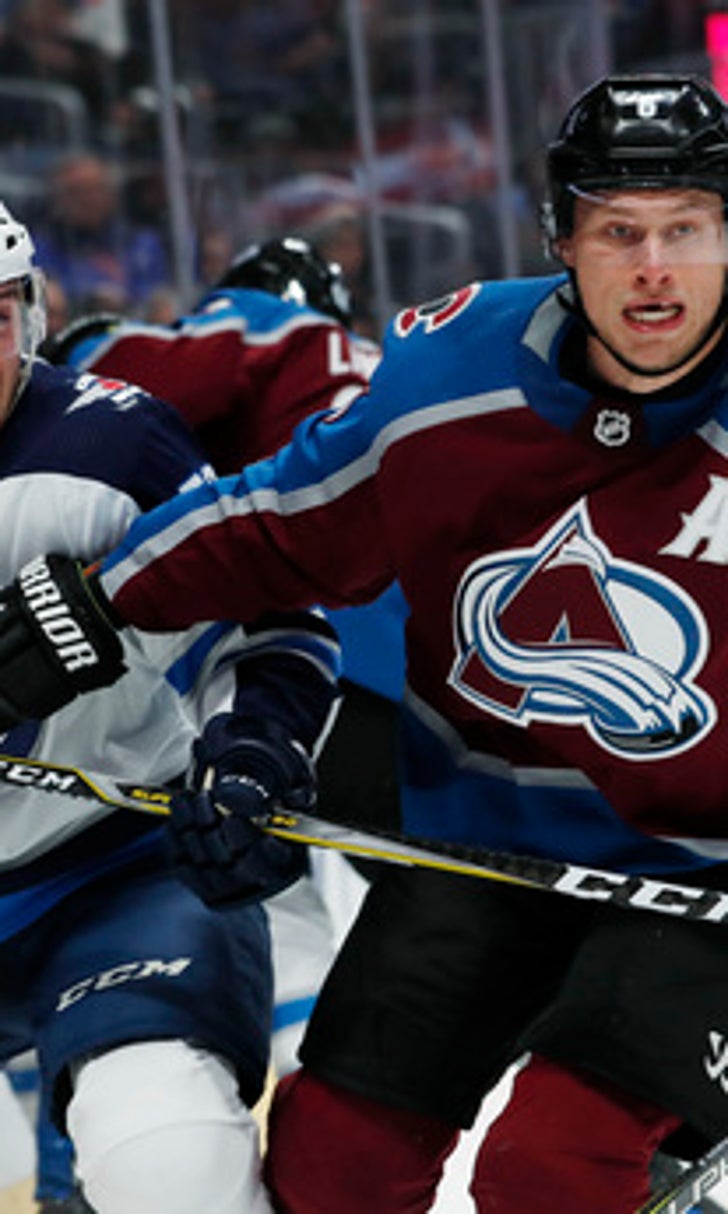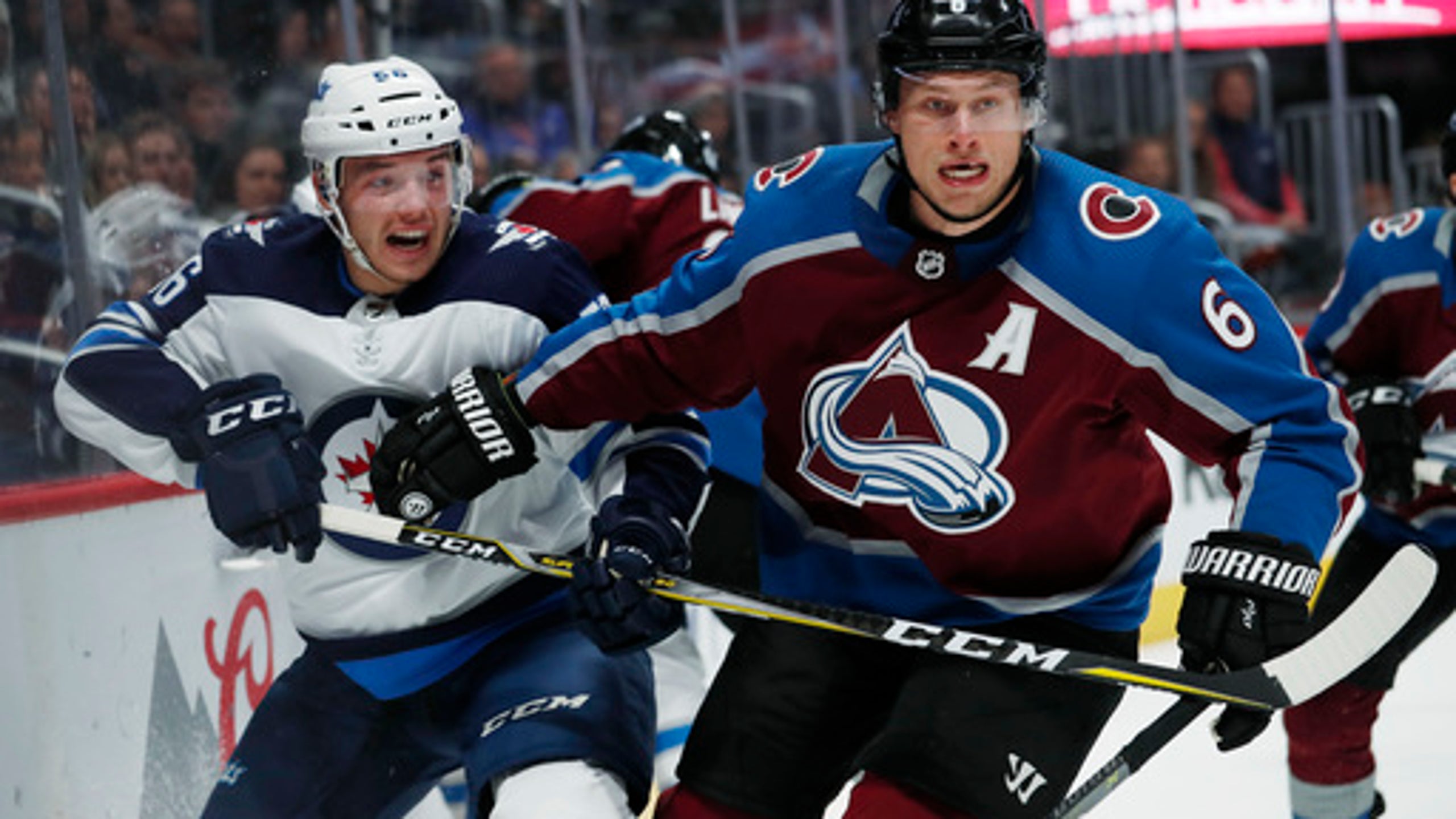 Erik Johnson scores late in OT, Avalanche beat Jets 3-2 (Jan 02, 2018)
BY AP • January 3, 2018
DENVER (AP) Erik Johnson's stumble in overtime nearly led to the winning goal for Winnipeg, but his goaltender bailed him out.
Given another opportunity, Johnson didn't stumble again.
The Avalanche defenseman scored on a breakaway with 9.9 seconds remaining on the clock in OT, Jonathan Bernier stopped 22 shots after taking over for an injured Semyon Varlamov in the second period and Colorado beat the Winnipeg Jets 3-2 on Tuesday night.
Mikko Rantanen and Nathan MacKinnon also scored to help the Avalanche win their third straight.
Johnson scored the winner when Rantanen poked the puck ahead to him and he put it past Connor Hellebuyck, one of the stingiest goaltenders in the NHL of late.
''As a defenseman you don't get too many breakaways, so I wanted to make it count,'' Johnson said.
Hellebuyck and the Jets dropped to 0-6 in overtime this season - 1-7 factoring in shootouts.
''Sick of these overtime losses,'' Hellebuyck said. ''I thought we deserved more.''
Both teams had plenty of chances in overtime, with Rantanen robbed by Hellebuyck down low early. But the biggest play was turned in by Bernier after defenseman Dustin Byfuglien took advantage of Johnson's turnover for a breakaway. And while Byfuglien sent the puck through the goaltender's pads, Bernier's skate deflected it wide at the last instant.
''I think (Bernier) got beat more on his than I got beat more on mine,'' Hellebuyck said. ''But that's just how the game goes sometimes. You get bad luck.''
Blake Wheeler scored twice for the Jets, including the tying goal with 32.2 seconds remaining in regulation and Hellebuyck on the bench for an extra skater.
''Big-time player, right?'' Jets coach Paul Maurice said. ''We cut down to three lines, so they ran hard there toward the end of the game. Such a fit man that he can push hard.''
Varlamov turned back 21 shots before retreating to the locker room with a lower-body injury. It's concerning for Colorado, given that Varlamov was limited to 24 games last season due to a nagging groin injury that he tried to remedy through hip surgery.
Asked if he had a feel for any sort of prognosis, coach Jared Bednar simply said: ''No. I don't. I haven't talked to the trainers. Don't know the specifics of it yet.''
Bernier was thrown into a difficult situation as he entered with 5:45 left in the second and the Jets on the power play. He quickly warmed up, though.
''Give a huge credit to him,'' Johnson said. ''He deserves a whole lot of credit for the way he played.''
The Avalanche killed off three more penalties to run their streak to 36 straight before Wheeler ended it with a power-play goal 47 seconds into the third period.
Wheeler's tying goal in the waning seconds was set up after a bizarre carom off the boards as Bernier went behind the net to cut off the puck. Bernier had to dive back in front, but it wasn't in time.
All in all, a solid night.
''I felt pretty good,'' Bernier said. ''When you come in it feels like everything's coming kind of fast. But tonight I felt pretty good.''
MacKinnon scored his 17th goal of the season in the second period and set up Rantanen's tally 3:47 later to give Colorado a 2-0 lead. The speedy MacKinnon was in the top five in scoring on New Year's Day - significant because the last Avs player to do that was Joe Sakic in 2003-04.
The Avs have been a completely different squad this season and find themselves in the thick of the playoff chase. The team already is 18 points ahead of where it was at this juncture a season ago.
''We're feeling good, feel like we're playing good hockey,'' MacKinnon said. ''We're not good enough to get comfortable - that's for sure.''
NOTES: Byfuglien returned to the lineup after missing 10 games with a lower-body injury. ... Avalanche forward Sven Andrighetto is day to day with a lower-body injury. ... Rantanen had two assists.
UP NEXT
Jets: Return home Friday to face Buffalo.
Avalanche: Host the Columbus Blue Jackets on Thursday.
---
For more AP NHL coverage: https://apnews.com/tag/NHLhockey
---
---