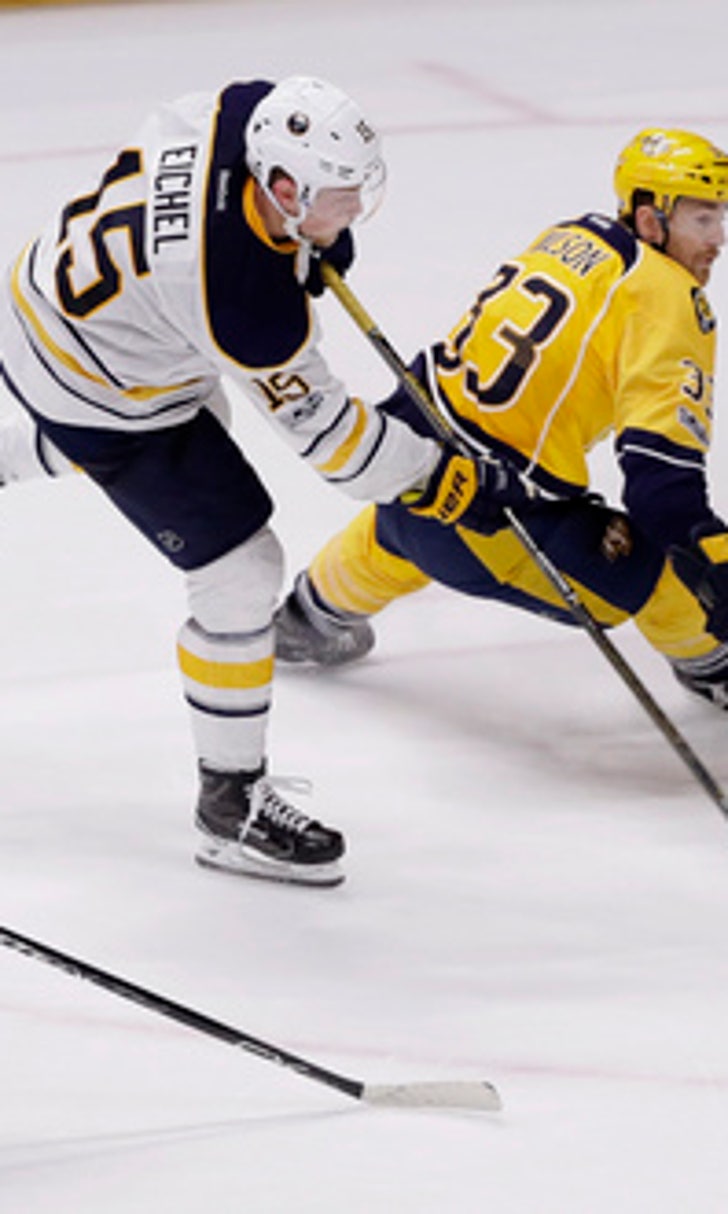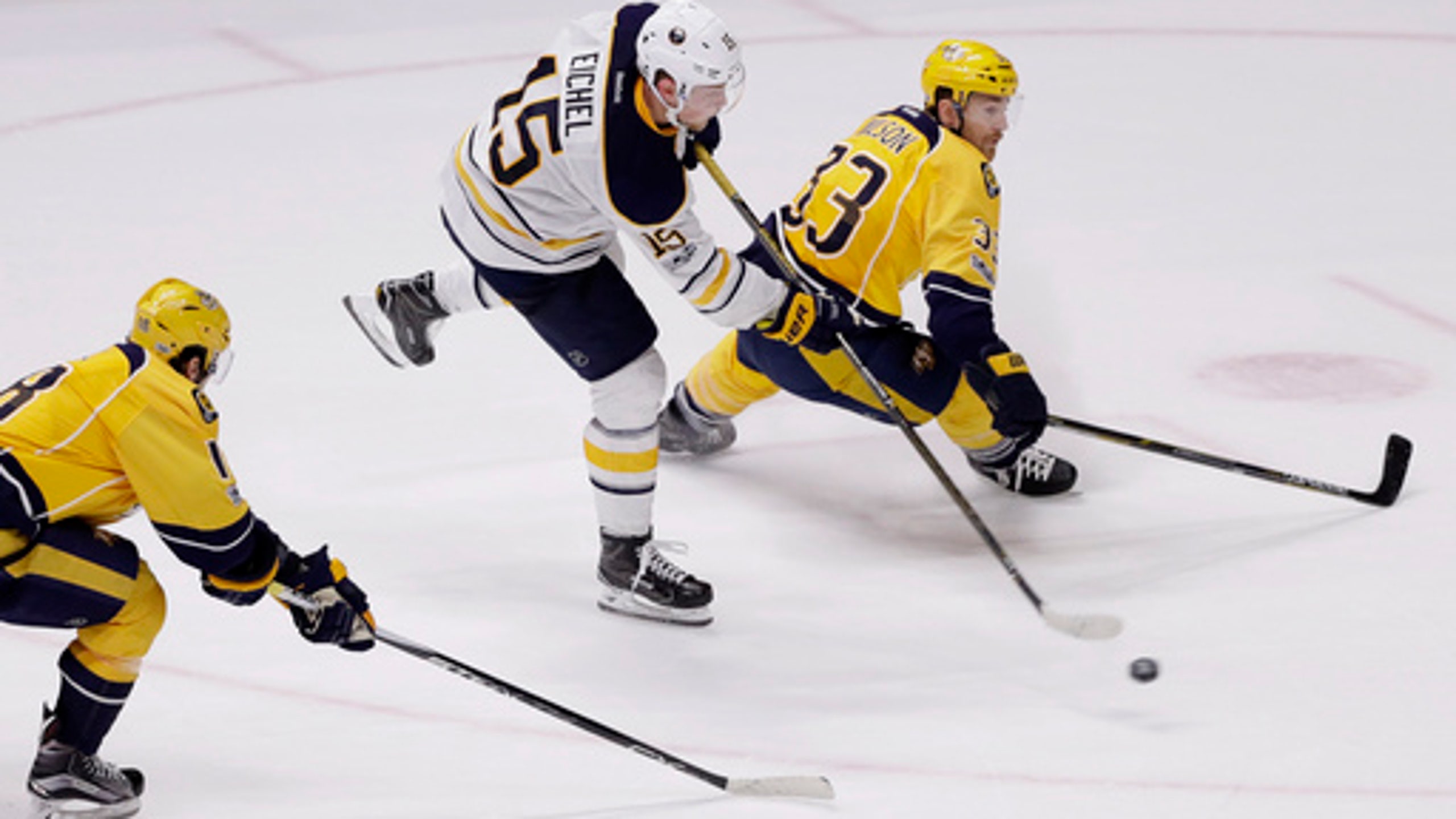 Eichel's overtime winner lifts Sabres over Predators 5-4 (Jan 24, 2017)
BY AP • January 25, 2017
NASHVILLE, Tenn. (AP) On the bench, Jack Eichel talked the talk. On the ice, he certainly backed it up.
Eichel scored two goals, including the game-winner at 2:35 of overtime to give the Buffalo Sabres a 5-4 comeback victory over the Nashville Predators on Tuesday night.
Zemgus Girgensons, Brian Gionta and Kyle Okposo also scored for Buffalo, which has won three straight.
''Our guys on the bench were saying it,'' Sabres coach Dan Bylsma said. ''We thought we could come back and win the game, even when we got down two. On our bench, Jack was saying, `We're going to win this game. We're going to win this game.' And they go out and they do it.''
James Neal, Filip Forsberg, Cody McLeod and Viktor Arvidsson scored for the Predators, who had their three-game winning streak snapped. Calle Jarnkrok had two assists.
Eichel's overtime winner capped a frantic comeback for Buffalo.
In the extra period, Eichel carried the puck into the Nashville zone, made a move at the left faceoff dot to slip between Colin Wilson and P.K. Subban and then snapped a wrist shot past Juuse Saros, who finished with 32 saves.
''I was just trying to build some speed and attack them,'' Eichel said. ''I noticed that I had a forward playing (defense) back there so I just tried to use my speed and go after him and obviously try and get a shot on. He's a really athletic goaltender and he makes it hard on you, so I'm just trying to move him a little bit and get it up.''
It's only the second time Buffalo has won three consecutive games after regulation. The other time was in November 2006.
Nashville held a 4-2 lead late in the third period before Gionta scored at 14:10. Then, with Sabres goaltender Robin Lehner pulled for an extra skater, Okposo tipped home a pass from Sam Reinhart with 1:05 remaining to send the game into overtime.
''We were too sloppy,'' Predators coach Peter Laviolette said. ''We were just sloppy with the puck, sloppy with coverage defensively.''
Lehner stopped 35 shots and was credited with an assist on Eichel's game-winner.
Arvidsson broke a 2-all tie at 5:08 of the third with a power-play goal, gathering the rebound of his initial shot from the left side.
Neal made it 4-2 at 10:17 with a one-timer from the high slot off a pass from Jarnkrok on the left side.
Forsberg scored the game's first goal at 8:43 of the opening period.
With the Sabres on a penalty kill, Jarnkrok carried the puck up ice on a 2-on-1 with Forsberg. From the right side, Jarnkrok slid a pass to Forsberg in the left circle, where he beat Lehner with a wrist shot to the glove side.
After a slow start to the season, Forsberg has 12 goals in his last 18 games.
''You always have to learn from every game,'' Forsberg said. ''Whether you win or lose there's always stuff you can do better and stuff you did (well). So you've got to take the positives, but it's obviously a bad way to lose.''
Girgensons tied it 1-all at 12:12 of the second.
Nashville struggled to clear the puck from inside its zone, and former Predator Cody Franson faked a shot and then sent a pass to Evander Kane in the low slot, where he deflected the puck on net. Saros made that stop, but Girgensons was in front to slip the rebound in for his sixth of the season.
Nashville regained the lead at 17:28 on McLeod's second with the Predators.
McLeod carried along the left wall and managed to tuck the puck inside the post. A brief video review confirmed the goal and allowed it to stand.
The teams went into the second intermission tied at 2 after Eichel scored with 17.4 seconds remaining in the period.
Saros kicked aside Franson's slap shot from above the right circle, but an unchecked Eichel buried the rebound from the lower part of the left circle.
NOTES: Wilson returned to the lineup after missing eight games with a lower-body injury. ... Arvidsson has points in four straight games. ... Buffalo is 9-3-2 against Western Conference teams this season. ... Sabres D Dmitry Kulikov returned after missing 12 games with a lower back injury.
UP NEXT
Sabres: At the Dallas Stars on Thursday.
Predators: Host the Columbus Blue Jackets on Thursday.
---
---