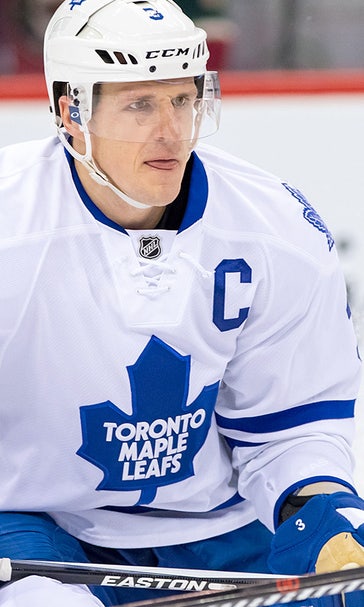 Dion Phaneuf overcomes rumors, reaches impressive milestone with Maple Leafs
December 8, 2015

If Dion Phaneuf had listened to the rumors about him last February and over the summer, he likely would not have believed he would see the milestone he is about to reach on Tuesday night. The Toronto captain is slated to play in his 400th game for the Leafs when Toronto takes on New Jersey Tuesday, making Phaneuf just the 13th defenseman in post-expansion team history to reach the 400-game mark. 
The achievement arrives despite a bevy of trade rumors both ahead of last season's trade deadline and over the summer claiming that Toronto wanted to start over fresh by getting rid of their captain. But a trade never unfolded and Phaneuf remains the leader on the ice and in the locker room for the Leafs. 
Phaneuf has adjusted well to new coach Mike Babcock, who preaches player accountability and defensive responsibility while also being sure to protect his players from the at-times vicious Toronto media. 
"He's done a really good job," Phaneuf told reporters of playing for Babcock. "I enjoy working for him. I enjoy playing for him. I think there's lots of work yet. We've got lots of room to improve. I feel we've taken a lot of steps since the start of training camp."
Phaneuf is known for his crushing hits, but he has also been chipping in offensively for the team this season, ranking second in scoring on the team with 15 points (two goals, 13 assists) in 27 games. He ranks 12th on the team (and second among Toronto defenseman who see significant time) in SAT percentage with a 49.94 total, mere decimal points away from eclipsing the ever-important 50.0 mark as an indicator for puck possession. 
Most importantly, the off-ice chatter about Phaneuf has started to calm down. Whereas last season there were plenty of questions about his ability to continue to lead the team, this season, it seems like Phaneuf is able to play in a calmer environment. So far, there have been no controversial tweets airing on TV and no media skirmishes involving Phaneuf.
As the 30-year-old approaches his 400th game with the Leafs, it seems his major focus is finally narrowed to what it should be: helping the team win.
(h/t Toronto Star)
---
---