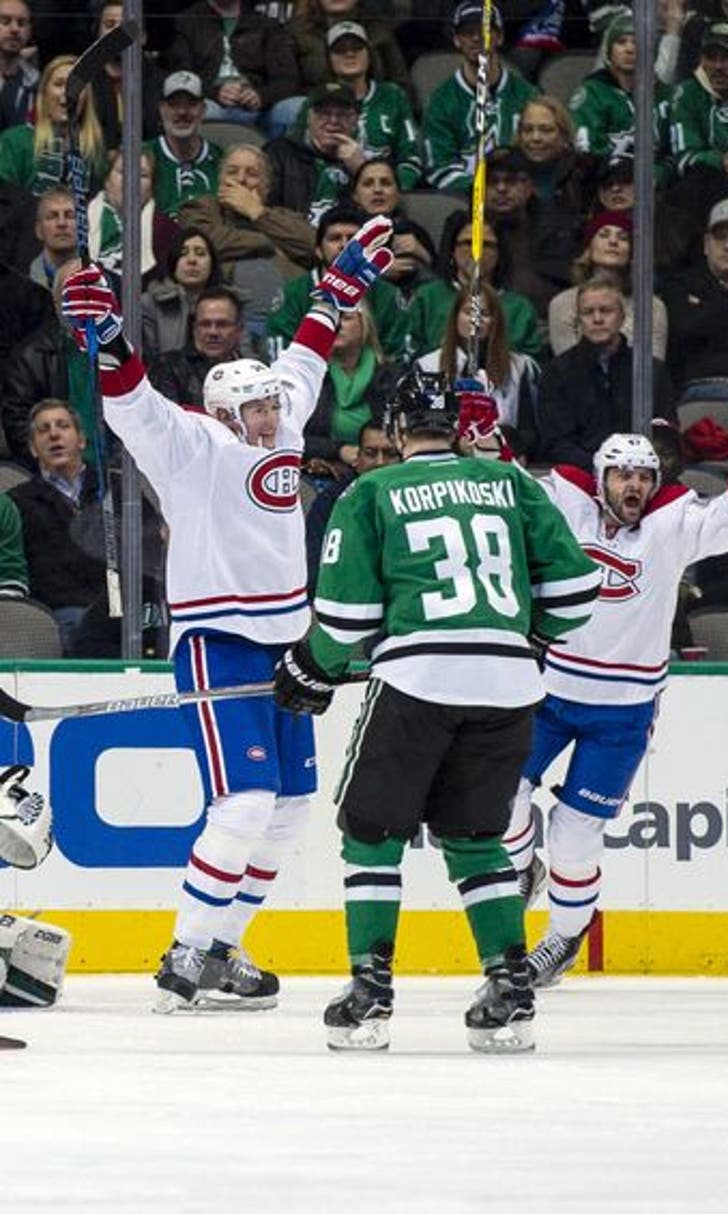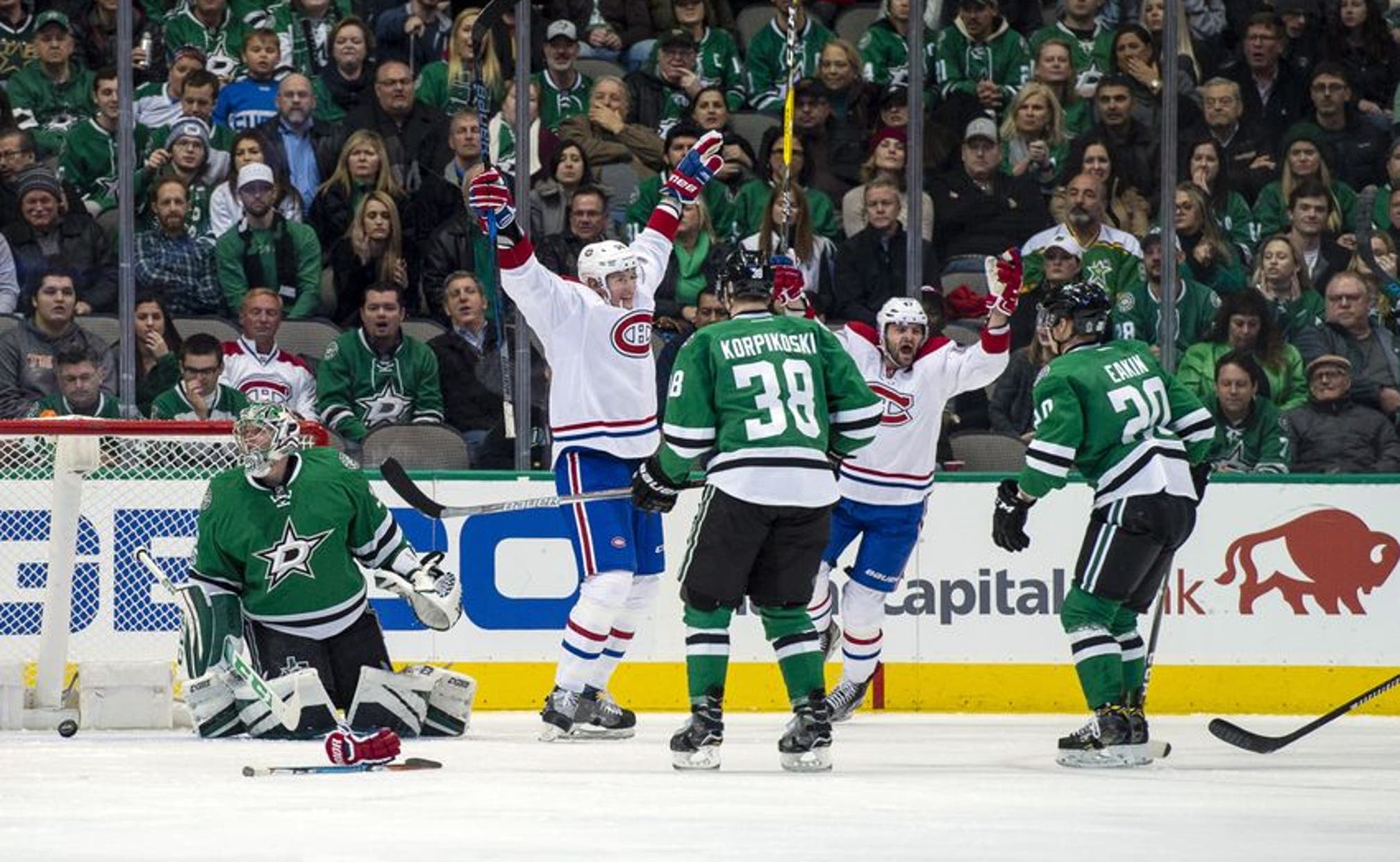 Dallas Stars Fall Asleep in Third, Lose To Montreal in Overtime
BY Fansided and Josh Clark/FanSided via Blackout Dallas • June 30, 2017
The Dallas Stars could not muster up a win against the Montreal Canadiens after going stale in the third period and picked up their eighth overtime loss tonight. They are now 16-15-8 on the season.
It was such a great game up until the third period. After that, things got ugly. The Stars fell to the Canadiens 4-3 in overtime tonight to close out their homestand.
Game recap
The first period started out on a relatively slow note. Montreal struck first when Nathan Beaulieu scored off of a Stars turnover. But the Dallas Stars came back a few minutes later with a Tyler Seguin deflection to tie the game at 1-1. Patrick Sharp's fight helped close out the first period on a 1-1 note, giving the Stars plenty of momentum.
The second period was where the Stars really broke out. After killing off a penalty, the Stars took the lead with a John Klingberg power play goal. Dallas outshot the Canadiens 16-7 in the second frame and had plenty of high-quality chances as they took a 2-1 lead into the intermission.
The third period began very poorly for the Stars. Back-to-back penalties on Dallas led to back-to-back goals by Alexander Radulov and Max Pacioretty to give the Canadiens a 3-2 lead. Esa Lindell scored late to tie the game at 3-3 and carry it to overtime.
Max Pacioretty answered early in the overtime period with no Stars' defensemen in sight to score the game winner and win the game for Montreal.
stars
Blackout Dallas 10wDallas Stars Prepare To Host Emotional Hockey Fights Cancer Night
More headlines around FanSided:
15w - Dallas Stars Lose Radek Faksa To Injury In World Cup15w - Dallas Stars: World Cup Action In Full Swing16w - Dallas Stars Updates: Breaking Down Tyler Seguin's Injury16w - Dallas Stars Pull Tyler Seguin From World Cup Due To Injury16w - Dallas Stars Hopping On WCH Stat Sheet EarlyMore News at Blackout Dallas

Thoughts and Observations
Overtime is still the enemy
The Dallas Stars fell to 2-8 in overtime with the loss to Montreal tonight. They are 2-4 at home in the extra frame this season and continue to stumble when it comes to 3-on-3.
"The points we've lost in overtime is becoming just unacceptable when we're making mistakes like that," head coach Lindy Ruff said. "That's just a hand-them-a-point and that's hard because we need points right now. That's detail, mental, and attention to detail."
If the Stars had even won half of their games in overtime this year (go 5-5, in other words), they would be at 43 points. That would give them sole control of the first wild card spot and would put them only two points back of third place in the Central Division. These lost points are really starting to take the wind out of the Stars' sails, and if it continues, they will be on the wrong side of the eight ball before they know it.
Sharp was great on first line
Patrick Sharp had an exceptional night in just his second game back from injury. He delivered a jarring hit, got scrappy with Mitchell in a fight (and was not injured by it, for all those who worried about a lingering concussion), and tallied an assist. He also finished with a rating of +2.
It's nice to see #10 back in the lineup, and it was even better seeing him produce so efficiently on the top line. Maybe he should stay there?
Eakin, Roussel, and Eaves: the new Pit Bull line?
Antoine Roussel, Cody Eakin, and Patrick Eaves started the night making up the Stars' fourth line. But by the end of it, they had skated the second most of any line for Dallas. That's because the line was buzzing the entire night.
They were creating chances, giving each other opportunities, and keeping the offensive pressure on. They also picked up the physicality. Roussel was, well, Roussel, and Eaves laid out a few monster hits.
It was also Roussel's first game back from injury and his play impressed.
"I thought he played really well and I thought he was one of our better players out there," Ruff said. "I thought his hustle and his work ethic was fabulous."
If these three can continue to build chemistry, they could quickly solidify themselves as the new second line for Dallas. Or they could provide quality depth as the third group. Either way, Ruff may have found a new buzzing line.
Chances, chances, chances
It's no secret that the Dallas Stars had some really good chances tonight. They were all capped off when Sharp had an opportunity to score with about 30 seconds left and sent the puck over the net.
"We had plenty of scoring chances in the second that we couldn't get to go," Ruff said. "We had one point-blank with 30 seconds left that we couldn't finish off."
"I feel like we had some really great chances, but just weren't lucky enough to get one," Antoine Roussel said about his own line's opportunities in the game.
It seems as though this has been the recurring story for the Stars all season, and just as many other things are, it's starting to hurt them. They're running out of time where they can skip over things that go wrong and just fix it the next game. The final half of the season is basically here.
The Stars must start burying their chances and taking control of games early. If not, things are going to really quickly take a turn for the worst.
Stars played stellar on all sides of the puck for 30 minutes
The Dallas Stars did not have the best start or the best finish, but it was that thirty minutes in between that was so sweet.
"I think we started a little slow but we were able to work ourselves in the game," Johnny Oduya said following the loss. "The second [period] was pretty good."
In the second period, Dallas outscored Montreal 1-0 and outshot them 16-7. They were full of energy and really hounded on the Canadiens' fatigue. They created chances, applied pressure, and scored a power play goal.
And then it all fell apart in the third. They committed two penalties and had two power play goals against in a span of 1:15. Luckily, Esa Lindell found a way to tie it up from the point as time dwindled. But then they went right back downhill in overtime.
If the Stars cannot find 60-minute consistency, the wins will continue to evade them.
Still, a point is a point
Even though the Stars couldn't come away with two, it was good to see them sneak away with one.
Though they probably deserved to win the game but instead gave it away, they dug in to get one point that pushed them up in the standings. But that's still no excuse for not walking away with two.
Looking ahead
The Dallas Stars will take on two more days of rest before their next excursion. They will visit the St. Louis Blues on Saturday night in hopes of turning around their misfortunes and finding a win in a Central Division grudge match.
Until then, keep your head held high and a watchful eye on Blackout Dallas for all things Dallas Stars.
More from Blackout Dallas
This article originally appeared on
---
---