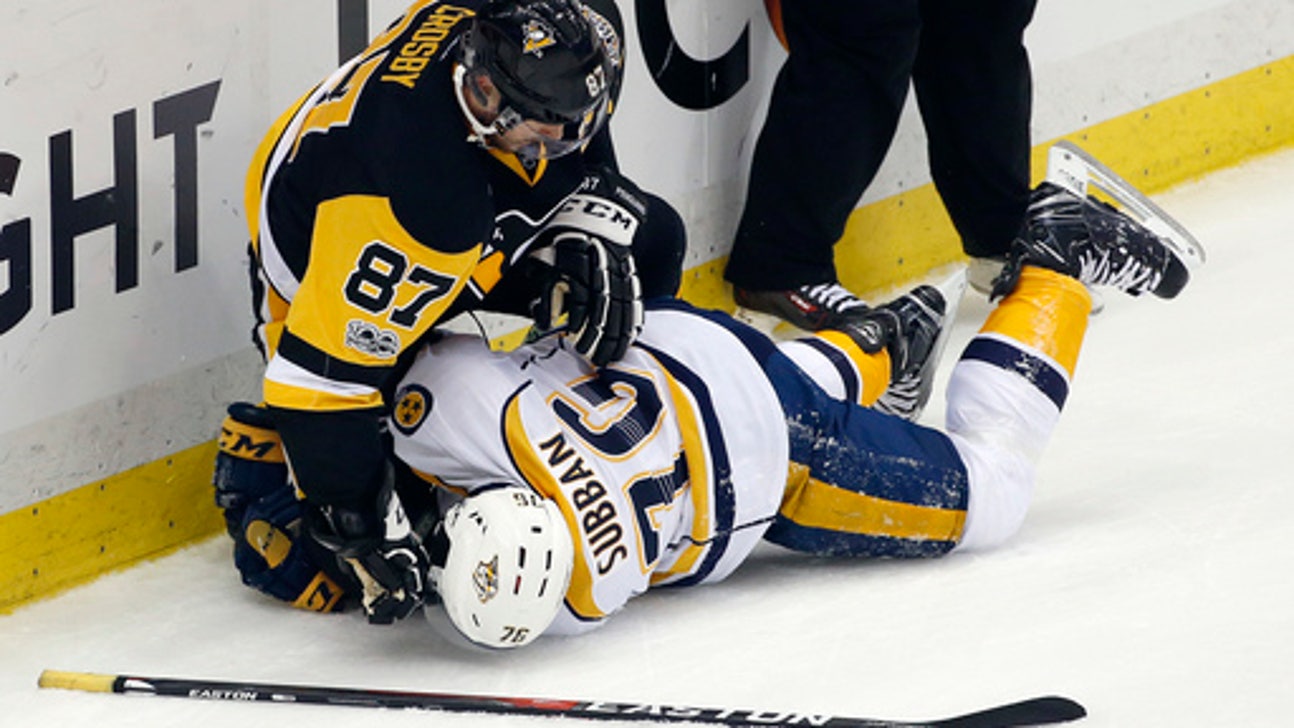 Crosby doing it all again as Penguins close in on Cup
Updated
Mar. 4, 2020 10:10 p.m. ET

PITTSBURGH (AP) Sidney Crosby's teammates keep saying nothing ever changes with the Pittsburgh Penguins captain. That the secret to his greatness is really no secret at all. The Penguins believe he remains the same player and the same person every shift, every night.
In theory, yes. But not always in practice.
What separates Crosby is an ability to raise his play in lockstep with the stakes. His team's grasp on a second straight Stanley Cup tenuous at best heading into Game 5 against Nashville on Thursday, Crosby did more than send a message. He took over. And he led. In more ways than one.
Sure, Crosby dished out three assists in Pittsburgh's lopsided 6-0 win to give the Penguins a 3-2 lead in their increasingly coarse series with the Predators. Yet becoming the franchise's all-time leader in points during this Stanley Cup Final (surpassing his boss, Mario Lemieux) captures only a slice of the brilliance and brawn (yes, really) that pushed Pittsburgh to the verge of a fifth title.
There was his quicksilver first shift, when Crosby split the Predators defense shortly after the opening faceoff, then rang shot off the left post while drawing a penalty from Nashville's Ryan Ellis, who tried futilely to slow him down. Pittsburgh scored on the ensuing power play and never looked back.
There was his scrum behind the Nashville net late in the first period with frequent tormentor P.K. Subban. Crosby responded to the All-Star defenseman doing some ''UFC move'' on his right foot by trying to make Subban's face a permanent part of the ice.
There was the slick blind backhand pass to Conor Sheary just 1:19 into the second period that made it 4-0. Oh, and don't forget the water bottle toss just moments before Phil Kessel's first goal of the series pushed the lead to 5-0. He insists it was accidental.
Crosby only spent 18:03 on the ice during the rout. It just seemed like more.
''When he plays that way it's awfully easy to follow him,'' Penguins forward Matt Cullen said. ''He's pretty inspirational when he plays that way and he gets to a level that not many guys can get to.''
In the process Crosby moved into a tie for 19th on the all-time list for playoff points and is within one victory of celebrating a third championship with Pittsburgh, something even his Hall of Fame mentor was unable to do.
''Sid really understands the opportunity that this team has, and he's not taking anything for granted,'' Penguins coach Mike Sullivan said. ''He doesn't just show up to the rink and put his equipment on. He controls everything within his power to be the very best. He controls his diet. He lives the right way.''
And he typically plays the right way, though Crosby's definition of ''right'' can be altered to fit the moment. One shift he's putting together a breathless end-to-end rush, the next he's scrapping with Subban in a sequence that would have seemed out of character in January. It seems simply part of the territory in June.
Subban drew laughs when he attributed a Game 3 run-in with Crosby to a discussion about Subban's bad breath. The chatty defenseman and his teammates took the joke and ran with it.
Not Crosby, who said Subban ''likes the attention'' and ''wants to make stuff up.''
With 90 seconds left in the first period Thursday night, all that lingering tension came to a boil, leading the face of the NHL to do something unCrosbylike. The two-time MVP ended up on top of a stickless Subban and attempted to get up only to have Subban refuse to let go of Crosby's right leg. So Crosby started playing whack a mole with Subban's head, resulting in offsetting minor penalties that only seemed to send another jolt through the Pittsburgh bench.
The Penguins scored in the ensuing 4-on-4 to go up 3-0 and take momentum into Nashville for Game 6 on Sunday night.
''He's giving our team juice,'' Sheary said. ''But that's what a leader does.''
One that has changed the narrative around him over the course of the last two springs.
The cloud of the concussion symptoms that dogged him for the better part of two years in 2011 and 2012 are gone. The last nine months have only emphasized Crosby's resilience. He missed the first couple of weeks of the season with a concussion, then returned to lead the NHL in goals. His playoffs appeared to be in jeopardy when he took a crosscheck to the face from Washington's Matt Niskanen in the second round.
Crosby missed all of one game. His three assists on Thursday moved him within one point of teammate Evgeni Malkin for the NHL lead in playoff points and very much into the conversation for a second straight Conn Smythe Trophy as playoff MVP.
A victory over the next two games would make Pittsburgh the first team in 19 years to go back-to-back and give Crosby three championships before his 30th birthday, with the window for more very much open into the early portions of the next decade if he and Malkin can stay healthy.
Of course, it all changes if the Predators reclaim their swagger and rally to complete one of the improbable Cup runs in NHL history. Crosby, perhaps more than anyone else, is well aware the job is not yet finished.
Another performance like Game 5, however, and it might be. Soon.
---
More AP NHL: http://apnews.com/tag/NHLhockey
---
---