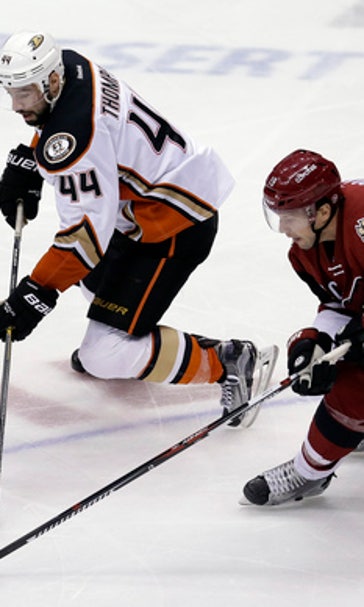 Coyotes score 3 in 1st period, hold on to beat Ducks (Feb 20, 2017)
February 21, 2017

GLENDALE, Ariz. (AP) Marek Langhamer made enough saves in a relief appearance in his NHL debut to help the Arizona Coyotes get another big win.
Langhamer replaced starter Mike Smith early in the third period and stopped two point-blank shots in the closing seconds, helping the Coyotes hold off the Anaheim Ducks 3-2 Monday night.
''It was tough to jump right into it, but guys played a great game in front of me,'' said Langhamer who had seven saves on eight shots. ''Obviously I'm thankful for that and happy I could do it.''
Radim Vrbata capped Arizona's three-goal first period and the Coyotes won for the fourth time in six games. Christian Dvorak and Jakob Chychrun also scored for Arizona, and Smith had 27 saves before leaving about 4 1/2 minutes into the third period after a blow to the back of his head.
Smith, the Coyotes' All-Star, was fine after the game, coach Dave Tippett said, and was ordered to come out after a concussion spotter saw Smith take a helmet to the back of his head. He's not expected to miss any time.
Langhamer, called up from the AHL on an emergency basis late last week with backup Louis Domingue dealing with injury, helped kill a power play after being pressed into action.
He gave up Ryan Getzlaf's second goal of the night and 11th of the season with 26.8 seconds to play, but gathered himself and stopped a rebound shot from Corey Perry just before the final horn.
''He's a real calm kid,'' Tippett said. ''When you know he's going to be all right is the first couple of times he touched the puck he was playing outside the net, didn't look nervous at all.''
Jonathan Bernier gave up three goals on six shots in the first period for the Ducks, who have lost six of nine. Starting goalie John Gibson, who played in the 1-0 win over Los Angeles on Sunday night, came on to start the second and stopped all 14 shots he faced.
''Looks bad on him (Bernier), but I think you have to blame this one on his teammates,'' Ducks coach Randy Carlyle said.
Dvorak's backhand off a pass from Shane Doan gave the Coyotes the lead 2:02 into the game. It was Dvorak's sixth goal in the past nine games.
Ryan White delivered a pinpoint cross to Chychrun in the middle, and the young third-line defenseman beat Bernier at 4:46.
Vrbata's 12th came courtesy of Ducks defenseman Sami Vatanen's skate. His shot caromed off Vatanen and into the goal, though officials originally ruled it a non-goal with Arizona's Martin Hanzal also in the vicinity of the net.
The play was reviewed and overturned, and the Coyotes led 3-0 with 5:10 remaining in the opening period.
Anaheim captain Getzlaf scored with 7:34 left in the second period as he deflected Josh Manson's shot past Smith.
The Coyotes took the two-goal lead into the third period, and improved to 14-0-3 when leading after 40 minutes this season.
''We weren't sharp enough and the team didn't have enough energy,'' Carlyle said.
The Coyotes played their first game without defenseman Michael Stone, who was traded earlier Monday to Calgary. Stone debuted with the Coyotes in 2011 and had been with the team ever since. He was replaced on the second defensive line by Connor Murphy.
''He's a quality person,'' Tippett said of Stone. ''In the situation we're in, unfortunately we're sellers. He's been a good teammate, wish him well.''
Doan tied Brendan Shanahan for 15th place on the list of most games played in NHL history at 1,524 games.
NOTES: Coyotes general manager John Chayka said the trade of Stone means current minor-leaguer Anthony DeAngelo will be called up from AHL and see more action. ... Chayka said no other Coyotes trades are imminent. The trade deadline is March 1. ... Ducks C Antoine Vermette didn't play Monday against his former team, serving the third of a 10-game suspension he's appealing. D Korbinian Holzer and F Jared Boll were also scratched.
UP NEXT
Ducks: Host Boston on Wednesday, and play four of the next five at home.
Coyotes: At Chicago on Thursday, the first of a stretch of five of six on the road.
---
---