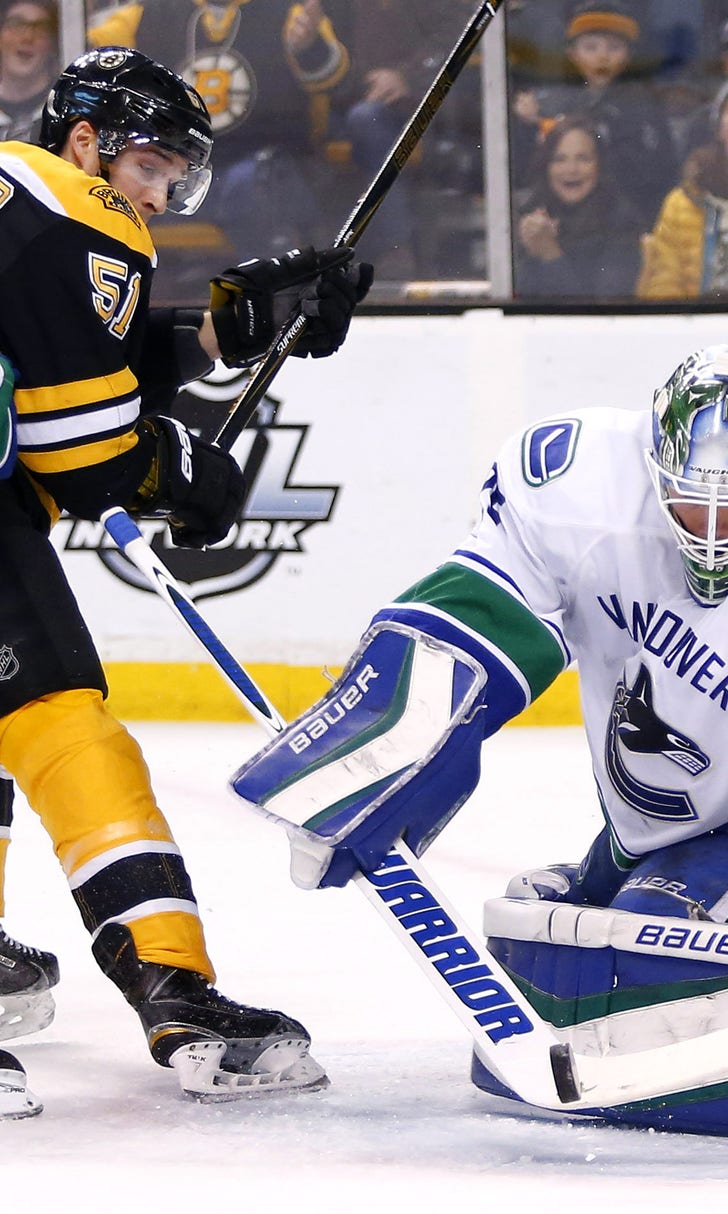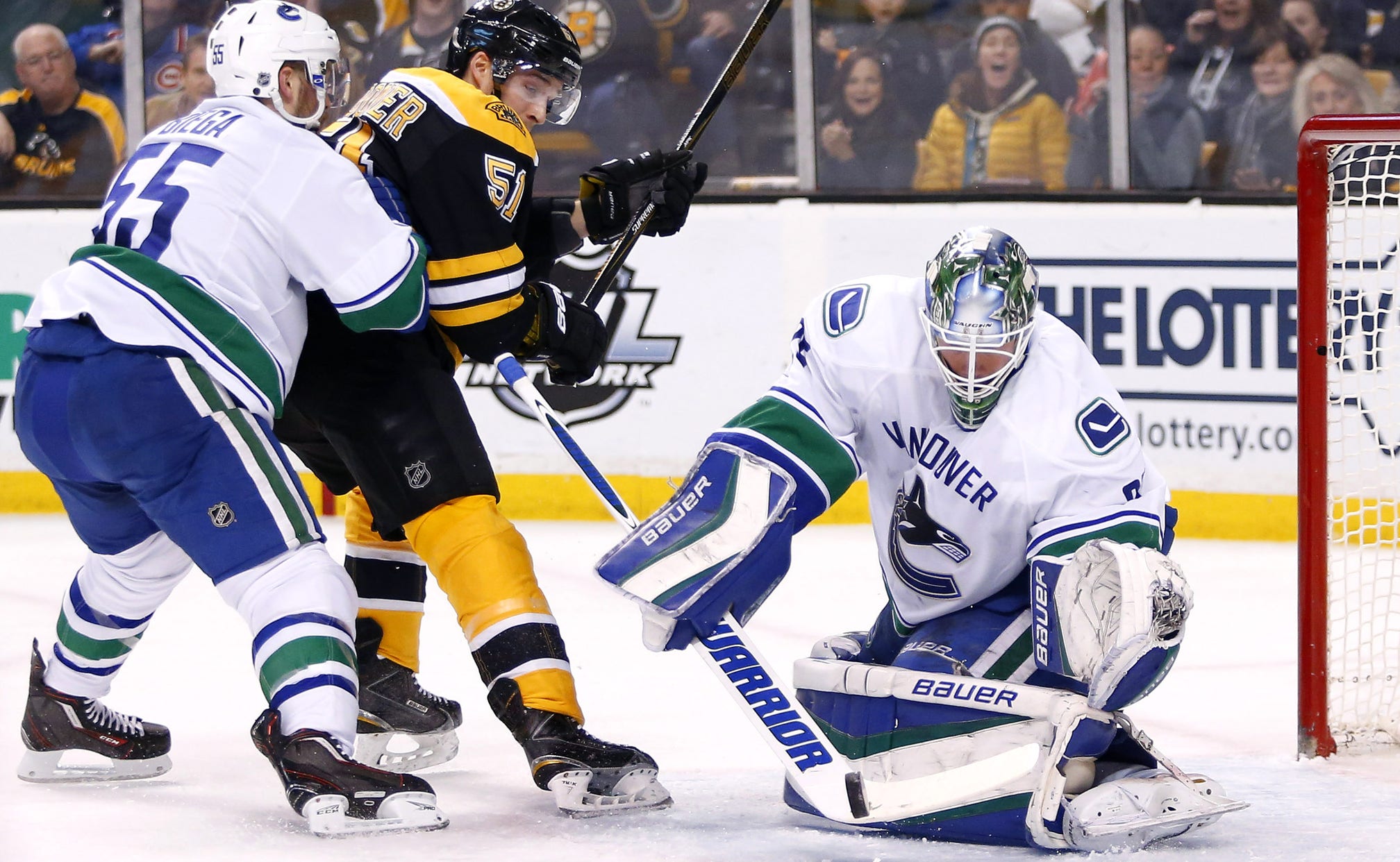 Canucks Game Day: Loui Eriksson Returns to Boston
BY Fansided and Alex Hoegler/FanSided via The Canuck Way • June 30, 2017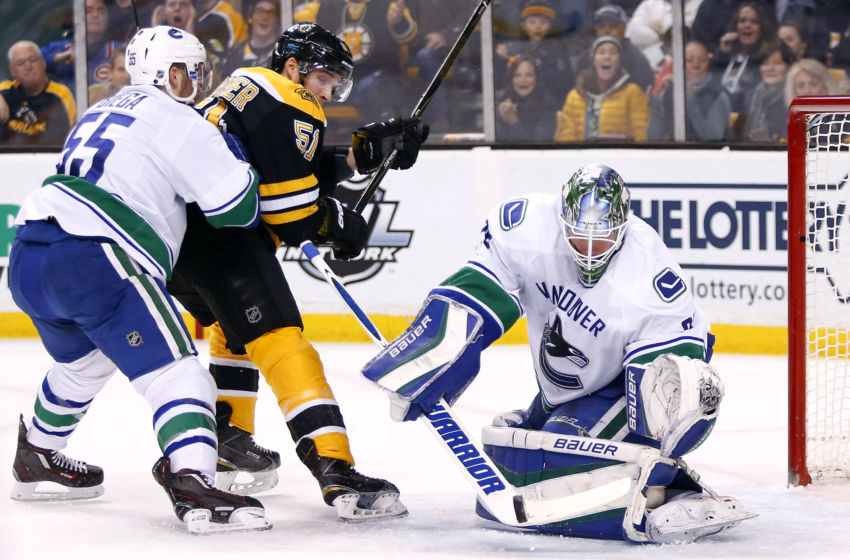 After scoring his first goal since Jan. 15 in a 3-0 win over the Columbus Blue Jackets, Loui Eriksson will try to carry the momentum over against his old team.
Just when you were ready to count the Vancouver Canucks out, Loui Eriksson strikes back and the team pulls off a surprising road victory against the Columbus Blue Jackets.
Eriksson had gone eight-straight games without a goal and seven games without a point, but that all ended Thursday. The key now is to try and sustain that momentum when he visits the Boston Bruins — where he spent three seasons.
So far, Eriksson's tenure with the Canucks has been a forgetful one. The team signed him a six-year contract worth $36 million. He's on pace to finish with just 17 goals and 33 points — a far cry from the 30 goals and 63 points he put up in Boston a year ago.
Playing with fellow Swedes Daniel and Henrik Sedin hasn't exactly worked out as advertised. But if Eriksson can get a hat trick in Boston, that puts him on pace for 20 goals! You never know what could happen. Maybe Eriksson will get hot again, and it could start against his old team that happens to be a huge rival of the Canucks.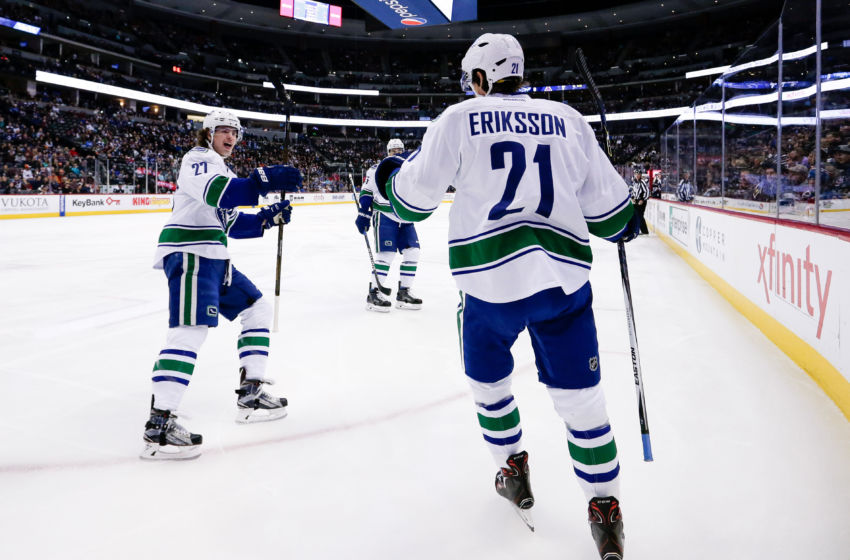 Vancouver Canucks
OVERVIEW:
2016-17 Record: 24-24-6
Away Record: 7-16-3
2015-16 Record vs. Bruins: 1-1-0
Goals For: 128
Goals Against: 154
Power Play: 15.2% (27th)
Penalty Kill: 79.0% (24rd)
Leading Scorers: Bo Horvat (54 GP – 15 G -19 A – 34 PTS), Henrik Sedin (54 GP – 11 G – 23 A – 32 PTS), Daniel Sedin (54 GP – 12 G – 18 A – 30 PTS)
Injuries: Sven Baertschi (concussion, day-to-day) Ben Hutton (upper body, day-to-day), Anton Rodin (knee-day-to-day), Erik Gudbranson (wrist, indefinite), Derek Dorsett (neck, out for season)
WHO'S ON OFFENCE:
Markus Granlund: Granlund has been impressive in his last two outings: A goal, an assist and seven shots on goal while playing a total of 36:09 over those two games.
Henrik Sedin: Remember when I said he was bound to bounce back on Thursday? How does two assists sound?
WHO'S ON DEFENCE:
Nikita Tryamkin: The 6-7 blueliner vs. the 6-9 Zdeno Chara. Who else just wants to see a steel cage match between these two giants?
WHO'S IN NET:
Ryan Miller: Miller hasn't played in the last three meetings against Boston. At Rogers Arena two years ago, he stopped 21 of 23 shots faced in a 5-2 Canucks victory.
PROJECTED LINEUP:
Daniel Sedin — Henrik Sedin — Loui Eriksson
Markus Granlund — Brandon Sutter — Jannik Hansen
Reid Boucher — Bo Horvat — Alexandre Burrows
Jayson Megna — Michael Chaput — Jack Skille
Alexander Edler — Troy Stecher
Luca Sbisa — Chris Tanev
Nikita Tryamkin — Ben Hutton
Ryan Miller
Jacob Markstrom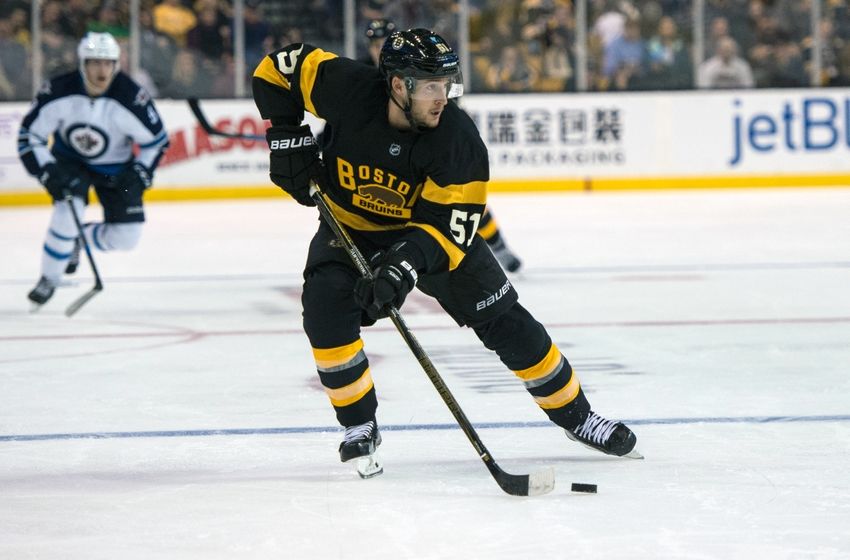 Boston Bruins
OVERVIEW:
2016-17 Record: 27-23-6
Home  Record: 13-13-0
2015-16 Record vs. Canucks: 1-1-0
Goals For: 149
Goals Against: 152
Power Play: 20.0% (14th)
Penalty Kill: 86.2% (2nd)
Leading Scorers: Brad Marchand (56 GP – 24 G – 33 A – 57 PTS), David Pastrnak (49 GP – 24 G – 22 A -46 PTS), David Krejci (56 GP – 13 G – 22 A – 35 PTS)
Injuries: Zdeno Chara (illness, day-to-day), Austin Cznarik (lower body, day-to-day), Brian Ferlin (lower body, day-to-day)
WHO'S ON OFFENCE:
More from The Canuck Way
Brad Marchand: One of the many players a lot of Canuck fans love to hate. Marchand had a goal in each of the two meetings against Vancouver last season.
David Pastrnak: He's sizzling hot with eight points in his last three games. He also has 13 points in his last eight games.
WHO'S ON DEFENCE:
Zdeno Chara: Chara had three points in last Saturday's loss to the Toronto Maple Leafs — but he still has just 15 on the season. He also has a minus-four rating in his last six games against Vancouver.
WHO'S IN NET:
Tuukka Rask: The Bruins star goalie hasn't been himself as of late. He's 2-2-0 in his last four outings, allowing an astonishing 15 total goals.
PROJECTED LINEUP:
Brad Marchand — Patrice Bergeron — David Backes
Peter Cehlarik—David Krejci — David Pastrnak
Frank Vatrano—Ryan Spooner — Matt Beleskey
Tim Schaller— Dominic Moore — Riley Nash
Zdeno Chara — Brandon Carlo
Torey Krug — Adam McQuaid
Kevin Millar — Colin Miller
Tuukka Rask
Anton Khudobin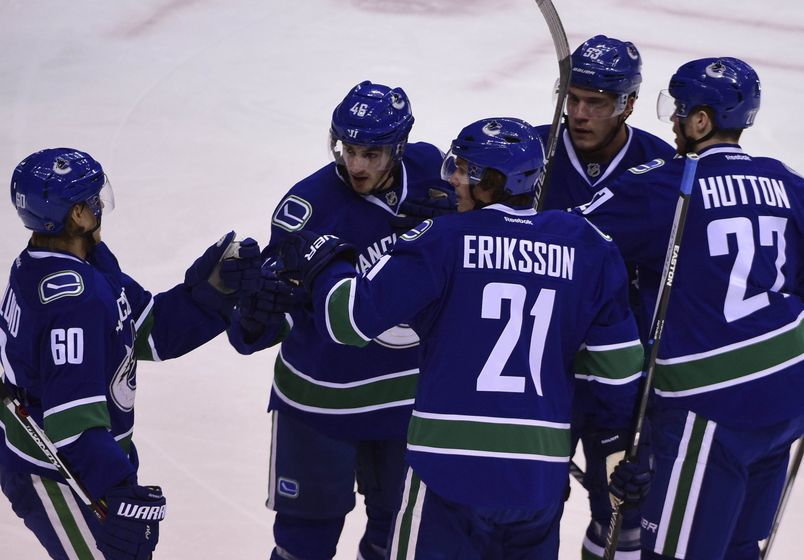 Back in Beantown
While a handful of Canucks players will always have sad memories of TD Garden, it was a special place for Loui Eriksson from 2013-14 to 2015-16.
Every Canucks fan is familiar with the 2011 Stanley Cup Final. Vancouver failed to win just one game in Beantown that would have made them Stanley Cup champions. Boston outscored Vancouver 17 to 3 (!) in Games 3, 4 and 6.
The Canucks have taken three of the four meetings in Boston since, however. So maybe playing at TD Garden isn't as daunting as it used to be.
For Eriksson, it will be a somewhat emotional return. He was the centrepiece of the Tyler Seguin trade with the Dallas Stars. He had 62 goals and 147 points in his three seasons there.
Boston and Eriksson's current team are both fighting for their playoff lives, and it'd be sweet for Eriksson to take it to his (second) former team, who weren't willing to match his asking price.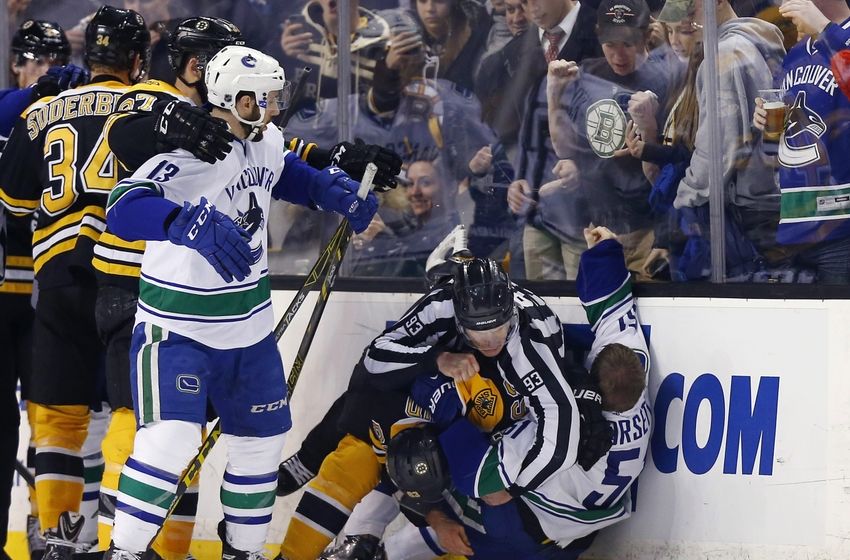 Broadcast Info:
Vancouver Canucks @ Boston Bruins – 10 AM PT

TD Garsen — Boston, Mass.
TV:  SN, NESN
Radio: TSN1040
Online Streaming: Rogers NHL GameCentre LIVE, NHL.TV
Predictions
Alex:
VancouverCanucks3
Vancouver seems to love Boston, with wins there in four of the last five meetings. They keep the unexplained momentum going in Beantown.
Janik:
VancouverCanucks3
Another shutout by Ryan Miller. Goals scored by Troy Stecher and Jannik Hansen. (Because goal scoring is totally random in Vancouver.)
Jeff:
VancouverCanucks3
Daniel Sedin's breakout continues against the Bruins. But, it won't be quite enough, as his team will fall in a shootout.
---
---