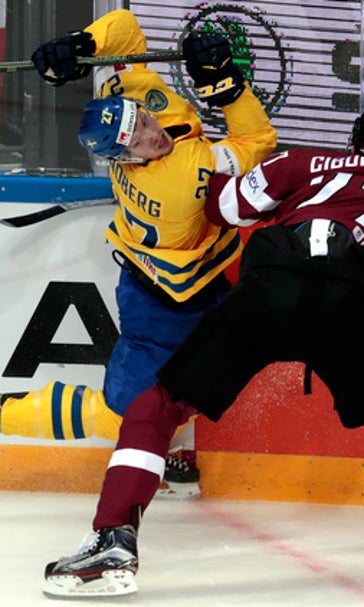 Canada pounds US 5-1 in world championship opener
May 6, 2016

ST. PETERSBURG, Russia (AP) Canada pounded the United States 5-1 in their opening game of the world ice hockey championship on Friday.
The U.S. held the lead for less than a minute in the first period thanks to Patrick Maroon's power-play goal, before Taylor Hall leveled for Canada. Brendan Gallagher's wrist shot put Canada in front at the end of the first.
The U.S. outshot Canada 14-11 in the second but went further behind when Matt Duchene was allowed time to line up a wrister.
Boone Jenner made it 4-1 in the third, beating Keith Kinkaid from a tight angle, and Brad Marchand scored the fifth on a breakaway while Canada was short-handed.
''It wasn't easy,'' Gallagher said. ''They played hard and it was difficult. We put some pucks in late. All game long, they were constantly challenging us.''
U.S. captain Matt Hendricks praised Canada, and said his team had plenty of room to improve.
''That team just seems to have a lot more polish than we did tonight. When they had opportunities to score, they were scoring,'' he said. ''A team with that type of high-end skill, they're going to find the back of the net.''
Ryan O'Reilly had two assists for Canada. While Canada outshot the U.S. 33-25 overall, the penalty kill was a comparatively bright spot for the Americans, who neutralized all five of Canada's power plays.
The U.S. returns to action on Saturday against Belarus, which lost to Finland 6-2.
''We need to learn some lessons from tonight's game, and we've got to be better,'' U.S. coach John Hynes said. ''We like our character, we just need to be a little bit more mature in our game.''
Auston Matthews, the 18-year-old center widely expected to be the top NHL draft pick next month, played almost 17 minutes for the U.S. in his men's world championship debut.
''I thought his compete level on the puck was very good tonight,'' Hynes said. ''Now it's just managing his game the right way to find ways to help us win games.''
Matthews said the game was ''very fast,'' but he was helped by his experience on big ice after spending a season in the Swiss league.
In Moscow, the Czech Republic inflicted a 3-0 defeat on host team Russia, with goaltender Dominik Furch making 25 saves for the first shutout of this world championship.
After the tournament was officially opened by Prime Minister Dmitry Medvedev - President Vladimir Putin said he was occupied with government business - Tomas Kundratek gave the Czechs the lead in the first period, shooting between Russian goalkeeper Sergei Bobrovsky's legs. Roman Cervenka made it 2-0 on the power play in the second, and Michal Birner's empty-netter killed Russian hopes of a late fightback.
Russia's scoreless power play was a major flaw against a Czech team which survived a brief 5-on-3 situation in the third.
Sweden started with a 2-1 overtime win over Latvia on Gustav Nyquist's goal.
Sweden made 44 shots against 21 for the Latvians, who took the game to overtime when Kristaps Sotnieks' third-period goal canceled out Jimmie Ericsson's earlier score for Sweden.
One of the stars of Finland's win over Belarus was Patrik Laine, widely tipped as a rival to Matthews for the No. 1 NHL draft selection, who registered two goals and an assist.
---
---