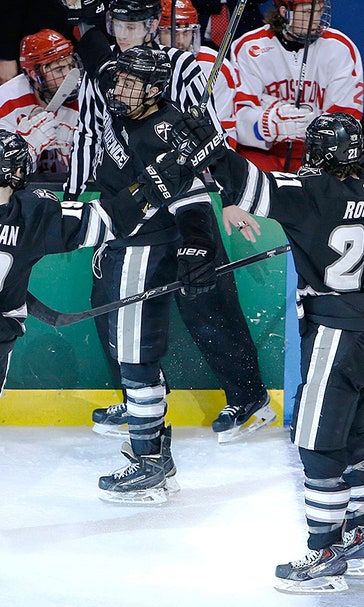 Boston University loses Frozen Four final to Providence in heartbreaking way
April 11, 2015

The Boston University Terriers held a 3-2 lead over the Providence Friars in the third period of the Frozen Four final on Saturday when the rug got pulled out from under them.
With under nine minutes to go, Providence defenseman Kyle McKenzie took an innocent-looking shot from the neutral zone and BU goalie Matt O'Connor caught it with his glove.
Then, in a moment of apparent confusion, O'Connor opened his glove and dropped the puck to the ice, where it bounced between his pads and across the goal line to tie the score. Here are a couple looks at it:
Fans inside TD Garden were simply dumbfounded (h/t: WhirlwindSpiritedGoose):
Just over two minutes later, the Friars struck again when forward Brandon Tanev picked up a puck off the faceoff in the BU end and ripped a shot off the left shoulder of O'Connor for the 4-3 lead.
BU put together a mad scramble in the final moments and just barely missed an empty-net opportunity, but couldn't push the game to OT. Providence, meanwhile, held on for its first hockey national championship.
After the game, it appeared the shock still hadn't worn off, as the Friars were awarded the national title trophy as the "Bos-- Providence College Terriers."
Though it didn't seem like they cared too much.
---
---