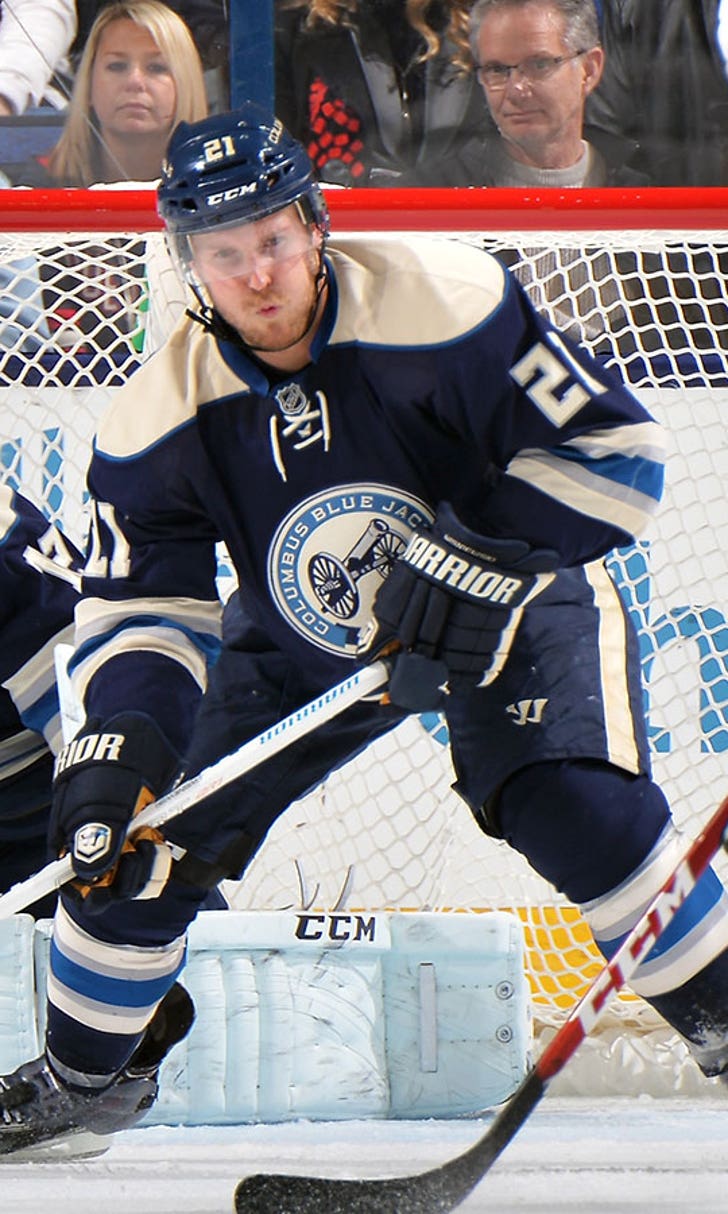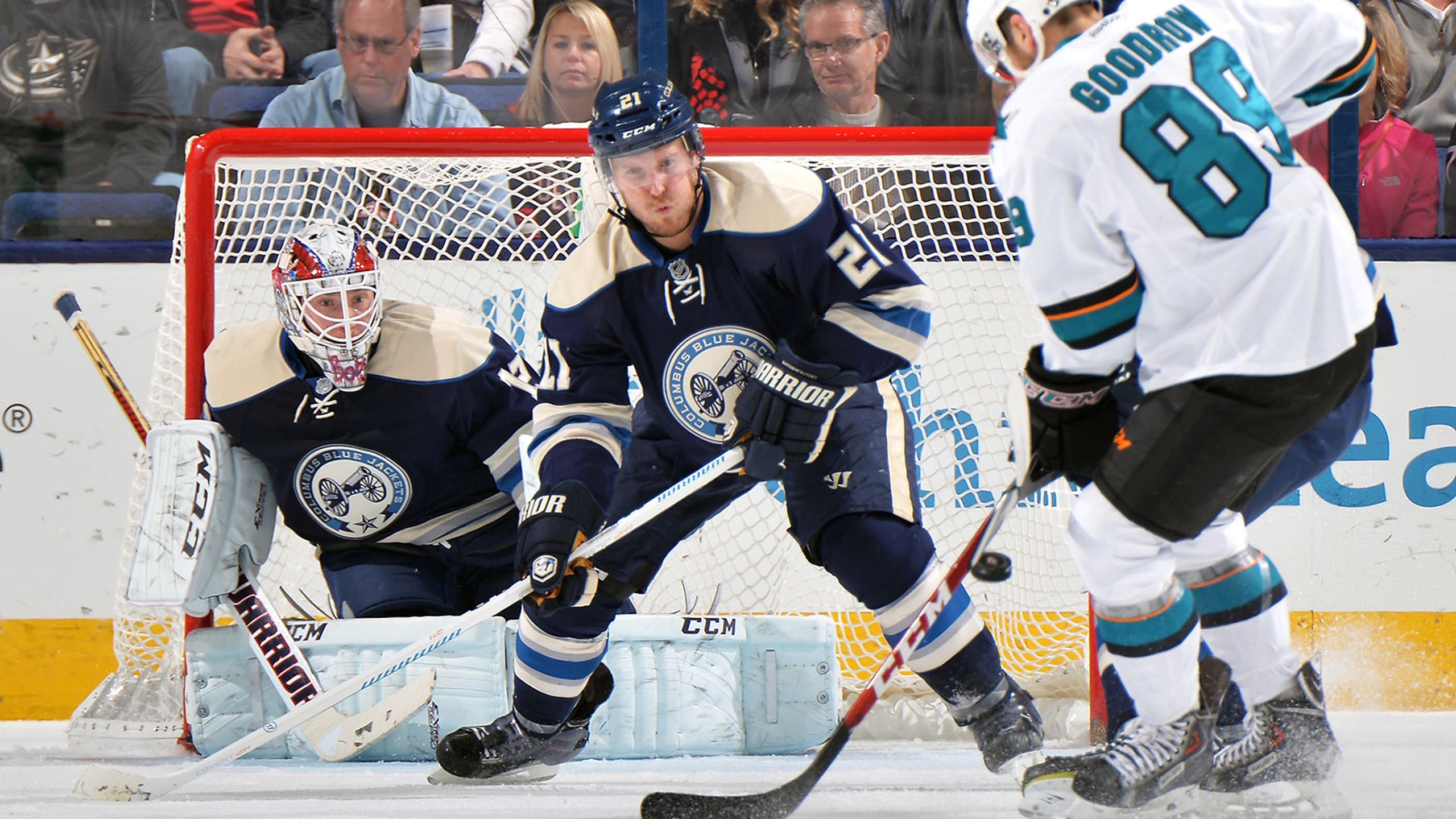 Bobrovsky makes 36 saves in return as Blue Jackets beat Sharks
BY foxsports • November 15, 2014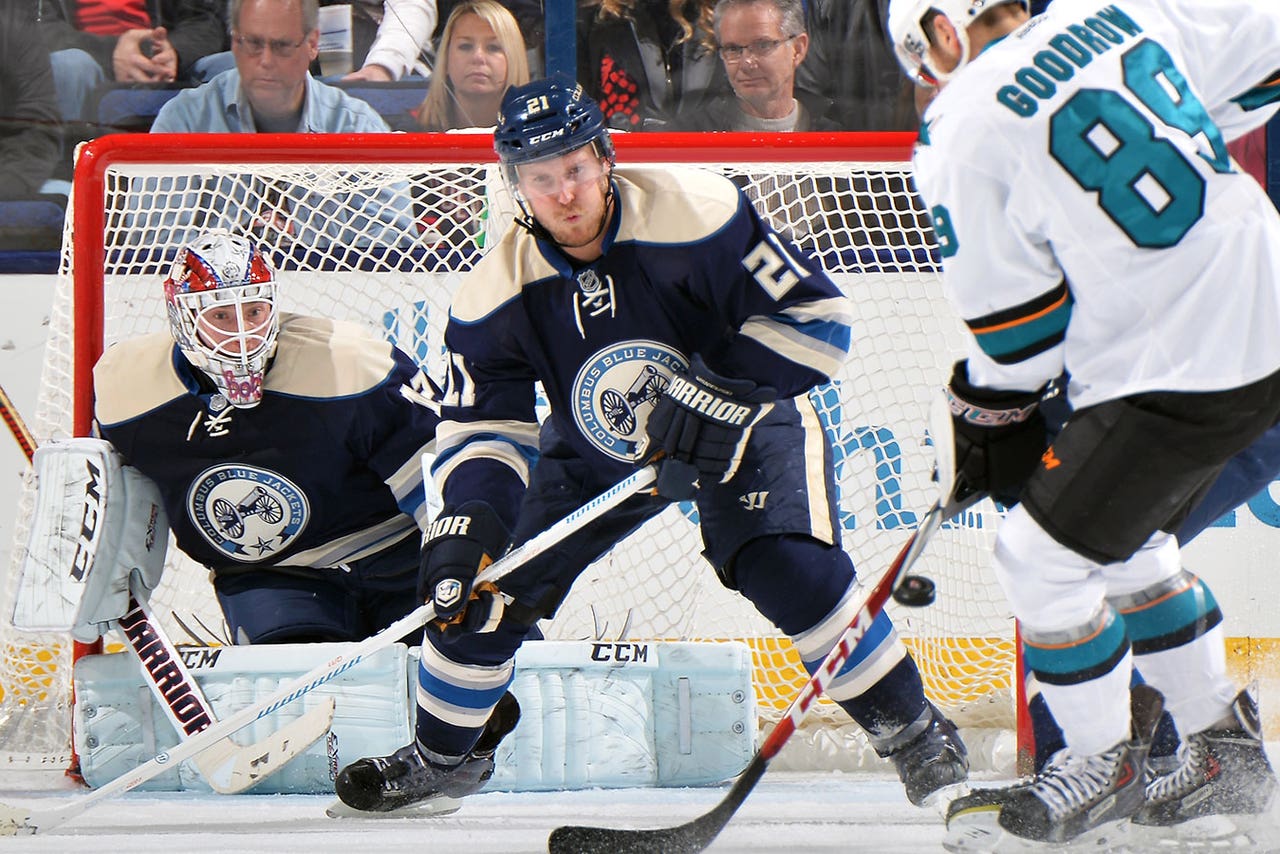 After a difficult month in which many of their top players were injured at one time or another, it was almost like the Columbus Blue Jackets were at full strength.
Sergei Bobrovsky in goal has that kind of effect.
David Savard and Cam Atkinson scored and Bobrovsky had 36 saves in his return from the injured list to lead the Blue Jackets to a 2-1 victory over the San Jose Sharks on Saturday night.
''We've had a tough time here, with a nine-game losing streak,'' Bobrovsky said after the Blue Jackets won twice in just over 24 hours to end that skid. ''Now we deserve to enjoy it a little bit.''
Bobrovsky, the 2013 Vezina Trophy winner as the NHL's top goaltender, missed the previous eight games with a broken finger in his left hand. The win was the 100th of his NHL career and was keyed by a fearsome 4-minute penalty kill at the finish.
''Give credit to my teammates that I could reach that number,'' Bobrovsky said with a laugh.
The Sharks, down a goal, had a prime chance to tie it. Columbus forward Alexander Wennberg went off for a double-minor for high-sticking Scott Hannah with 5 minutes left in regulation, giving San Jose 4 minutes with a man advantage. The Sharks pulled goalie Antti Niemi with 20 seconds left in the penalty for an extra attacker, but Bobrovsky and his defense, scrambling at times, were able to kill the penalty.
Bobrovsky stopped Tomas Hertl on a hard shot from the right wing and also muffled a shot by Marc-Edouard Vlasic late in the power play.
''We made it close going into the third period,'' said Joe Pavelski, who scored the Sharks' goal in the final minute of the second. ''We had a big-time moment there at the end with a 4-minute power play. We needed a big play there and we didn't get it.''
Columbus coach Todd Richards, whose team had gone 0-8-1 before Friday night's 4-3 win at Philadelphia, said the late defense was a good sign.
''We played hard, we battled,'' he said. ''Right now, just finding ways to win hockey games is important.''
San Jose coach Todd McLellan could only shrug his shoulders.
''We have to live with an honest effort and not winning at times,'' he said. ''We had a number of opportunities to put the puck in the net and we didn't.''
The Blue Jackets got what would be the winning goal on a second-period power play.
Defenseman Jack Johnson carried the puck down the right flank, then slid a centering pass into traffic in front. With two Sharks players battling Brian Gibbons in the crease, the puck bounced through to Atkinson who had an open net from the left doorstep.
Bobrovsky was at his best midway through the period. He stoned Joe Thornton on a man-advantage wrister from the right dot and later blocked Tyler Kennedy as he muscled near the cage.
In the opening period, Adam Cracknell was prevented from unloading a shot on a wraparound, instead feeding Savard whose hard one-timer from the top of the right circle gave him his fourth of the year. Artem Anisimov assisted in his first game back after missing seven games with a concussion. Cracknell got his first point with Columbus since being claimed off waivers from the New York Islanders on Oct. 7.
''We did a lot of really good things out there,'' Blue Jackets forward Nick Foligno said. ''I'm really happy with our bounceback as (penalty) killers. It was a huge penalty kill for us. It says a lot about our team.''
NOTES: Niemi stopped 26 shots. ... The injury-saddled Blue Jackets (with eight players out) put D Fedor Tyutin (sprained left knee) on the injured list earlier in the day. He'll be gone four to six weeks. ... To bolster a blue line already missing Ryan Murray and Cody Goloubef, Columbus dealt a fifth-round pick in the 2016 draft to St. Louis for veteran D Jordan Leopold. Arriving in the afternoon, he saw substantial playing time. ... RW Mike Brown is practicing with the Sharks. He's been out (broken left hand) since Oct. 11. ... The Sharks are 2-3-0 on a seven-game road swing.
---
---