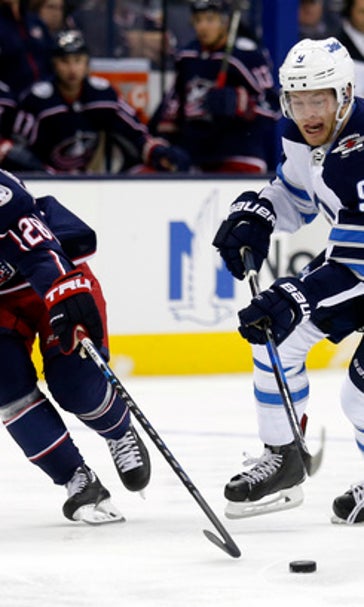 Blue Jackets rally to beat Winnipeg 2-1 in overtime (Oct 27, 2017)
October 27, 2017

COLUMBUS, Ohio (AP) Josh Anderson saw Winnipeg goaltender Steve Mason lose his stick, and he fired away for the overtime winner.
Anderson took three consecutive shots, with Mason dropping his stick while making the first save. Mason managed to block the second with his pads, but Anderson came around again and beat him from the slot, finishing off the Columbus Blue Jackets' rally for a 2-1 victory over the Jets on Friday night.
Columbus is 7-3-0, its best 10-game start in franchise history.
''It's not how you played the 40 or 50 minutes, it's finding a way to win a game when it's there, when you're still involved in it,'' Columbus coach John Tortorella said. ''I am thrilled we win this type of hockey game.''
The goal by Anderson 2:38 into overtime, his third of the season, capped the comeback victory. Cam Atkinson scored for the Blue Jackets midway through the third period to tie it.
''That was a tough one,'' Winnipeg's Blake Wheeler said. ''We had them where we wanted them. It's just too bad we weren't able to close it out.''
The winning goal came shortly after Blue Jackets goaltender Sergei Bobrovsky blocked and fell on a point-blank shot from Wheeler in the OT period. Bobrovsky finished with 29 saves.
''I don't think we gave them much,'' Tortorella said. ''But when we did give them something, Bob made some key saves at key times.''
Mason, who played in Columbus for the first five seasons of his career, stopped 35 shots as Winnipeg lost for the second straight night. The Jets fell to Pittsburgh 2-1 in OT on Thursday.
Columbus prevailed despite a slow start in a penalty-filled game.
Winnipeg's Brandon Tanev scored 4:52 into the first period. Bobrovsky stopped Tanev's initial wrist shot but lost track of the puck, which trickled between the goalie's legs and behind him into the blue paint. Tanev spied it, charged in and netted a backhander for his second goal of the season and just the fourth of his career.
Atkinson tied it 10:23 into the third when he backhanded a tumbling puck past Mason from the slot for his fourth goal of the season.
Winnipeg failed to score on six power plays. Columbus looked better on their four, but also couldn't score.
''We ground it out as hard as we could, and unfortunately came up short,'' Mason said.
The veteran goalie lost his fourth game of the season and has yet to win one, but Jets coach Paul Maurice was pleased with how he hung tough when the Blue Jackets finally found their footing.
''He fought through a lot of traffic to find some pucks and give us a chance to get a point,'' Maurice said. ''We're real pleased to get him back on track.''
NOTES: Columbus has won all three of its overtime games this season. ... Anderson skated on the first line with Nick Foligno and Artemi Panarin. He moved up from the third line. ... Columbus plays the third of 17 back-to-back sets this weekend. ... Winnipeg scratched D Tucker Poolman, D Ben Chiarot and F Joel Armia, who suffered an undisclosed injury and was replaced by Marko Dano. ... D Scott Harrington and F Markus Hanninkainen were scratched for Columbus.
UP NEXT:
Winnipeg: Hosts Pittsburgh on Sunday night.
Columbus: Plays at St. Louis on Saturday night.
--
More AP NHL hockey at https://apnews.com/tag/NHLhockey
---
Follow Mitch Stacy at http://twitter.com/mitchstacy
---
---