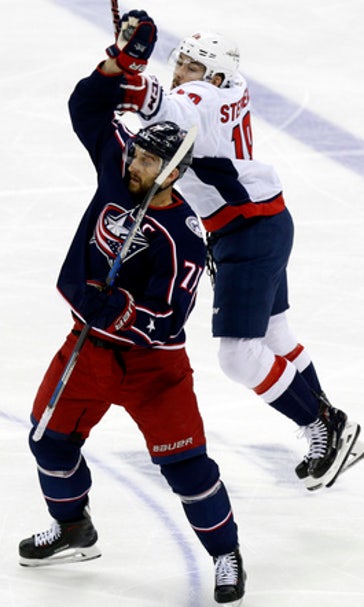 Blue Jackets, Caps say there is still plenty in the tank
April 18, 2018
COLUMBUS, Ohio (AP) Three straight overtime finishes to start the postseason? No problem.
That's what the Columbus Blue Jackets and Washington Capitals were saying after Tuesday night's double- OT game, one that finally ended when the puck pinballed around the front of the net, hitting Columbus defenseman Zach Werenski and the Capitals' Lars Eller before squirting past goalie Sergei Bobrovsky.
''Real ugly'' was how Eller put it afterward.
But it was a win, one that Washington badly needed after losing two straight overtime games at home. The Capitals needed 89 minutes to win Game 3, the longest game in Blue Jackets history and one played in front of the largest hockey crowd ever at Nationwide Arena.
Of the first 26 games of the NHL playoffs, there have been four overtime games in all, with three of them in this series (Vegas and Los Angeles also had a double OT game during the Golden Knights' sweep). It is the sixth time in playoff history that the first three games of a series went to OT.
Care to make it four?
The two teams go at it again on Thursday night (7:30 p.m. EDT, USA) with Columbus looking to take a 3-1 lead. Despite the extra hockey and nail-biting drama, nobody is feeling the burn. At least not that they're saying.
''I didn't see any guys dying out there,'' Columbus captain Nick Foligno said. ''I think we're in really good condition for this time of year. I don't think any guys worried about that.''
Washington coach Barry Trotz said his team is accustomed to managing overtime games and then coming back. It all builds character, he said.
''The playoffs are a test of will, even if it's not overtime,'' he said. ''What I think overtime makes you do is concentrate when you're tired. You have to be in that moment. You can't cut that corners, you can't do that fly-by when you're really tired, you can't cheat because those are the times the puck ends up in the back of your net.''
Columbus coach John Tortorella said he thinks his guys are fine.
''I'll tell you right now, if we're fatigued three games in, holy crap,'' he said. ''We're just starting. It was a long game last night and we've had some overtime games, but that's all part of it. You just can't be tired. I don't even think you can start talking about fatigue until you're in a couple of rounds from now.''
POWER LINE
After recording 20 points in the first two games against the Maple Leafs, the Boston line of David Pastrnak, Brad Marchand and Patrice Bergeron was held scoreless in Game 3. The Bruins are counting on their production to return for Game 4 in Toronto on Thursday night.
''I thought our top line was fine for the most part, they just didn't finish,'' coach Bruce Cassidy said after the 4-2 loss that cut Boston's lead in the series to 2-1. ''They (the Maple Leafs) were determined to keep them off the score sheet, and they did.''
While the Leafs had bad luck in the first two games - though that wasn't their only problem, as the combined 12-4 score could attest - in Game 3 it was Pastrnak who hit the post on one shot and then Toronto's Frederik Andersen made great saves on two others, first with his glove and then with his stick.
After two games, four Bruins led the NHL in postseason scoring - Pastrnak (4 goals, 5 assists), Marchand (1, 5), Bergeron (0, 5), plus defenseman Torey Krug (0, 5). Pastrnak's nine points still led the league heading into Wednesday night's games.
ABOUT THAT CALL
Cassidy took issue with a penalty call he says NHL officials made on a hunch in a 4-2 loss to Toronto in Game 3.
Bruins forward Riley Nash was handed a delay of game penalty for clearing the puck over the glass on Monday. But the puck touched the glass before entering the crowd, which would negate the minor penalty, and officials missed it. Nash was sent to the box at 16:58 of the first period.
Seven seconds later, James van Riemsdyk scored to put Toronto ahead 1-0. It was the first time in the series the Leafs scored first.
Cassidy, whose team leads the series 2-1, spoke to the officials at the beginning of the second period and wanted to know who of the four (two referees, two linesmen) decided to give Nash the two-minute penalty.
''My question was: who made the call? There's no call immediately,'' he said. ''When a referee makes a call you kind of live with it because it's decisive. So now they get together and I assume they want to make the right call, that's the idea, but to me they got together and clearly they guessed because it hit the glass and we saw that. I think you're kind of innocent until proven guilty.''
Game 4 is Thursday at Air Canada Centre (7 p.m. EDT, NBCSN).
---
AP Sports Writer Jimmy Golen in Boston contributed to this report.
---
Follow Mitch Stacy on Twitter at https://twitter.com/mitchstacy
---
More NHL hockey: https://apnews.com/tag/NHLhockey
---
---