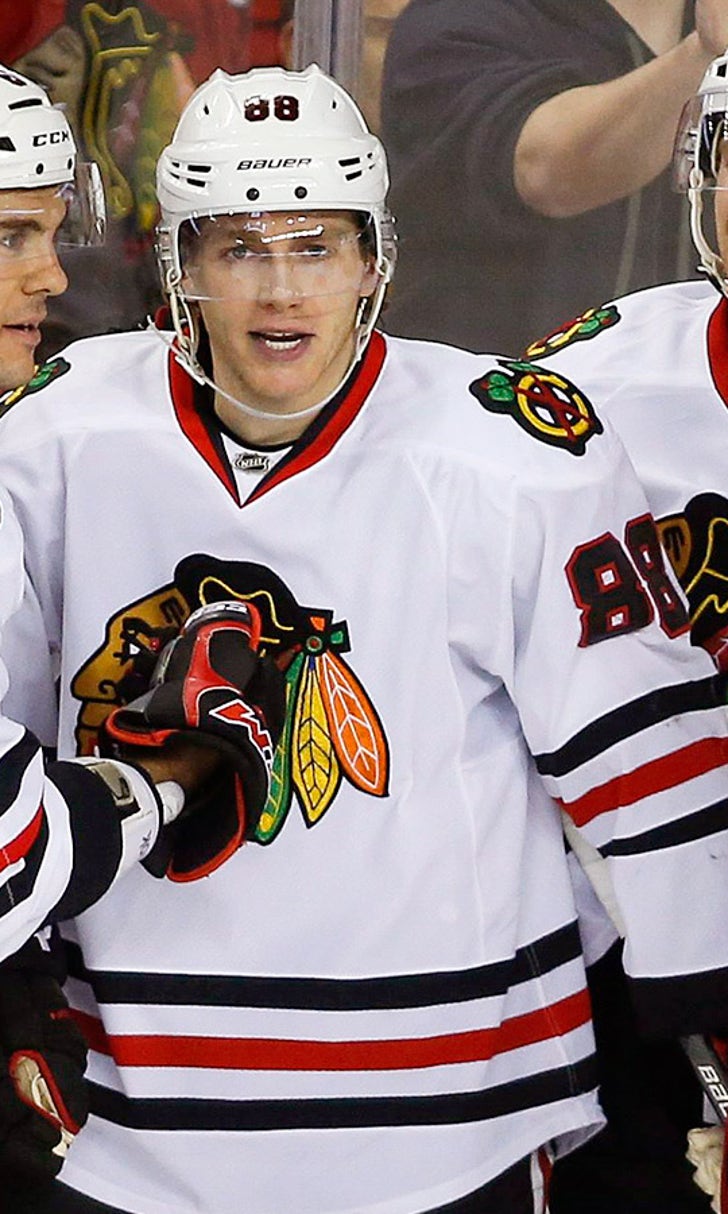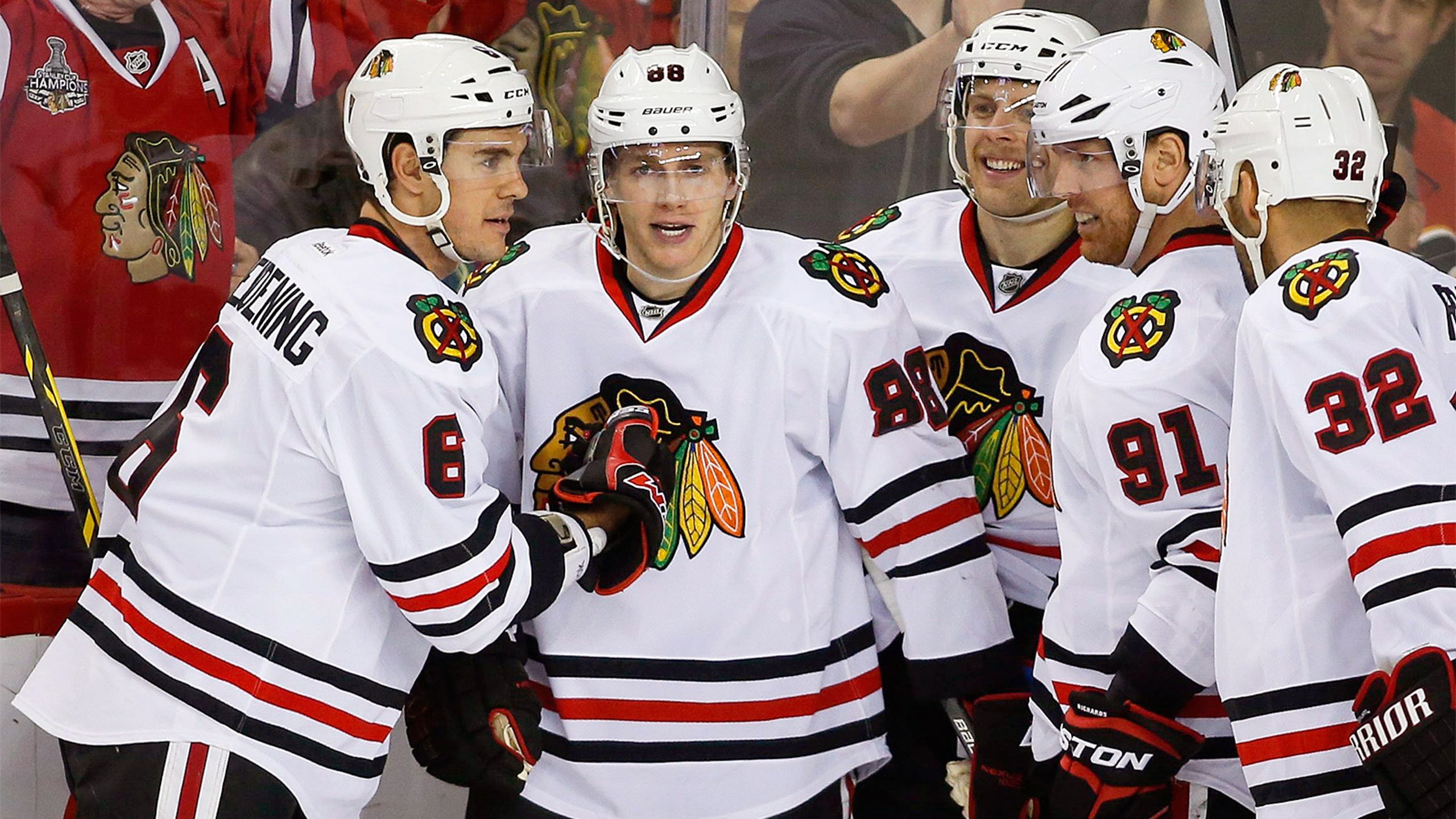 Blackahawks douse Flames after Kane's goal breaks tie in 3rd
BY foxsports • November 20, 2014
Patrick Kane's slow start is a thing of the past, which is good news for the Chicago Blackhawks and not so much for the rest of the NHL.
Kane scored the tiebreaking goal -- finding the net for the third straight game -- in the third period to lift the Blackhawks to a 4-3 victory over the Calgary Flames on Thursday night.
With the game tied 3-3, Kane's unassisted goal at 9:12 came after goalie Jonas Hiller turned over the puck.
After straying out of the net, Hiller's attempted backhand pass to Dennis Wideman took a sharp carom off the end boards allowing Kane to intercept it. After Kane tucked the puck through the skates of Sven Baertschi, he slipped a quick shot through Hiller's pads.
"Lucky scoring a goal like that," Kane said. "I'm sure Hiller probably didn't expect me coming off the boards. I think a couple guys swiped at it, and it bounced right to me."
It was the seventh goal of the season for Kane. He had scored only four times in the first 16 games.
"Sometimes you just have to get the puck and skate with it," Kane said. "I feel like I can make plays on the ice. Obviously, when you're moving well and trying to make those plays, things are going to develop.
"I'm playing with two very skilled players right now with (Kris Versteeg) and (Brad Richards) and they're finding me in good areas and good spots. It seems like we've had a couple good games in a row."
Blackhawks coach Joel Quenneville is quite pleased with the results.
"He was great tonight," he said of Kane. "A lot of puck possession, a lot of zone time, dangerous. Obviously, a huge goal for us.
"The last couple games, he's been as good as he can be, and that line, in back-to-back games, has been very good."
Adam Clendening scored his first in the NHL, and Daniel Carcillo and Brent Seabrook added goals for Chicago, who began a six-game road trip.
Paul Byron, Wideman and Sean Monahan scored for Calgary, which had won seven of nine.
"As much as we worked hard, I felt that the goals that they got, without taking anything away from the talent that they have on their team, we were not sharp," Flames coach Bob Hartley said. "On every goal, there's a huge mistake. As we know, this is a game of mistakes, and they have the talent to make you pay."
Corey Crawford made 24 saves for the win. Hiller stopped 18 shots.
Calgary had a chance to tie it when Johnny Gaudreau drew a penalty with 3:32 left. However, the Flames -- having scored twice already on the NHL's No. 1 ranked penalty-killing team -- couldn't score.
"Our PK has been very good all year long, and it needed to be at the end because their power play was working," Quenneville said.
Curtis Glencross had two of Calgary's most dangerous chances during that late advantage.
"We had a couple of turnovers and a couple mental breakdowns, that's how they got a couple goals," Glencross said. "At the same time, we have to take a lot of positives out of that game, too. They're probably one of the best teams in the league, and we had a game with them all night.
"The game could have gone either way."
Glencross set up a wide-open Monahan at the side of the net for his eighth goal, all scored in the last 12 games.
Halfway through the second period, the Blackhawks led 2-0 and were outshooting Calgary 10-3. An interference penalty on Chicago's Marcus Kruger turned around the momentum.
Late in an effective power play, the Flames capitalized with Byron knocking in a rebound after Crawford made a pad stop off Josh Jooris.
As the goal was scored, Niklas Hjalmarsson tripped Monahan, putting Calgary back onto the power play. The Flames scored again with Wideman's slap shot from the blue line going in at 14:38.
It was the eighth goal for Wideman, who had only four last season. He leads NHL defensemen.
The two power-play goals in 54 seconds equaled the number of goals Chicago's penalty-killers had surrendered in the previous 14 games.
Rookie Markus Granlund earned an assist, giving him five points in three games and nine in 10 games.
Chicago opened the scoring four minutes into the game when Glendening, in his second NHL shift, scored on a power play.
Glendening was recalled from Rockford of the AHL on Tuesday when Chicago lost defenseman Trevor van Riemsdyk to a knee injury that will require surgery and keep the rookie out for three or four months.
Chicago made it 2-0 at 7:12 on Carcillo's second of the season.
NOTES: The Flames are outscoring opponents 27-13 in the third period. Chicago has a 22-7 edge. ... Calgary LW Michael Ferland returned to the lineup after missing eight games with a concussion. He was injured on Oct. 31 in his NHL debut. ... C Andrew Shaw (upper body) sat out for Chicago and was replaced by Jeremy Morin. ... Seabrook played in his 700th game.
---
---