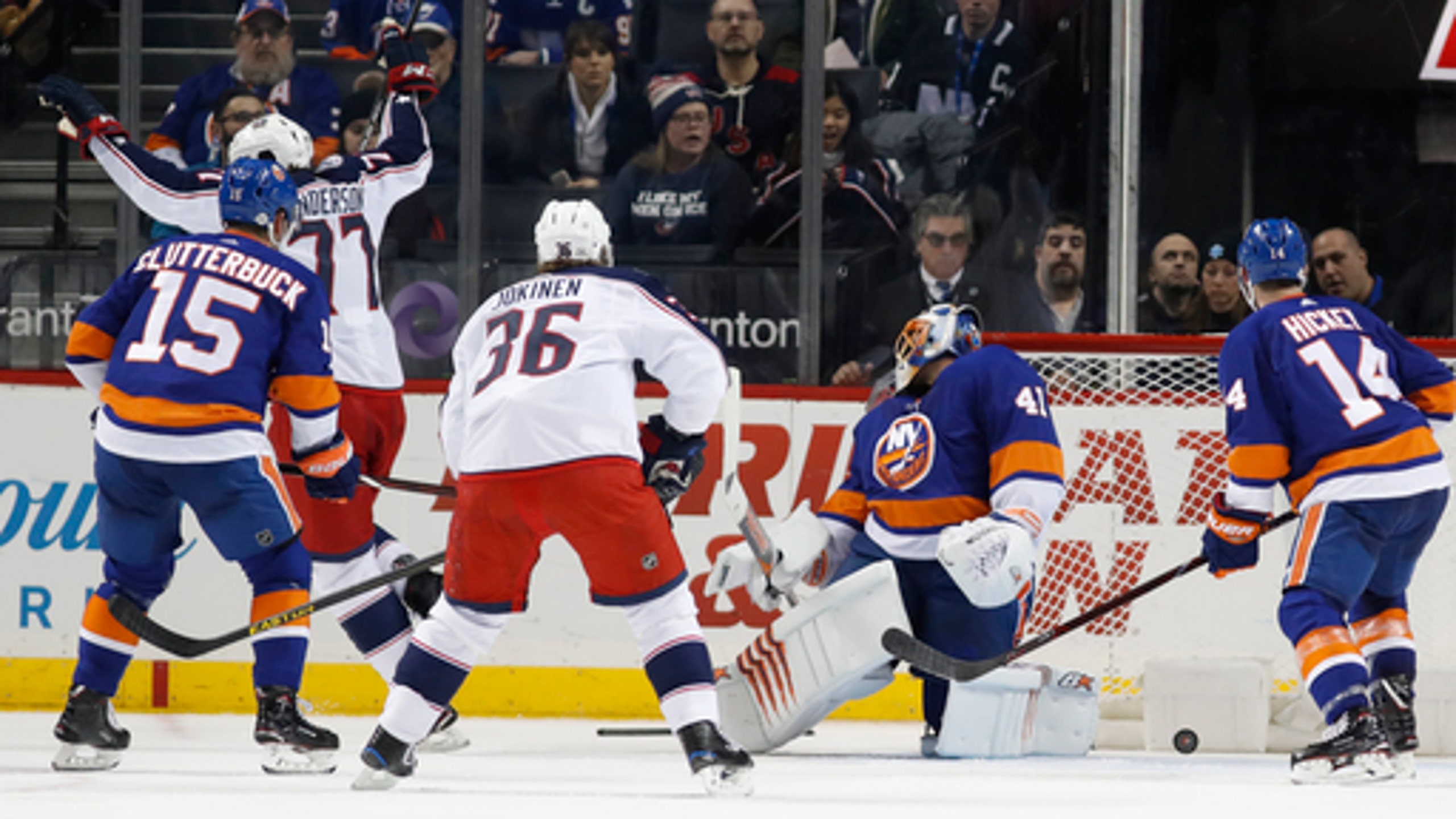 Bjorkstrand, Dubois lead Blue Jackets past Islanders, 4-1
February 13, 2018
NEW YORK (AP) The last time Columbus was in Brooklyn just 10 days ago, it didn't have much to show after a flurry of shots in the first period and then let a lead after 40 minutes slip away in a loss.
This time, Sergei Bobrovsky made a big save to preserve the advantage early in the third and the Blue Jackets pulled away for a big win.
Oliver Bjorkstrand and Pierre-Luc Dubois scored power-play goals in the second period to give Columbus the lead, and Brandon Dubinsky and Cam Atkinson scored less than a minute apart in the third to help the Blue Jackets pull away for a 4-1 win over the New York Islanders on Tuesday night.
''We scored a couple of huge goals on our power play,'' Columbus coach John Tortorella said. ''In the third period I was anxious to see how we were going to react. ... I'm happy for our guys. They could've been frustrated - same team, same building, same situation first period. They just stayed with it.''
Defenseman Zach Werenski had three assists as the Blue Jackets had a season-high 51 shots - tying the franchise-record 26 they had in the first period here 10 days earlier - and won their second straight since an 0-4-1 skid. Bjorkstrand and Dubois had assists on each other's goals, and Sergei Bobrovsky stopped 27 shots.
''We're feeling good about the way we're playing,'' Dubinsky said. ''Even before these last two games when we weren't getting results I think we were feeling good about our game. We're just sticking with it and now we're getting results.''
John Tavares scored for the Islanders, who have lost six of their last eight (2-5-1). Jaroslav Halak finished with a season-high 47 saves, including all 26 in the first period. He had 25 saves in the opening period against the Blue Jackets in the Islanders' 4-3 win here Feb. 3.
''They capitalized on their opportunities,'' said Tavares, who now has 600 career points. ''They had time and space and put everything on net. We have to get out of our end and create chances. We have to execute better. ... All you can do is move on to your next game and try to get better.''
With Columbus holding a 2-1 lead, Bobrovsky preserved the advantage early in the third, using his left blocker hand after losing his stick to deny a great chance in close by Islanders rookie sensation Mathew Barzal.
Dubinsky put in the rebound of his wraparound try to push the Blue Jackets' lead to 3-1 at 6:01 of the final period. Atkinson made it a three-goal lead just 43 seconds later.
The Blue Jackets, last in the league on the power play coming in, went 2 for 4 with the man-advantage against an Islanders team that was second-worst in penalty-killing. Five of Columbus' 24 power-play goals this season have come in four games against the Islanders.
''We've struggled a little bit this year on the power play,'' Bjorkstrand said. ''So if we can be better and more consistent in that part then that'll definitely help us get some extra points and wins.''
Bjorkstrand tied it 1-1 on the power play at 6:02 of the second with a wicked slap shot from the inside edge of the right circle for his 10th.
Then, with New York's Brock Nelson off for hooking late in the period, Columbus' Zach Werenski hit the right goalpost with 1:10 remaining. However, Dubois put the Blue Jackets ahead 13 seconds later as his shot from the left circle went in off the left post for his 13th.
The teams skated 4-on-4 for 33 seconds late in the first period after Columbus' Jussi Jokinen was whistled for tripping with the Islanders' Ross Johnston in the penalty box. After Johnston's penalty expired, the Islanders went on the power play and took advantage 45 seconds later as Tavares knocked in the rebound of Anders Lee's shot with 2:09 remaining in for his 29th of the season.
NOTES: The Blue Jackets have 226 shots on goal over their last five games, including 101 in the last two. ... Columbus won three of four in the season series, with the first win by the road team. The Blue Jackets won the first two meetings at home, 5-0 in the season opener on Oct. 6 and 6-4 on Dec. 14. The Islanders won here 4-3 on Feb. 3. ... Tavares became the sixth player in franchise history to reach the 600-point mark, joining Bryan Trottier (1,353), Mike Bossy (1,126), Denis Potvin (1,052), Clark Gillies (663) and Brent Sutter (610).
UP NEXT:
Blue Jackets: At Toronto on Wednesday night to close a two-game trip.
Islanders: Host the crosstown-rival Rangers on Thursday night to wrap a four-game homestand.
---
Follow Vin Cherwoo at www.twitter.com/VinCherwooAP
---
More AP NHL: www.apnews.com/tag/NHLhockey
---
---