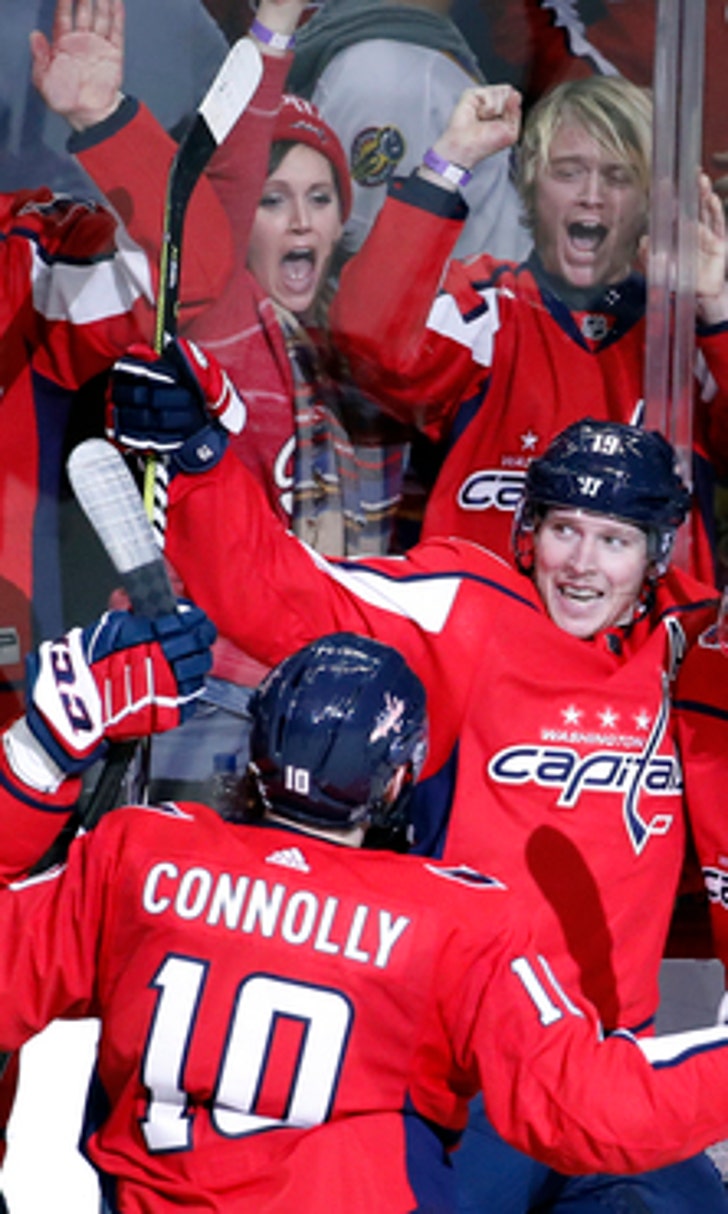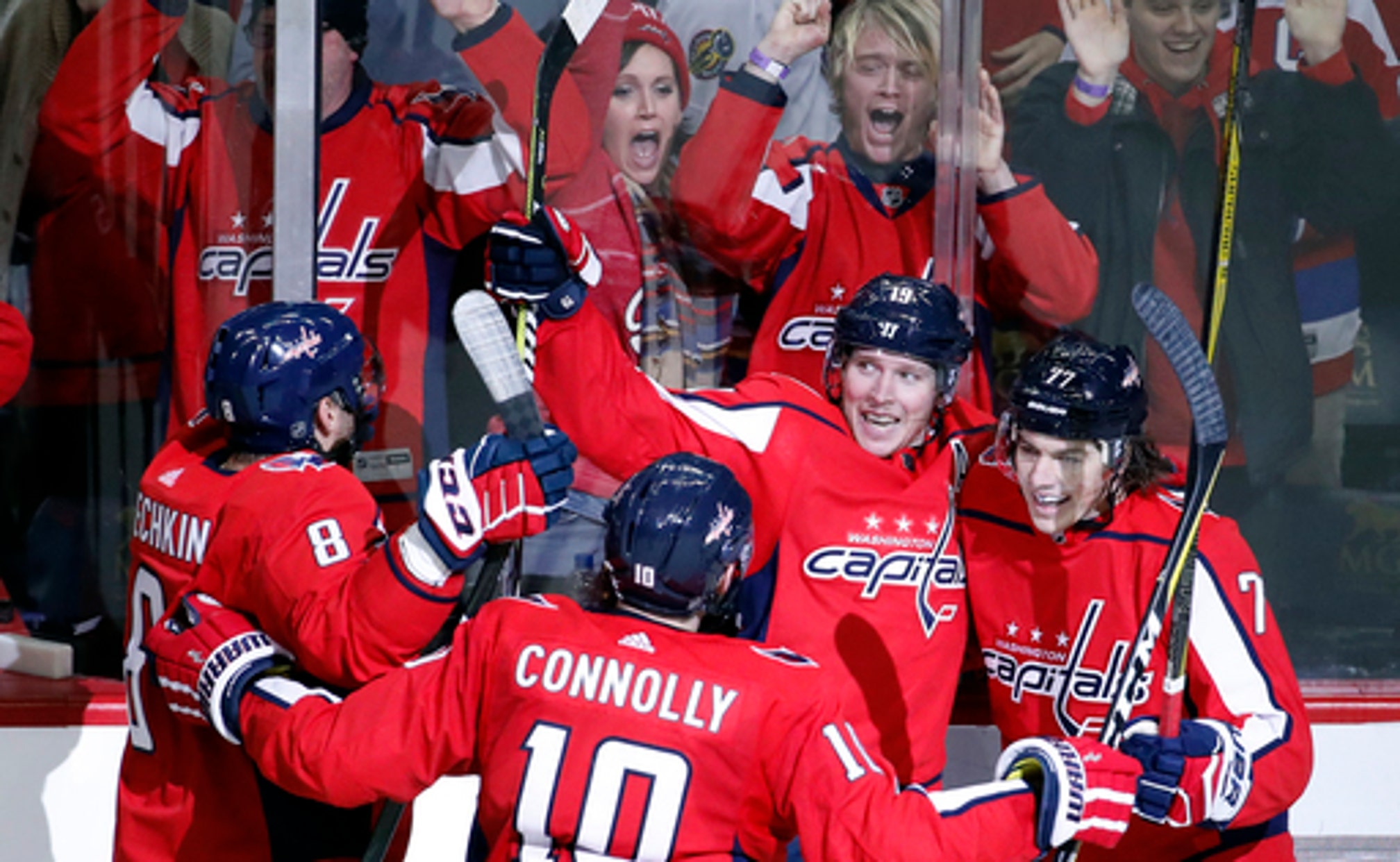 Backstrom, Ovechkin power Capitals past Blues, 4-3 in OT (Jan 07, 2018)
BY AP • January 7, 2018
WASHINGTON (AP) Washington coach Barry Trotz wasn't surprised his squad started the season slow. Pain from another playoff flameout lingered. Trotz and the coaching staff gave the players space to emotionally mend on their own, anticipating the team's culture would eventually help find a winning path. That approach proved wise.
Nicklas Backstrom scored at 4:17 of overtime and Alex Ovechkin had a power-play goal and an assist to help the Capitals beat the St. Louis Blues 4-3 on Sunday.
The Capitals have won four in a row overall and nine consecutive home games, the longest active streak in the NHL. Since Nov. 22, the Metropolitan Division leaders are 15-3-2.
''We had to get through the misery of how we finished last year,'' Trotz said in reference to the Game 7 loss at home to Pittsburgh in the second round of the Eastern Conference playoffs.
Washington hasn't advanced beyond the second round of the postseason since reaching the 1998 Stanley Cup Finals despite several impressive teams. The Capitals won 55 and 56 games the previous two seasons.
''We had high expectations. We have expectations to do well every year, especially the last couple of years,'' Trotz said. ''There's a lot of hurt. Our expectations are higher than some other teams because we feel like we can get there. We let the players sort of heal on their own.''
Vladimir Tarasenko had a goal and an assist for the Blues. They have lost two in a row and six of their last seven road games.
Recognizing a change of possession in Washington's end late in overtime, Backstrom headed down ice, received a long pass from T.J. Oshie and beat goalie Carter Hutton for his ninth goal of the season.
''Tied up there on the boards, I was just going. I knew the pass was coming,'' Backstrom said. ''Nice to get a breakaway for once. Nice to score too.''
Backstrom scored his 197th goal to tie Alexander Semin for fifth on the Capitals' goals list. Backstrom also assisted on Ovechkin's goal.
Ovechkin tied it at 2 on the power play 8 eight minutes into the third with his league-leading 27th goal, and Lars Eller gave the Capitals the lead with 9:11 left. The lead did not last long, with Carl Gunnarson credited with a goal after his shot into pack of players evaded goaltender Braden Holtby with 4:09 remaining.
''Kind of a weird game, back and forth,'' Gunnarson said. ''We had it, then they bounced back then we bounced back. It could have been in anyone's hands.''
Holtby made 30 saves for the Capitals including save key stops late in regulation and overtime.
Alexander Steen snapped a lengthy power-play drought and put St. Louis up 2-1 5:02 into the second period. St. Louis had failed to score on 21 consecutive power plays dating to its Dec. 20 loss at Calgary.
St. Louis dominated the second with had two goals on 12 shots before Washington recorded its first shot on goal in the period.
The Blues tied it at 1 1:18 into the second period on Tarasenko's 18th goal.
''This is a big point today,'' St. Louis coach Mike Yeo said of his team's bounce back performance. ''Obviously disappointed we didn't get the second, but I thought our guys played a really strong game.''
Brett Connolly also scored a power-play goal for Washington.
''It's working,'' Ovechkin said of the power play. ''I think we have to continue playing like that and it's going to give us a (good) result.''
NOTES: St. Louis lost 6-3 in Philadelphia on Saturday, while Washington played for first time since Tuesday's 5-4 overtime victory at Carolina. ... Capitals forward Andre Burakovsky was in the lineup after missing the previous two games as a healthy scratch. Defenseman Matt Niskanen returned after sitting out Tuesday with an undisclosed upper-body injury. The Capitals are 17-2-2 when scoring first.
UP NEXT
Blues: Host Florida on Tuesday night before receiving a weeklong break without games.
Capitals: Hosts Vancouver on Tuesday night.
---
More NHL hockey: https://apnews.com/tag/NHLhockey
---
---