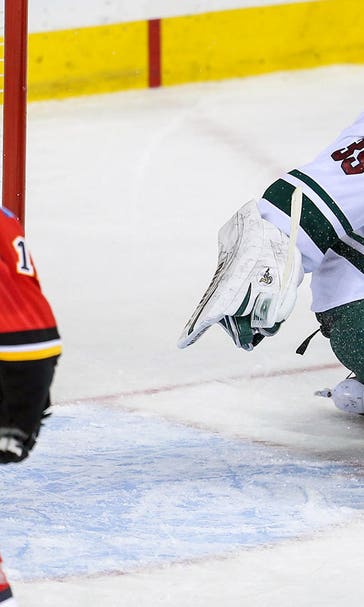 Backlund's second goal gives Flames OT win over Wild
February 2, 2014

CALGARY, Alberta (AP)
Mikael Backlund believes he is finally living up to the Calgary Flames' expectations.
The 24-year-old forward scored two goals, including the winner 2:25 into overtime to give the Flames a 4-3 victory over the Minnesota Wild on Saturday night.
Backlund aggressively took the puck to the net and sent a pass to Sean Monahan, whose shot was stopped by goalie Darcy Kuemper. The puck bounced high, and Backlund batted it in from out of midair.
"There's been a lot of doubt in this city about me, and it's nice to finally be able to get those goals that people wanted me to get for a lot of years," said Backlund, the Flames' first-round pick in 2007. "I'm excited about it, I feel good about it. I'm happy I can help the team win games and chip in."
Backlund has four consecutive multipoint games, with five goals and three assists over that span. He has already set career highs for goals (13) and points (27).
"He gave us a big short-handed goal, and then gave us the game-winner," Flames coach Bob Hartley said. "When you work hard, you usually get rewarded, and that's what he's getting right now."
Calgary completed a 5-0 homestand. The last time the Flames swept one that long was in 1997, Jarome Iginla's rookie season.
T.J. Galiardi, with his first goal in 38 games, and Dennis Wideman also scored for Calgary (21-27-7), which hadn't won five in a row since March 2012.
"It's awesome. It's a great feeling, everybody's happy," Backlund said. "The guys are buzzing in here and having a good time with each other. It's so nice to just win, especially at home when you've got your family."
The sudden success has come on the heels of a franchise-record, seven-game losing streak.
Mark Giordano had two assists to extend his career-high point streak to nine games. He has four goals and six assists in the spurt.
Matt Cooke, Dany Heatley and Keith Ballard scored for Minnesota (29-21-7).
The Wild cut their deficit to 3-2 on Heatley's power-play goal at 10:31 of the third. Ballard then silenced the sell-out crowd of 19,289 with the tying goal at 15:55.
"In the third period the last two nights, we're tight on teams, we're skating better, we're playing five guys on the forecheck. We're a good team when we do that," Heatley said. "The first two periods of the last two games, it's kind of wait and see, and like that we're not going to have success."
On a Minnesota rush, Ballard got caught up with Wideman as he drove the net. With Wideman tangled up with goalie Reto Berra, Ballard backed away just in time to one-time a centering pass from Kyle Brodziak into the top corner.
It was back on Oct. 4, in the Flames' second game of the season in Columbus, when Galiardi -- acquired in an offseason trade with San Jose -- scored his first goal with the Flames. It took nearly four months for him to score again.
He finally ended the drought at 12:36 of the first period to give the Flames a 1-0 lead.
After getting a pass from Kevin Westgarth, Galiardi spun and quickly sent a backhand into the top corner. He immediately looked skyward in relief and shock.
That lead held up until 14:03 of the second period when Cooke tied it for the Wild while short-handed. Cooke burst down the left wing, and from just inside the top of the circle blasted a slap shot over Berra's shoulder.
Berra didn't start the game for the Flames. He entered with 2:28 left in the first period when Karri Ramo left with a lower-body injury.
The Flames regained the lead with 1:36 left in the second on a nifty deflection from Wideman.
"We have to make sure that we're ready to start the game better, and obviously play more of a 60-minute game," Wild coach Mike Yeo said. "But let's give them credit, they've won five in a row.
"We knew they were playing well. They've been rolling. They've been feeling good about their game and we were expecting them to play a good game and they did."
Calgary surged in front 3-1 one minute into the third period when Backlund finished off a 3-on-1 rush for the Flames. The short-handed goal was the third of the season for Backlund, moving him into a tie for second in the NHL behind Boston's Brad Marchand.
"Defensively we were OK but offensively, we were very much on the perimeter and not gritty enough, not dirty enough," Yeo said. "It took us to get down 3-1 to start to develop that mentality. Obviously it produced some results."
While most of the season has seen Calgary equally divide up the starts between Ramo and Berra, Ramo (11-10-4) had been the better of the two in recent weeks. He had been getting the majority of playing time, and Saturday was his sixth start in seven games.
Berra had 14 saves to improve to 7-14-2. He has yet to win in regulation, with four shootout victories and three in overtime.
Kuemper made his 10th straight start for the Wild. He had 28 saves and fell to 6-4-1.
NOTES: The Flames' final three games before the Olympic break will be on the road, beginning in Montreal on Tuesday. ... Minnesota will play twice at home before the break. ... The Flames have scored eight short-handed goals, second in the NHL behind Carolina (9). ... Flames D Kris Russell (upper body) didn't play. Taking his spot was Chris Breen, who played for the first time since being recalled from Abbotsford (AHL) on Jan. 26.
---
---