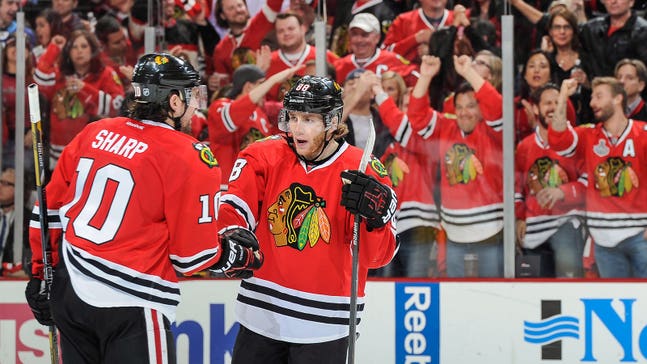 After lift from Kane, Blackhawks look to go up 2-0
Published
May. 3, 2014 3:49 p.m. ET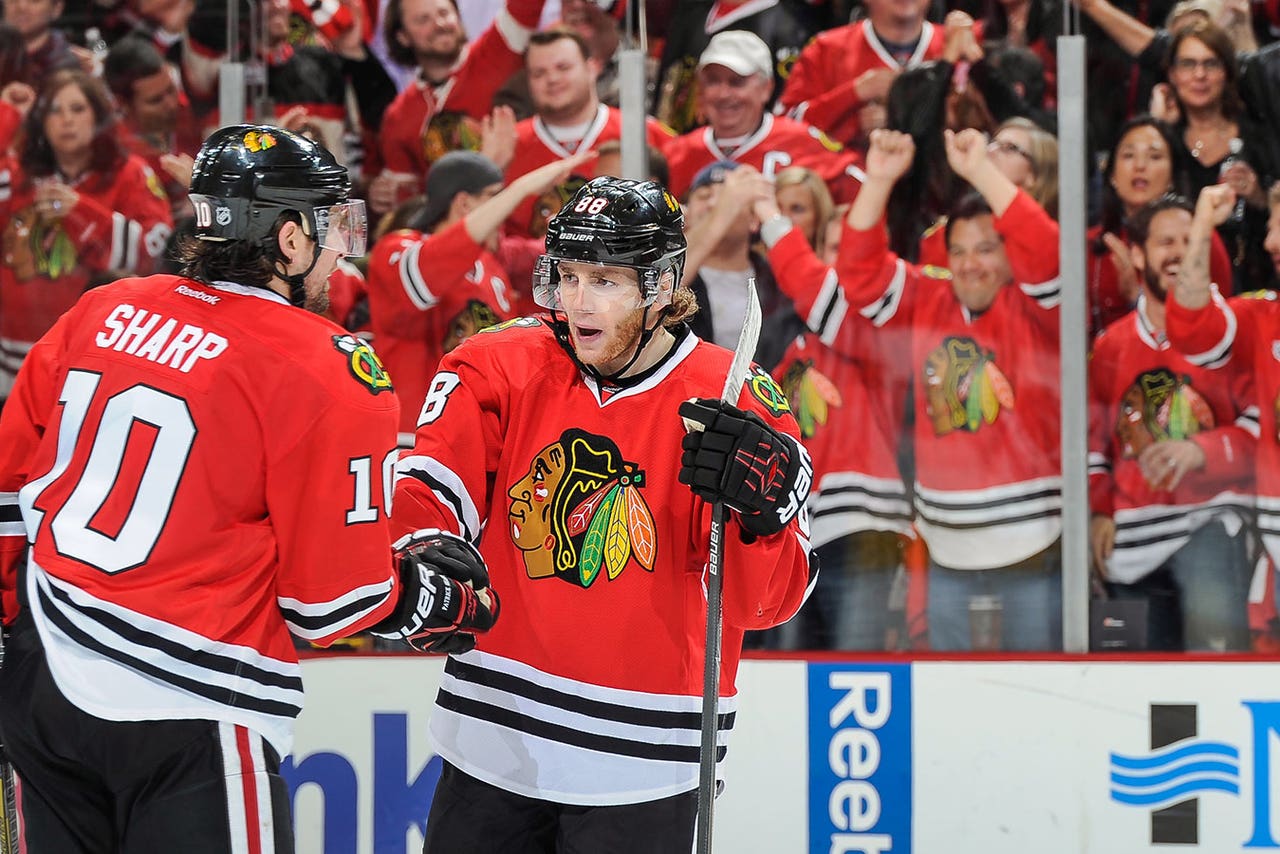 It wasn't the first time the Chicago Blackhawks saw a spectacular goal from Patrick Kane. Yet, they were still amazed a day later.
Kane scored twice in the third period on Friday night to lift the Blackhawks to a 5-2 victory over Minnesota. But it was his dash through the Wild zone on the tiebreaking goal that had his teammates still in awe Saturday.
They watched the video a few times in the morning and still couldn't believe what they saw.
''Not too many players can do that, and Kaner's done that,'' defenseman Brent Seabrook said. ''We were laughing a little bit about Kaner. That's a beautiful goal and would be a highlight of probably any one of our careers, but Kaner's done that probably 10 times. So it's old hat for him.''
Game 2 is Sunday in Chicago.
The defending Stanley Cup champion Blackhawks are in position to take a commanding lead thanks to a late charge that started with one jaw-dropping goal and pushed Chicago to its fifth straight win.
The Wild had tied it at 2 on third-quarter goals by Clayton Stoner and Kyle Brodziak, silencing the crowd of 21,116 at the United Center. Kane then woke up the fans.
He took the puck through the Minnesota zone, faked a drop pass to Patrick Sharp and split Brodziak and Jonas Brodin. Kane finished the play with a backhand from an almost impossible angle over goalie Ilya Bryzgalov's left shoulder at 8:22, then screamed ''Showtime!'' twice while pumping his right arm as the crowd went wild.
He added his fifth goal of the postseason off a nice feed from Ben Smith, but the tiebreaker was the talk of the team on Saturday.
''There's probably a lot of highlights that maybe you don't see unless you're watching the game that don't come up because it doesn't go in,'' captain Jonathan Toews said. ''He's always making plays like that. For us, it's not something that that's surprising.''
Kane certainly has scored his share of big goals, most notably the 2010 Stanley Cup finals clincher against Philadelphia. He also came through with the winner in overtime against St. Louis in Game 4 of their first-round series, and his late surge on Friday stifled the Wild.
''He's a tremendous skill player who seems to find a way to play his best when the games matter the most,'' Wild coach Mike Yeo said. ''You always have to be aware of him when he's on the ice.''
Yeo said there were breakdowns on both goals that the Wild need to avoid, and they can't simply key on Kane. Not with Toews, Marian Hossa and Sharp also staring at them. The Blackhawks are simply too deep, too balanced to do that. But the Wild aren't ready to concede the series, either, after getting knocked out by Chicago last season.
It would help if Zach Parise stepped up.
He was rather quiet in Game 1 with an assist after posting 10 points in the first round to help the Wild knock off Colorado in seven games. But he did little in last year's playoff series against the Blackhawks, scoring just one goal.
''I don't compare myself to players on other teams when we're playing against them,'' Parise said. ''I try to go out and do my thing and help our team win. I don't sit there and say, `Oh, Kane scored, I have to score now.'''
He thought it was mostly an even game until that late burst, one the Wild could have won. Yeo agrees, yet the Blackhawks have the early series lead. Chicago hasn't lost since dropping the first two games to St. Louis, and the Blackhawks appear to be peaking at the right time.
''We know we're the type of team that can compete with anybody in the postseason,'' Toews said. ''That's what really matters to the guys in our locker room.''
NOTES: Yeo said there is no change to Darcy Kuemper's status, and added that the goalie wasn't in Chicago, meaning Bryzgalov will likely start Game 2. Kuemper is sidelined by an upper-body injury. ... Blackhawks C Andrew Shaw is questionable for Sunday's game because of a lower-body injury that knocked him out of the series opener. Chicago Coach Joel Quenneville said it's not a long-term injury. ... Quenneville said F Kris Versteeg was scratched from Friday's lineup because he was ill. ... Quenneville, part-owner of Midnight Hawk, said the horse is out for the Preakness because of a minor injury. Asked if it was to the lower body or upper body, he laughed and said: ''Lower body. Not much upper body.''
---
---