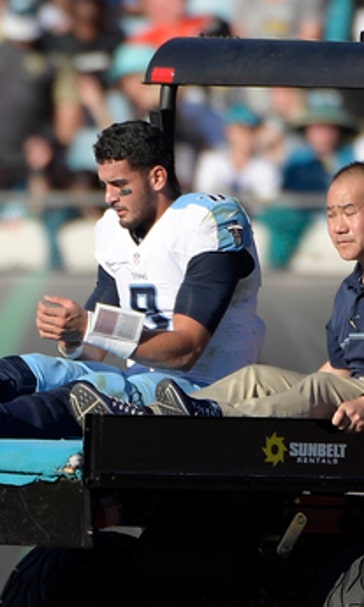 Wild Week 16 has the good, the bad and the ugly
December 26, 2016

There's only one way to describe a weekend in which the three worst teams in the NFL all win.
And when a coach leaves his hospital bed to work the sideline, only to see his team get annihilated.
And when two of the most promising quarterbacks in pro football get broken legs.
Week 16, Christmas weekend, was as eventful as any can be. From the very good (Miami's Jay Ajayi rushing for more than 200 yards for the third time in 2016) to the very bad (Cleveland, San Francisco and Jacksonville, with a total of three victories heading in, all winning), the penultimate week of the schedule was wild.
Start by Lake Erie, where the Browns' ignominious crawl to imperfection ended with a 20-17 decision against lame-duck San Diego. The celebrations in Cleveland weren't quite to the level of the partying after the Cavaliers' NBA title or the Indians' American League crown. But considering the relief throughout Northeast Ohio, it was close.
''I kept telling myself, `I shouldn't be this happy. This is not that big of a deal. We just won a game and it doesn't even matter,''' said Joe Thomas, the Browns' superb tackle and, by far, their best player. ''It definitely felt like it was more than just a win.
''Obviously, everybody knew the gravity of the situation that we were facing going down the stretch trying to get a win. Finally getting that win and getting the monkey off of our back definitely felt amazing. You don't want to say it was like our Super Bowl, but it really was.''
Move along the lake to Western New York, where Ajayi, perhaps the NFL's most improved offensive player, had 206 yards rushing and a touchdown. His 57-yard run in overtime set up the winning kick in a 34-31 victory over Buffalo.
Ajayi became the fourth player in NFL history with three games of at least 200 rushing yards in a season. Two came against Buffalo. In some ways, he's carried Miami on his ample shoulders into the playoffs with a 10-5 record and nine wins in its last 10 outings.
''When we had 200 yards earlier in the season, I don't think we ever thought we were going to do it again,'' Dolphins coach Adam Gase said. ''It's tough. It's an eight-man box most of the time. It's not an easy thing to accomplish. I felt like our guys came in with a purpose today and we were just trying to make sure we established a solid running game and stayed ahead of the sticks.''
It wasn't such a fun weekend for Derek Carr and Marcus Mariota , who each ended up with broken right legs. Both are done for the season, as most likely are the chances for the Raiders to make any postseason noise.
It's particularly upsetting because Carr deservedly has been in the MVP conversation - he should remain there - and Mariota, like Ajayi, is among the league's most improved players.
Their injuries on Christmas Eve overshadowed more terrific quarterbacking from Aaron Rodgers, Russell Wilson and Tom Brady.
Then again, big numbers by Brady were predictable with another no-show by the Jets, even as coach Todd Bowles worked the sideline hours after what he said was an attack of ''kidney stones, gall stones, gall bladder'' that hospitalized him.
Week 16 also gave us the champions of the NFC South (Atlanta) and East (Dallas), AFC South (Houston) and North (Pittsburgh).
It short-circuited the drama of whether the Browns would match the 2008 Lions at 0-16.
It saw the defending Super Bowl champion Broncos drop their third in a row and fifth in seven games to fall out of contention, while Kansas City earned a postseason spot.
Eventful and wild, indeed.
---
For more NFL coverage: http://www.pro32.ap.org and http://www.twitter.com/AP-NFL
---
---