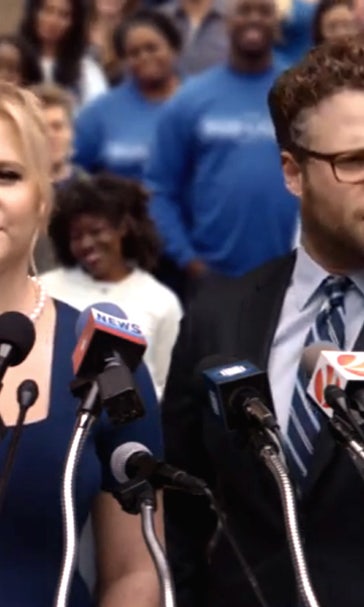 Why wait? Here's a sneak preview of this year's Super Bowl commercials
BY Andre Vergara • February 5, 2016
From the game to the commercials to the halftime show, it's hard to find a spare moment to play Candy Crush during the Super Bowl.
Never fear —€" while we can't give you a sneak peek at the game or Coldplay and Beyonce, we can show you a few of the commercials that'll have people talking on Monday morning.
Steven Tyler's Skittles
Marshawn Lynch's favorite snack, in the likeness of the Aerosmith singer, wailing "Dream On."
Helen Mirren says "Don't be a pillock"
The British actress gives drunk drivers a piece of her mind ... in a spot for Budwesier.
Audi to Commander Tom
A retired astronaut finds a new rocket in the new R8, and achieves takeoff to the tune of David Bowie's "Starman."
Scott Baio is back!
And in the middle of a sci-fi ad for avocados. Really!
Willem Dafoe as Marilyn Monroe
Recreating the famous skirt-blowing scene for Snickers (and snickers).
Mini calls its cars "gay" and more
Abby Wambach, Serena Williams, Harvey Keitel and more urge you to #DefyLabels.
Christopher Walken hawks Kias
Christopher Walker, Harvey Keitel AND Willem Dafoe? I might turn off the game and put on "Reservoir Dogs" or "King of New York."
Turn off the damn water!
Colgate-Palmolive shames us all over how much water we waste brushing our teeth.
Domestic violence PSA
More serious stuff designed to make us think.
Axe ads all grown up
Now they're telling us it's NOT just about having a hot bod.
Amy Schumer and Seth Rogen want you to join the Bud Light Party
"Big caucus?" Glad not everybody decided to give up crude humor this year.
Lil Wayne, George Washington and ... I can't.
Who thought up this tribute to the theme song from "The Jeffersons"?
Kevin Hart rides along with Hyundai
Funnyman spies on his daughter's date.
Puppymonkeybaby
Another one that just defies explanation.
Classic car and classic rock
Acura unveils its new NSX to the tune of Van Halen's "Runnin' with the Devil."
Singing sheep
More classic rock: Queen's "Sombody to Love," courtesy of Honda.
And finally, wiener dogs
Because wiener dogs.
---
---