National Football League
National Football League
What we know after Week 7
Updated
Mar. 4, 2020 7:10 p.m. ET

Injuries are an unfortunate part of the NFL. Injuries to franchise quarterbacks can have a devastating effect. That's what is feared in St. Louis with Sam Bradford and in Chicago with Jay Cutler, both of whom suffered ugly-looking injuries in Week 7. Although the severity of Cutler's injury is unknown, if he misses a significant amount of time, it will likely derail the Bears' postseason hopes. It's not as hopeful for Bradford who received the news that he tore his ACL. Will Kellen Clemens be able to get the job done? It seems like this is the time of every season where we point to the importance of second-string quarterbacks. Five teams (Buccaneers, Bills, Eagles, Jaguars and Texans) had to rely on a signal-caller who wasn't their opening-day starter on Sunday, although the Buccaneers went with their backup by choice. If you have a franchise quarterback, you better protect him. And if you can't do that, make sure you have a capable second option. The Kansas City Chiefs remain as the only unbeaten team in the NFL as the Colts ruined Peyton Manning's homecoming. It's unbelievable how fast the Chiefs have been able to make the worst-to-first turnaround, but a little good coaching and quarterback play will do that. OK, let's get into what we know from Week 7:
All week we heard about Peyton Manning's return to Indy. Colts owner Jim Irsay made some headlines with some controversial comments about the veteran QB and his time in Indianapolis. Well, second-year quarterback Andrew Luck had a plan of his own. Luck was sharp all night. And while the Colts like to consider themselves a run-first team, offensive coordinator Pep Hamilton dialed up a bevy of pass plays. Luck, who finished the night completing 21 of 38 passes for 3 touchdowns, also ran for a score in the third quarter. Although Manning and the Broncos somehow had a chance late in the fourth quarter, second-year running back Ronnie Hillman fumbled the ball on the Colts' goal line. Is it time to panic for Denver? Not so fast. While the Colts exposed some flaws in the Broncos offense, this was an emotional game and a few other Broncos' mistakes changed the pace of the game. Indianapolis heads into its bye week feeling good about itself before a Week 9 matchup at Reliant Stadium with the reeling Texans.
St. Louis is officially an enigma. Just when you think the Rams have turned a corner and will start putting wins together, they come out a put together a stink bomb. How bad was it? Well, when QB Sam Bradford starts the day with a pick-six, you get the feeling that the day is going to be rocky. What's worse, Bradford was carted off with a leg injury in the fourth quarter and it's feared he could be done for the season with a torn ACL. Things went south from there. The Rams (3-4) committed eight penalties, five of which were personal fouls. Defensive end Chris Long was ejected from the game for throwing a punch. Just ugly all around. The Panthers (3-3) just had to sit back and watch their opponent self-destruct. Cam Newton enjoyed a nice afternoon, completing 15 of 17 passes for 204 yards and a touchdown to Steve Smith. That touchdown was also Smith's 800th career reception.
Nice dance moves.
Robert Griffin III is starting to look sharp again as he threw for 298 yards and 2 touchdown passes. Roy Helu scored three times (anyone start him on their fantasy team?) to help Washington improve to 2-4. That's all and good. However, the real story is the injury to Bears quarterback Jay Cutler, who went down in the second quarter. The hit didn't look severe at first, but it became apparent that things were serious when he limped into the locker room. He missed the remainder of the game and while backup Josh McCown did an admirable job to keep his team in it on Sunday, he's not Cutler. If Cutler misses significant time, the Bears' season could be in severe jeopardy. We'll have to wait and see.
Chiefs 17, Texans 16 – Case Keenum holds his own against NFL's best defense
A little bit of Jamaal Charles goes a long way. The Chiefs rode the sixth-year running back down the stretch and it paid off. Of course, the Chiefs defense led the way by sacking undrafted free agent quarterback Case Keenum five times. The rookie quarterback played well above his expectations, operating the offense with ease and had a chance in the waning minutes to get the Texans into field-goal range. However, he was sacked by Tamba Hali and fumbled. The Chiefs recovered and ran out the clock. One of the most underrated players for the Chiefs is Dexter McCluster. The Ole Miss product is a factor on offense, but really proves his worth on special teams. He did so on Sunday, racking up 123 yards on four kickoff returns. This was a great team win by Kansas City and it was helped out by the Arrowhead Stadium faithful. The Chiefs have two more very winnable games against the Browns and Bills in the next two weeks and then will head into their bye week.
The Bengals quarterback had one of the better games of his career on Sunday, throwing for 372 yards and 3 touchdowns. He also finished with a career-best QB rating of 135.9. Well, it's easy when you have a target like AJ Green who can pull off an 82-yard touchdown. Or an emerging rookie tight end in Tyler Eifert, who caught his first career touchdown.
Dalton spread the ball to seven different receivers and completed two clutch passes on the final drive of the game to set up Mike Nugent's 54-yard field goal to win it. Cincinnati is in good shape, sitting at 5-2 and on top of the AFC North. For the Lions (4-3), it was a tough loss to take, since Matthew Stafford threw for 357 yards and 3 touchdown passes. But Detroit only has itself to blame as the Lions didn't get the job done in the red zone. Two second-quarter drives that got inside the Bengals' 20-yard line led to just three points. That's not going to get it done.
Cowboys 17, Eagles 3 – The blur offense turns invisible
This one was ugly. Both teams entered this game beat up and it showed as they combined for 13 punts in the first half. Eagles quarterback Nick Foles, who was starting for injured starter Michael Vick, put all the quarterback controversy aside as he played mediocre, at best. Of course, Foles has been hampered by a groin injury as first reported by NFL insider Jay Glazer. Foles ended up departing the game early because of a head injury and rookie Matt Barkley entered. It didn't get any better. Barkley threw an interception on his first series and another on the final series to cap the game. He ended with three turnovers in one quarter of work. Remember all that talk about Monte Kiffin's defense not being able to halt Chip Kelly's offense? Yeah, where are those people now? The Cowboys now have sole possession of first place in the NFC East and are 3-0 in the division. Tony Romo looked Dez Bryant's way often, connecting with him eight times for110 yards. Romo, who was making his 100th regular-season start, came up big when it mattered most, piloting a 10-play, 72-yard drive scoring drive in the fourth quarter to seal the game.
Jets 30, Patriots 27 (OT) – Patriots only have themselves to blame
Embattled Jets head coach Rex Ryan was pumped up after his Jets ended a six-game regular season losing streak at the hands of the Patriots. Now, Patriots Nation will kick, scream and tell anyone who will listen that they got screwed over by the refs on Sunday, as a new penalty set up the Jets' winning field goal in overtime. BUT … Should the game have even been in overtime? The Patriots (5-2) had plenty of chances to put this game away, as they took a 21-10 lead into halftime thanks to plays like a Logan Ryan pick-six. However, after halftime, things started to fall apart as Tom Brady – the hero of Week 6 – started the third quarter with this:
Then Jets rookie Geno Smith took over, leading a touchdown drive and another that ended with a field goal that put New York (4-3) ahead by 6. Meanwhile, the Patriots offense sputtered and Brady started losing his cool. Don't read lips, folks.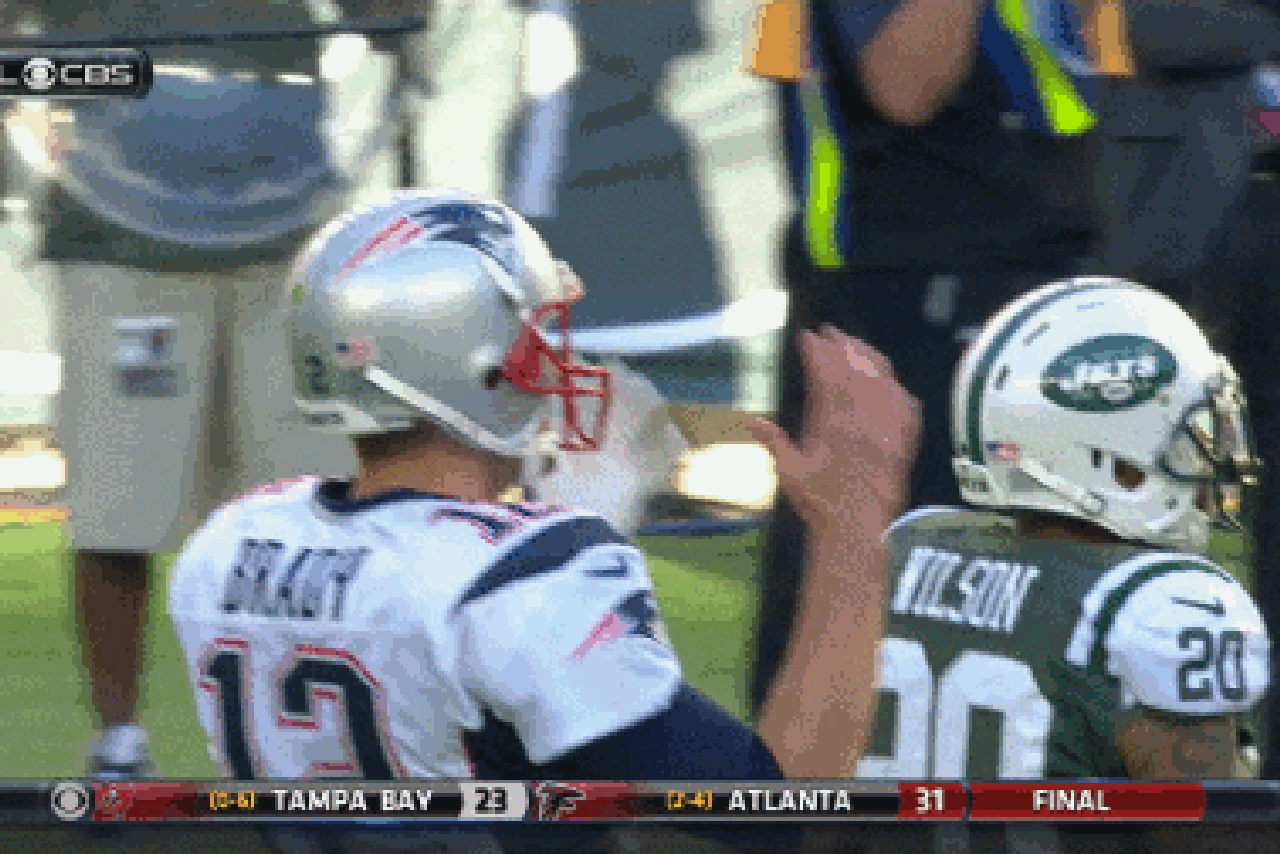 Brady was held without a touchdown pass for the second time in the past three games. That obviously can't happen, even though New England's offense is still a work in progress. If Patriots fans want to blame someone, maybe look to the guys wearing helmets and shoulder pads, not the striped shirts. And by the way, don't look now: The Jets are just a game back of the Patriots in the standings. The AFC East race is getting interesting.
This had all the makings of a trap game for Green Bay. The Packers were already without receivers Randall Cobb and James Jones, who were both out with injuries. They were facing a Cleveland team with an attacking defense that would love nothing more than to put the wood to Rodgers in Green Bay. Sorry, won't happen. Rodgers dissected the Browns anyway, throwing 260 yards and 3 touchdowns. Instead of connecting with Cobb and Jones, Rodgers threw scoring strikes to Jermichael Finley, Jordy Nelson and Jarrett Boykin, the latter of whom was making his career start. Green Bay (4-2) won its third straight and now has winnable division games against the Vikings and Bears over the next two weeks. Things are looking up!
Remember when people were wringing their hands over San Francisco after its embarrassing home loss against Indianapolis? Well, times have changed. The 49ers (6-2) won their fourth straight game on Sunday, in their standard fashion. Frank Gore ran for 70 yards and 2 touchdowns, while QB Colin Kaepernick accounted for 267 total yards. They also even made room for some razzle-dazzle as Anquan Boldin made a nifty one-handed grab in the first half. Head coach Jim Harbaugh even proved himself to his players, getting involved in a sideline skirmish in the second half.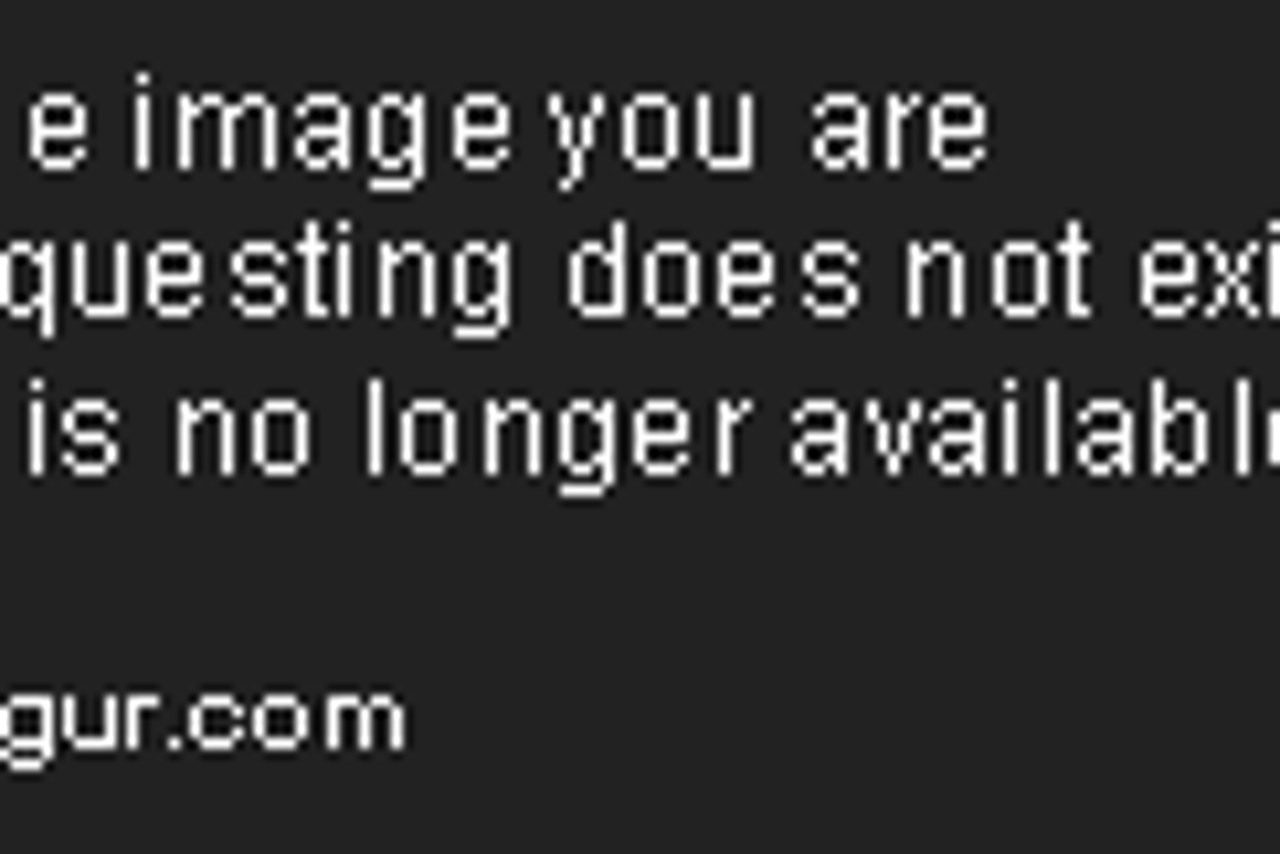 Things will be just fine in the Bay Area.
If anyone on the Bills roster wanted to beat the Dolphins, it was kicker Dan Carpenter. The sixth-year kicker drilled the go-ahead 31-yard field goal with seconds remaining. Carpenter, of course, was released by the Dolphins in August as the franchise opted for the younger, cheaper version in Caleb Sturgis. Mario Williams had the turning-point sack, putting second-year quarterback Ryan Tannehill on his back. Tannehill fumbled the ball and it was recovered by defensive end Kyle Williams. The Bills, by way Fred Jackson and Tashard Choice, were able to march into field-goal territory. Thad Lewis has done an nice job filling in for EJ Manuel, who has been nursing a knee injury. However, next week could be a challenge as they travel to New Orleans. They also brought in free-agent quarterback Matt Flynn, who could be up to speed by that time and could challenge Lewis for the starting job.
For anyone who thought the Chargers were going to mail it in on a short week traveling across the country, they were dead wrong. The leading candidate to win comeback player of the year, Philip Rivers was efficient and was helped out by the running game. Ryan Mathews ran for 110 yards – his second straight 100-yard game -- and Danny Woodhead proved to be an effective goal-line runner. But what's most impressive about this Chargers team is the John Pagano-led defense. Since the preseason, this unit has been ravaged with injuries, including significant ones to pass rushers Melvin Ingram and Dwight Freeney. Surprisingly, the Chargers defense hasn't allowed a touchdown in their last 11 quarters of play and now enter their bye week. The misery continues for Jacksonville as they lose their seventh game of the season and 12th straight dating back to last season. If you're looking for bright spots, Chad Henne threw for 318 yards and featured his triplet of receivers as best as he could. So there is that.
No Roddy White. No Julio Jones. No problem for Matt Ryan. Harry Douglas became Ryan's new favorite target, hauling in seven receptions for 138 yards – a career high – and a touchdown. Oh yeah, Ryan also threw two more touchdowns to running back Jacquizz Rodgers, who has been filling in for Steven Jackson. The Falcons, who were coming off a bye, snapped a three-game skid. Now they face a four-week stretch where they travel three of those weeks and also host the Seahawks in Week 10.
Steelers 19, Ravens 16 – Ravens running game has vanished
What else would you want from a Steelers-Ravens matchup? It was a classic black-and-blue, grind-it-out game that was decided in the fourth quarter. Emmanuel Sanders took back a 107-yard kickoff return, but was ruled out of bounds in the fourth quarter. It actually ended up working for the Steelers as it kept the Ravens offense sidelined. Shaun Suisham nailed the 42-yard field goal to cap the game. The Steelers locker room hasn't been a fun place to be the last few weeks as head coach Mike Tomlin demands better. They have been able to string two wins together after starting out 0-4. Well, it hasn't been any easier for the Ravens running game, which has struggled to say the least. NFL.com's Chris Wesseling points out that Ray Rice and Bernard Pierce are ranked first and second in the NFL in percentage of runs that have generated two yards or fewer. It's rather frustrating for a team that is built around the running game.
Questions? Comments? Send them to lacesoutmail@gmail.com and we might respond in our weekly mailbag!
---
---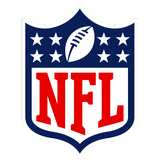 Get more from National Football League
Follow your favorites to get information about games, news and more
---