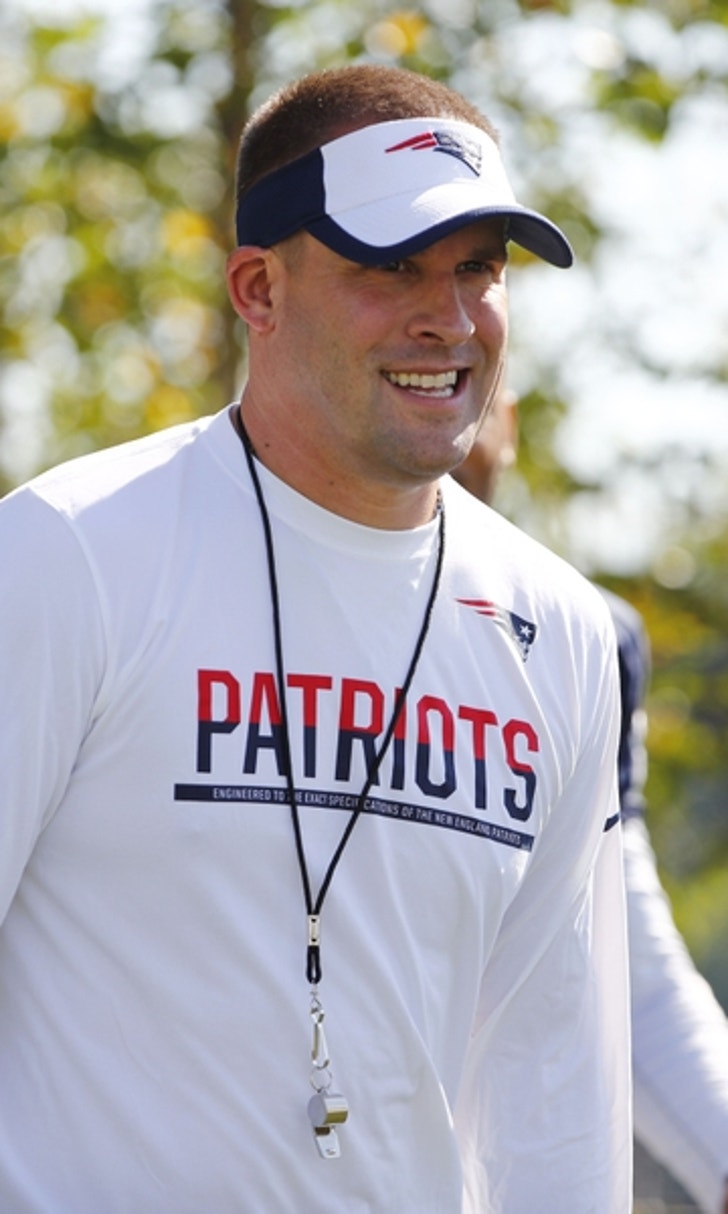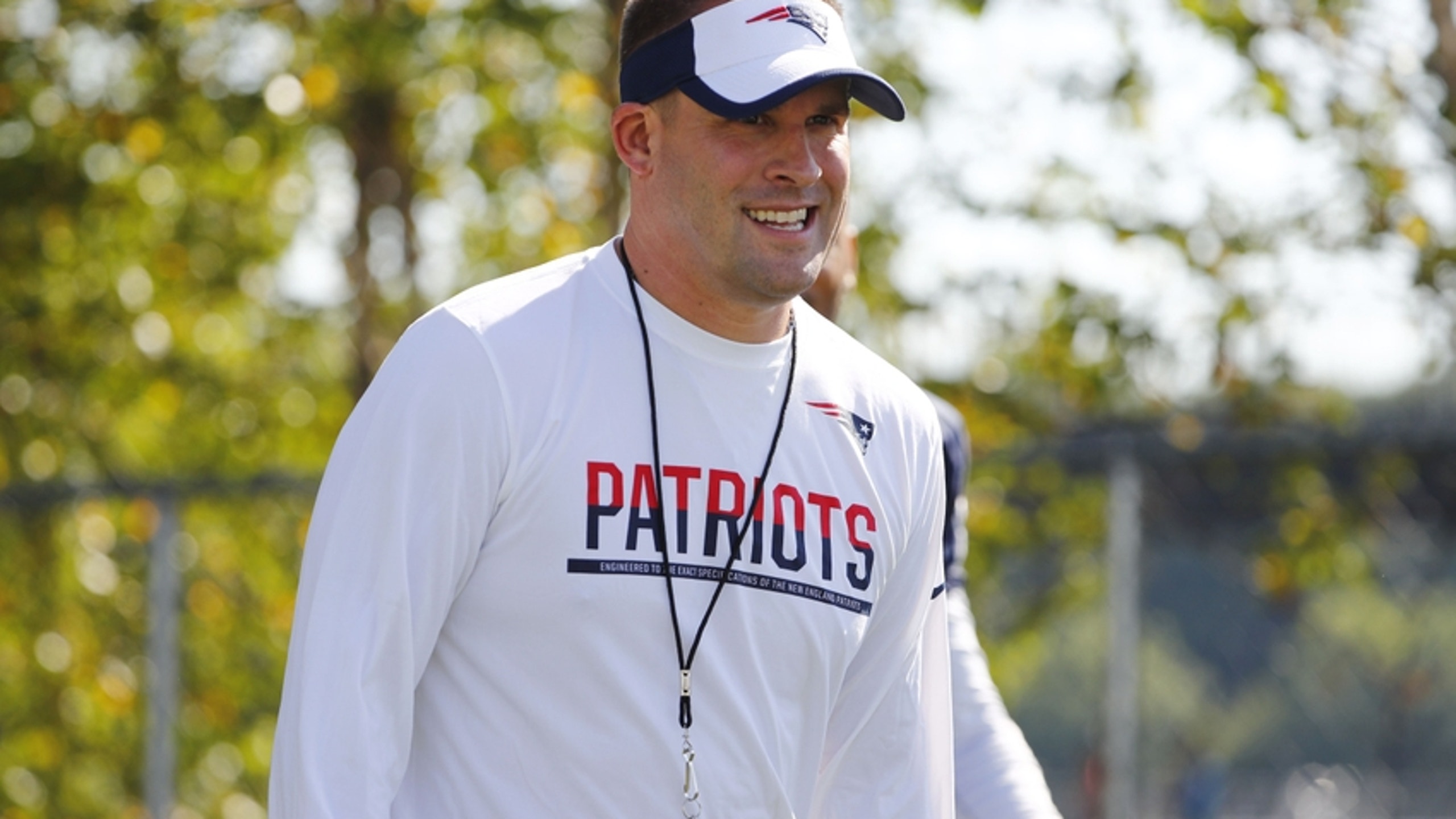 What Are the Chances the 49ers Land Patriots OC Josh McDaniels as New Head Coach?
BY Fansided and Peter Panacy/FanSided via Niner Noise • June 30, 2017
The San Francisco 49ers are slated to interview New England Patriots offensive coordinator Josh McDaniels this weekend, who is a top candidate on the head-coaching market. What are the chances McDaniels comes to the Niners in 2017?
According to various confirmed reports, the San Francisco 49ers are going to be interviewing with New England Patriots offensive coordinator Josh McDaniels this weekend during the Pats' playoff bye week.
49ers
Niner Noise 8h2017 NFL Draft: What Are the Chances the 49ers Land Texas A&M's Myles Garrett?
More headlines around FanSided:
9h - 49ers Complete Interview with Bills' Interim Head Coach Anthony Lynn13h - Why David Shaw is an Excellent Fit for 49ers Head Coach Job15h - San Francisco 49ers: A Niner Noise Translation of CEO Jed York Press Conference1 d - Chip Kelly Never Had a Chance with the 49ers in 20161 d - 49ers Head Coaching Search: San Francisco to Interview Sean McVay, per ReportMore News at Niner Noise

And, by many accounts, it's likely McDaniels would be interested in the Niners' opening.
San Francisco is, of course, conducting this search after firing both head coach Chip Kelly and general manager Trent Baalke at the conclusion of Week 17. McDaniels is certainly one of the top candidates on the market this offseason, and he'll have no shortage of teams from which to choose.
Are the 49ers going to be a top choice?
Keep in mind, McDaniels was once a head coach with the Denver Broncos back in 2009 and 2010. That particular stint did not go well, and it's rare for candidates to get a third chance at the NFL level.
So any team McDaniels selects would likely have to be a clear-cut, best-fit option. San Francisco might actually be one.
Let's start off with why.
Why Josh McDaniels Chooses the 49ers
The whole clean-slate idea in Santa Clara is going to be enticing for a number of candidates. Unlike other destinations, the Niners are the only team in need of both a head coach and GM. There is no concern about working under a guy like Baalke, who has the reputation of going behind the back of coaches in previous years (see: Kelly and Jim Harbaugh).
Plus, the 49ers are expected to have around $82 million in cap space next season. While McDaniels probably wouldn't have total roster control, per se, it's nice to know the team is in good position to make a great deal of offseason splashes.
Tack on a high pick in the 2017 NFL Draft — No. 2 overall — and McDaniels isn't entering the worst of situation. Some might argue the Los Angeles Rams are in much worse shape than the 49ers right now.
Additionally, the MMQB's Albert Breer felt this situation would be an ideal match.
And Breer further elaborated on this in an appearance on CSN New England.
Plus, let's say the 49ers bring in someone like ESPN analyst Louis Riddick, with whom the Niners are meeting next week. Riddick and McDaniels have a connection, so there's that to consider.
Why McDaniels Doesn't Choose the 49ers
On Wednesday, Bleacher Report's Jason Cole, citing two sources, hinted McDaniels may not accept San Francisco's offer if he was selected to be the team's head coach.
You can take a look at the video here:
According to the report, McDaniels would need to have some serious questions answered about the organization's future before accepting.
Granted, a Cole report isn't exactly known for being 100 percent on the spot. But any Niners fan can probably figure out why McDaniels would be concerned in the first place.
First, there is the stability of the job. The Niners would be on their fourth head coach in as many years. While yet another one-and-done year seems highly unlikely for any accepted candidate — no, even CEO Jed York doesn't want to go there again — the thought of it happening has to be on the table.
Feb 1, 2016; San Francisco, CA, USA; San Francisco 49ers chief executive officer Jed York during the Super Bowl 50 host committee press conference at the Moscone Center. Mandatory Credit: Jerry Lai-USA TODAY Sports
On top of that, McDaniels would have to be concerned with any possible meddling York and his staffers might play in any future head coach's affairs.
The Niners have a toxic situation, and even a clean slate can't guarantee a good fit.
Lastly, McDaniels has to know this is likely his last shot to land a coaching gig. He failed in Denver. He can't afford to fail again. So the situation needs to be just right.
The Actual Odds
So what are the odds?
Well, our friends over at Niners Nation found a resource on the 49ers head-coaching gig.
According to bookmaker.eu (h/t David Fucillo of Niners Nation), McDaniels is currently the second-leading favorite to land the position. Odds are at plus-230, with Atlanta Falcons offensive coordinator Kyle Shanahan leading the pack at plus-170.
More from Niner Noise
A lot of this may depend on which general manager the Niners tab as well, if San Francisco goes that direction first.
York didn't seem to elude to having a preference, when he spoke on the matter during his Monday press conference.
At any rate, there's a good chance McDaniels takes the position if the conditions are right. And yet there are just as many reasons he'd decline it as well.
---
---