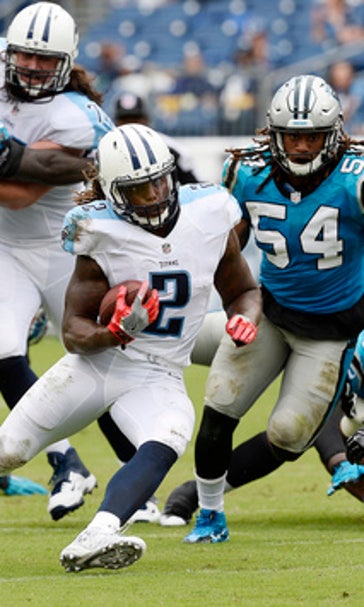 Wentz continues string of rookie QBs starting season
BY foxsports • September 9, 2016
Carson Wentz is keeping a cool NFL streak going.
When he starts Sunday for the Eagles against the Browns, it will mark the ninth consecutive season that at least one rookie quarterback starts in Week 1, the longest string in the Super Bowl era. The last year it did not happen was 2007.
The previous longest streak in the Super Bowl era was four, from 1968-71.
Wentz went second overall in the draft to Philadelphia. The top selection, Jared Goff of the Rams, right now is a third-stringer behind Case Keenum and Sean Mannion.
The rookies starting in Week 1 since 2008 have been Matt Ryan of Atlanta and Joe Flacco of Baltimore in `08; Mark Sanchez of the Jets and Matthew Stafford of Detroit in 2009; Sam Bradford of the Rams in 2010; Andy Dalton of Cincinnati and Cam Newton of Carolina in 2011; Robert Griffin III of Washington, Andrew Luck of Indianapolis, Ryan Tannehill of Miami, Russell Wilson of Seattle, and Brandon Weeden of Cleveland in 2012; EJ Manuel of Buffalo and Geno Smith of the Jets in 2013; Derek Carr of Oakland in 2014; Jameis Winston of Tampa Bay and Marcus Mariota of Tennessee last season.
---
HELPING HANDS: The Minnesota Vikings, emotionally stung by the massive injury to quarterback Teddy Bridgewater's left knee last week, have naturally rallied around the popular leader.
New acquisition Sam Bradford, who tore the anterior cruciate ligament in his left knee in 2013 and again in 2014, offered his insight about recovery from the injury, also carrying the hope that Bridgewater could be a resource for his cram session with the offense.
''I wanted to make it known that I was available and willing to talk to him about it,'' Bradford said, ''and then I asked him if he could please be here as much as possible to help me out. I would really appreciate that, too.''
Then there's coach Mike Zimmer, hired the same year Bridgewater was drafted. He has developed a strong relationship with the young quarterback. Zimmer's voice cracked a couple of times last week during a news conference to discuss Bridgewater's injury. He recently revealed a new way they've bonded as well.
Bridgewater has been a regular visitor to the trainer's room, ''always a smile on his face,'' Zimmer said, but unable to bend his leg to complete a simple, important task. So cornerback Xavier Rhodes and Zimmer have sprung to action.
''He can't reach his shoes, so Xav does it,'' Zimmer said Monday. ''I was down there today, and I tied it for him. I'm the shoe-tier now.''
---
NUMBER CHANGE IN MEMORY OF FRIEND: Tennessee rookie Derrick Henry finally has settled on a number for the regular season, and he's wearing No. 22 in memory of his late friend and former Alabama teammate Altee Tenpenny.
The running backs knew each other from high school, competing in camps before they both went to Alabama. Tenpenny then transferred to UNLV, then Nicholls State. Henry mentioned Tenpenny, who was 20 when he was killed in a one-car crash in Mississippi in October, in his speech when he accepted the Heisman Trophy in December.
''We always talked like during practice, and I asked him if he went to the NFL what would he wear?'' Henry said of Tenpenny. ''He said his high school number was 22. So make sure that that dream goes on for him.''
The Heisman Trophy winner wore the No. 2 he played with in college at Alabama throughout the offseason and preseason, prompting speculation over what number he would wind up with in the regular season - league rules limit running backs to between the numbers 20 and 49. The release of running back Dexter McCluster freed up No. 22 in time for Tennessee's season opener against Minnesota.
Henry's glad the process of picking an NFL number is over.
''And I'm so happy I got the number I always wanted,'' Henry said. ''I feel like I can do some great things (thinking of Tenpenny).''
---
YOUNG-UNS: Three rookies made the Bengals' receiver group, an uncharacteristic lack of experience for Cincinnati at what's been its deepest position.
Second-round pick Tyler Boyd is expected to play a lot. Sixth-round pick Cody Core and free agent Alex Erickson earned spots with impressive preseasons.
''They've proved that they can play, and we're going to need them to,'' quarterback Andy Dalton said. ''We're going to rely on them.''
The big transition is the result of Marvin Jones and Mohamed Sanu leaving as free agents. The Bengals released receiver Brandon Tate - the franchise's punt return leader - and gave the job to Erickson, a walk-on at Wisconsin. They're not going easy on the newcomers.
''Coach says just because you're rookies doesn't mean it's an excuse,'' Boyd said.
---
BIG BLUE WRECKING CREW: Their nickname was melodic. Their defense was anything but.
In his new book, Jerry Barca details the making of the 1986 New York Giants, the franchise's first of four Super Bowl champions. All the key characters get into the spotlight, from the man who built the team, general manager George Young, to coach Bill Parcells to the fearsome defense built around Lawrence Taylor and Harry Carson, both now Hall of Famers.
Wisely, Barca doesn't examine the 1986 champions in isolation. ''Big Blue Wrecking Crew'' begins with the 1978 fumble by Joe Pisarcik that in Philadelphia became known as the ''Miracle at the Meadowlands.'' That decision not to take a knee to clinch a victory, leading to a devastating loss, was the catalyst for a rebuilding that culminated in the Super Bowl victory over Denver for the Giants' first NFL title in 30 years.
He also pulls no punches, looking into the darker side of the franchise, including players' issues with cocaine use, and Parcells' mind games with players.
You don't have to be a Giants fan to be entranced by Barca's engrossing book. Indeed, for some Giants fans, it might be a painful read. But a worthwhile one.
---
AP Pro Football Writers Barry Wilner, Teresa M. Walker and Dave Campbell, and Sports Writer Joe Kay contributed to this report.
---
AP NFL website: www.pro32.ap.org and www.twitter.com/AP-NFL
---
---