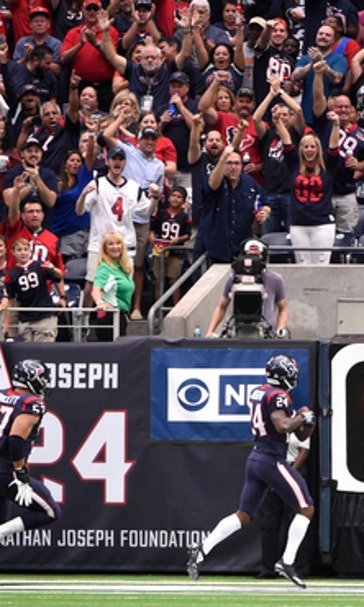 Watson shines again as Texans beat Browns 33-17
October 15, 2017

HOUSTON (AP) Deshaun Watson arrived at the stadium on Sunday paying homage to a quarterback of Houston's past.
He left having shown once again why he's the future of this franchise.
Watson threw for 225 yards and three touchdowns , becoming the first rookie in NFL history with at least three TD passes in three straight games, helping give the Houston Texans a 33-17 victory over the Cleveland Browns.
Watson has thrown 15 touchdown passes this season, the most in NFL history by a rookie in a team's first six games. It equals the number of TD throws Brock Osweiler had in 15 games last season.
Watson always puts together eye-catching ensembles on game days, but this Sunday he used his clothing as a tribute to Warren Moon, wearing his powder blue throwback Houston Oilers jersey. Watson said Moon, who played for the Oilers from 1984-1993 and was inducted into the Hall of Fame in 2006, sent him the jersey.
''It's all love and respect for Warren Moon,'' Watson said. ''I had the privilege to meet him this summer at the Cam Newton Foundation. It was just me, Cam and Warren having a great conversation, great night. And we've been communicating throughout camp, throughout the season and he's a great guy that I can look up to and ask for advice because he's been in my shoes before.''
Moon appreciated the love, and after a photo of Watson wearing the No. 1 jersey was tweeted, he retweeted it and added: ''Grateful that a future NFL great honors the NFL past....Now go be the best.''
Watson threw TD passes to Will Fuller, Braxton Miller and DeAndre Hopkins as the Texans (3-3) set a franchise record by scoring at least 30 points for the fourth straight game.
For Watson, the win was tempered by the fact that Jason McCourty returned his interception 56 yards for a touchdown in the fourth quarter.
''I'm really upset about that pick-6 ... that's only my second pick-6 ever in my lifetime of football,'' he said. ''Threw one last year against NC State and then today ... I hate turning the ball over, so it's going to stick with me.''
Some things to know about Houston's win over the Browns.
MOVING ON
The Browns tried to look forward after Sunday's loss kept them winless this season and was their 16th straight defeat on the road. The team dropped to 1-21 under coach Hue Jackson.
''This team is not going to quit and Hue Jackson's not quitting ... we're going to find a way to win,'' Jackson said. ''We've got 10 more games. We're going to find a way to win ... so, you guys can believe that. So, we're going to find a way. It's just that simple.''
VINTAGE PERFORMANCE
Houston cornerback Johnathan Joseph, who at 33 is the oldest player on the team besides 41-year-old punter Shane Lechler, had a game reminiscent of those early in his career on Sunday. Joseph had two interceptions, returning the first one 82 yards to give him an interception return for a touchdown for the first time since 2014.
And it had been seven years since he had two interceptions in one game.
''Since 2010. Buffalo. Ryan Fitzpatrick,'' Joseph said. ''So, it's been a while.''
Fellow cornerback Kareem Jackson enjoyed Joseph's performance.
''He's running around like he's 21 still,'' Jackson said. ''It definitely lit a spark for us today as a team. He's always made some huge plays throughout his career. That's just what he does.''
McCOURTY'S WORK
McCourty's pick-6 was the first interception return of his nine-year career. It was the first interception return for a touchdown by the Browns since Briean Boddy-Calhoun had one on Sept. 25, 2016, against the Dolphins. McCourty is off to a good start this season, and has three interceptions and has forced two fumbles.
WITHOUT WATT
Coach Bill O'Brien was pleased with the work of his defense in the first game since J.J. Watt and Whitney Mercilus sustained season-ending injuries.
''There's no way that you can replace those guys,'' he said. ''You're talking about Defensive Player of the Year, you're talking about a guy, Whitney Mercilus, who has had a bunch of big plays for us over the last three years ... (but) it's really trying to stay ahead of the offense with multiple schemes, multiple things that we do.''
---
For more AP NFL coverage: http://pro32.ap.org and http://twitter.com/AP-NFL
---
---