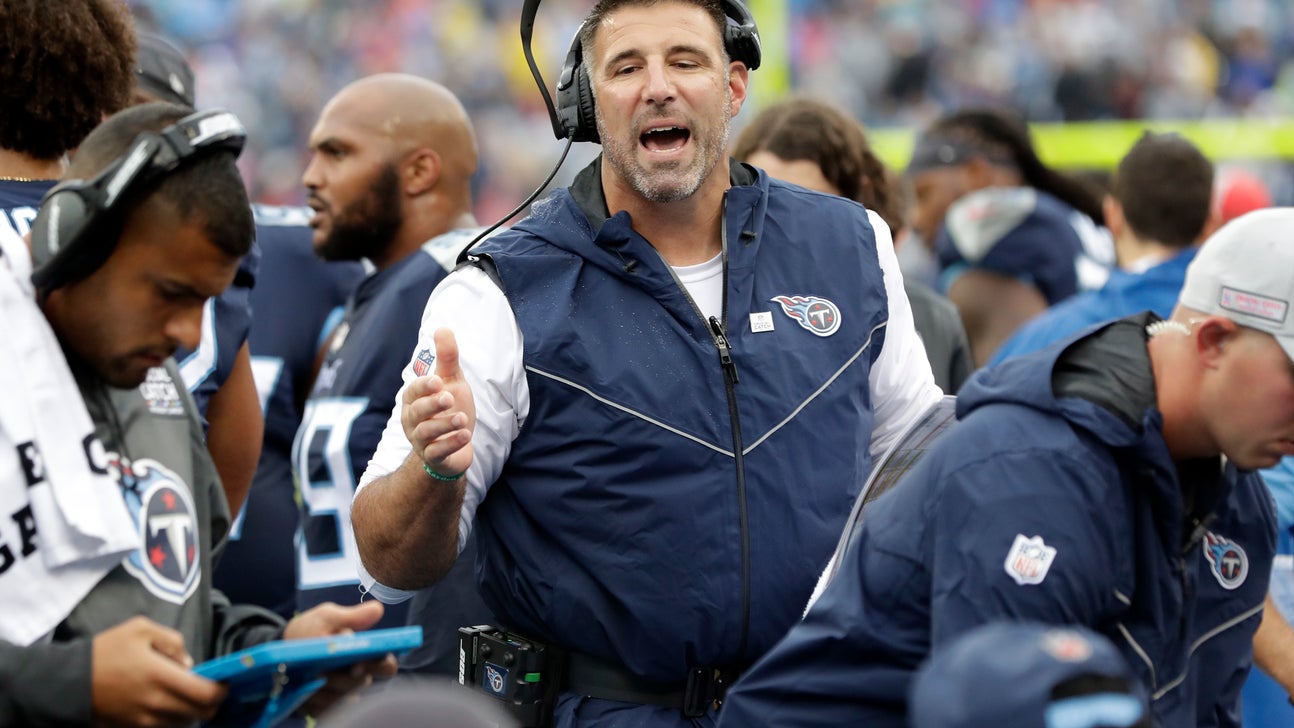 Vrabel gets 1st crack coaching against Belichick, Patriots
Updated
Mar. 4, 2020 1:53 p.m. ET
NASHVILLE, Tenn. (AP) — Mike Vrabel won three Super Bowl rings over eight seasons with the New England Patriots. He even caught eight passes — all for touchdowns and all thrown by Tom Brady.
Then Bill Belichick traded the linebacker away to Kansas City in 2009.
"We didn't talk for a couple months, maybe a year," Vrabel said. "Then we became friends, and I used him as a resource when I started my coaching career, and still talk to him a lot now. This week we're competitors."
In his first season as an NFL head coach with Tennessee, Vrabel gets his first crack at both his old coach and former team Sunday when the Titans (4-4) host the Patriots (7-2).
The men share some of the same philosophies about football, though not personalities.
Titans cornerback Logan Ryan, who spent his first four seasons in New England, says Vrabel's also younger and taller than Belichick. Vrabel may dress a bit better too during games, and Ryan sees some other similarities.
"They're hard-nosed. They care about the fundamentals," Ryan said.
For his part, Belichick says Vrabel will be a great coach with his passion and football knowledge as a player easily carrying over. Belichick also believes Vrabel deserves to be recognized in the Patriots Hall of Fame and yes, the Nashville native cheers for Vrabel and the Titans every game except this one.
"It will be the Patriots against the Titans," Belichick said. "That's what it will be."
The Patriots have won six straight after beating Green Bay 31-17 last week. They also have won the past seven against the Titans, including playoffs, with the most recent a 35-14 romp in the divisional round last January. The Titans snapped a three-game skid Monday night with a 28-14 win in Dallas.
Some things to know about the Patriots and Titans:
LAST THREE
Only a trio remains of those who played alongside Vrabel during his tenure in New England: Brady, kicker Stephen Gostkowski and special teams captain Matt Slater. Brady spent eight seasons with Vrabel from 2001 to 2008. Gostkowski arrived in 2006, and Slater was a rookie during Vrabel's final season in 2008 before being traded.
"His body can do it longer than mine could at the position that he plays," Vrabel said of Brady.
NEW ENGLAND TIES
Patriots cornerback Jason McCourty spent his first eight seasons with the Titans and now plays alongside twin brother, Devin, in New England. Trying to rebuild, Tennessee has stocked up on former Patriots including general manager Jon Robinson, Vrabel, Ryan, right guard Josh Kline. Robinson signed cornerback Malcolm Butler and running back Dion Lewis this offseason. Also, Titans defensive coordinator Dean Pees was an assistant and coordinator with the Patriots. He was the linebackers coach in 2004-05 and defensive coordinator in New England from 2006-2009.
Patriots wide receiver Julian Edelman called Lewis a fiery jitterbug.
"He meant a lot to me when he was here. Now I hate him," Edelman said with a smile.
DEFENDING BRADY: Brady enters this game having won five straight against the Titans. His lone loss came in 2002 in a 24-7 setback during Brady's third year in the league. That also was his only meeting with the Titans in which he didn't have a touchdown pass and the only time he threw an interception.
In six regular-season meetings with Tennessee, Brady has thrown for 1,561 yards, 12 touchdowns and the one interception, while completing 66 percent of his passes.
"He's seen every look in the book, and even ones that haven't been in the book," Vrabel said of Brady. "Anytime that somebody's open, they get the football. Anytime you make a mistake, he's always going to find the guy that you make a mistake on and get them ball really quickly."
MORE BRADY
The three-time MVP will play his 300th game, including the postseason, Sunday. Brady will join Brett Favre as the only quarterbacks to reach that mark, and the Patriots quarterback needs four TD passes to pass Peyton Manning (579) for most TD passes in NFL history for regular season and postseason combined. The Titans, the NFL's top scoring defense and also best in the red zone, are allowing only 17.6 points per game and have allowed three TDs in a game only twice this season.
MERRY-GO-ROUND
Tennessee has to be ready for an unconventional look in the Patriots' backfield. With rookie Sony Michel nursing a knee injury the past two weeks, receiver Cordarrelle Patterson has emerged as New England's go-to threat at running back. Patterson led the Patriots in rushing each of the past two games, including 61 yards and a 5-yard touchdown last week.
Both Michel (knee) and Patterson (neck) started this week limited in practice. Belichick currently has just two healthy running backs: James White and Kenjon Barner.
---
---