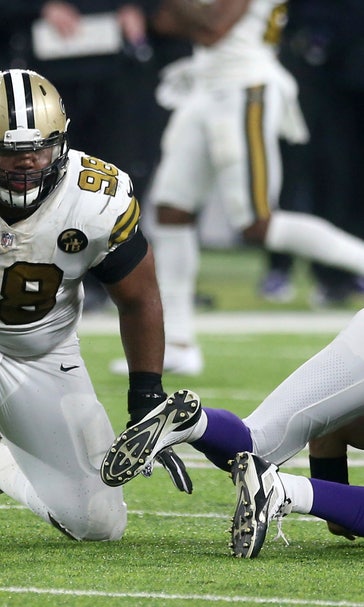 Vikings reach halfway point with daunting stretch ahead
October 29, 2018
MINNEAPOLIS (AP) — The Minnesota Vikings hit their stride last year well before midseason, using an eight-game winning streak to build a 13-3 record for the second seed in the NFC.
This year, the second half of the season is going to be much more difficult.
The challenge starts with the schedule. The next five games include trips to Chicago, New England and Seattle, with two division-leading foes and one of the toughest venues to play in. Detroit and Green Bay are the home opponents during that stretch, bringing two dangerous quarterbacks to U.S. Bank Stadium.
The Vikings are also 4-3-1, just behind the Bears in the NFC North and slightly ahead of the Packers, so they've squandered their margin for error.
"I'm not disappointed," coach Mike Zimmer said. "It is what it is. We have eight more games to go, and that will determine what we end up doing."
After losing 30-20 to New Orleans on Sunday night , the Vikings were mostly upset about the way they let the game slip away . They were in control late in the second quarter with a 13-10 lead, when Adam Thielen plunged forward for extra yardage and lost the ball at the 14-yard line. The Saints turned that fumble into a touchdown, making the potential cost of that rare mistake by Thielen a whopping 14 points.
"It's more frustrating because I think we had it going execution-wise and scheme-wise and all that," Thielen said on Monday.
"I think when it's maybe a lack of concentration or just being too relaxed or what have you, that's the frustrating part. Because you know how many times that you've done it a different way and the right way, and the one time you slip up it costs you maybe the game."
The other half of Minnesota's dominant receiver duo, Stefon Diggs, was responsible for the other devastating turnover. Diggs stopped his drag route short before an under-pressure Kirk Cousins dumped the ball off to the spot where he expected Diggs to be had he kept running. The interception was returned for a score to give the Saints a 27-13 advantage.
Thielen and Diggs were outspoken after the game about their acceptance of blame, but Zimmer wasn't having it, and he said as much to the team.
"Like I told them in the meeting today, the receivers need to stop saying that stuff because one person doesn't lose a game. One person doesn't win a game. We win around here as a team. We lose around here as a team," Zimmer said.
"Guys make mistakes, miscommunication, whatever you want to call it happens. I will never put any one of those one things on one player, ever."
Though the loss clearly hurt the Vikings in the conference and division standings, there were reasons for them to feel better about where they're headed at the halfway mark. Thielen and Diggs don't have a pattern of such gaffes, for one. They also played without six injured starters, and young subs such as right tackle Brian O'Neill, linebacker Eric Wilson and cornerback Holton Hill fared well in extended action.
"I'm encouraged after this ballgame. I'm encouraged after the last four weeks," Zimmer said. "If I was ticked off, I'd let them know. Trust me."
---
---