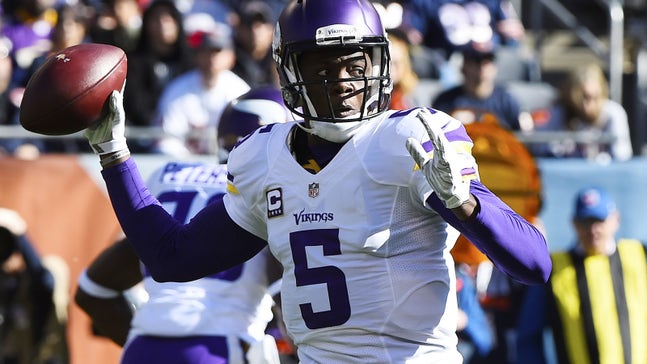 Vikings have NFL's most difficult remaining schedule
Published
Nov. 4, 2015 1:33 p.m. ET

The Minnesota Vikings are 5-2 and in possession of a playoff spot after eight weeks, but the NFL's hardest remaining schedule will put one of the league's up-and-coming teams to the test to finish 2015.
According to Ben Goessling of ESPN, the Vikings' eight remaining opponents have a winning percentage of .627, which ranks as the toughest in the NFL. Minnesota still has to play the 6-1 Green Bay Packers in Minnesota and at Lambeau Field, plus the St. Louis Rams (4-3), Oakland Raiders (4-3), Atlanta Falcons (6-2), Seattle Seahawks (4-4), Arizona Cardinals (6-2) and New York Giants (4-4).
The Vikings have the Rams, Seahawks and Giants at home but will go on the road to take on the Raiders, Falcons and Cardinals. Minnesota is scheduled to play three current division leaders, plus three games inside the NFC North.
Despite a 5-2 record, the Vikings haven't beaten a team with a winning record in 2015. Two wins came against the 1-7 Detroit Lions, while the San Diego Chargers (2-6), Kansas City Chiefs (3-5) and Chicago Bears (2-5) are all well below .500. Minnesota's two losses came against the 2-6 San Francisco 49ers and 7-0 Denver Broncos, both on the road.
Fortunately, five of the Vikings' nine games will be played in Minnesota.
The difficult remaining schedule should provide some clarity about Mike Zimmer's ascending club. Either the Vikings will play well down the stretch and cement their status as one of the league's true contenders, or the gauntlet of teams will weed out Minnesota as a pretender.
More than likely, the Vikings will need five wins out of their final nine to make the postseason. At its best, Minnesota can beat any team in any setting. But a clunker performance in the season opener and narrow wins over the Chiefs and Bears show that the Vikings need to be much more consistent from week-to-week over the final nine games of the 2015 season. There is very little margin for error with a schedule as difficult as Minnesota's.
The Vikings are a good football team. The final nine games will tell us how good.
More from The Sports Daily:
---
---