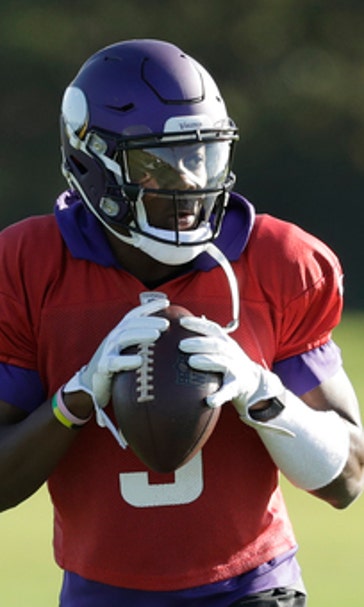 Vikings GM: Bridgewater's status still being determined
November 1, 2017

EDEN PRAIRIE, Minn. (AP) General manager Rick Spielman said Wednesday that the Minnesota Vikings have not yet determined whether they will activate quarterback Teddy Bridgewater from the physically unable to perform list next week.
Spielman told reporters that Bridgewater will be evaluated again following practice Monday when players return from their bye weekend.
Spielman will assess the situation with coach Mike Zimmer, the medical staff and Bridgewater's surgeon before a final call is made.
The deadline for adding Bridgewater to the 53-man roster is next Wednesday, the end of the 21-day window that opened when he rejoined the team for practice on Oct. 18.
''What's most important is what's best for Teddy Bridgewater for the long haul. To say that our organization would put any player out there who's not ready to play football, we would never do that,'' Spielman said.
The Vikings found themselves last month defending the decision to start Sam Bradford at quarterback at Chicago on Oct. 9, after he hobbled around in the first half on a troublesome left knee and took four sacks before ceding the job again to Case Keenum.
Bradford, who aggravated the injury in the season opener, has been dealing with what the team has described as wear and tear from reconstructive surgeries on the joint for ACL tears in 2013 and 2014.
Bridgewater suffered the dislocation and ligament tears in his left knee in practice on Aug. 30, 2016. He needed almost 14 months of rehabilitation, before being cleared for action.
No matter how a practice is arranged, though, the speed of the game can't be replicated. Deeming him ready to play again will require a measure of trust in the unknown on the part of the Vikings.
''Teddy, if he's able to go out there and play the game of football, that's what we have to determine. That's all what it's based on,'' Spielman said, adding: ''Is he better with his mobility from the first day we saw him on the field to where he is today? So all of that is being determined right now.''
The decision on who to start is another matter.
Even if Bridgewater is activated, as has been widely expected, Zimmer and his staff would have to believe he is a better option roughly 22 months removed from meaningful game experience than Keenum, the career backup who has helped the Vikings endure injuries to Bradford and running back Dalvin Cook on their way to a 6-2 record and first-place standing in the NFC North.
Then there's Bradford, who has not practiced since being pulled from that game more than three weeks ago. Zimmer and Spielman both said this week that his condition has improved, but twice Spielman stopped short of expressing confidence in the return of Bradford to game action this season.
''We're hoping that he's healthy enough to play again this season,'' Spielman said. ''I know he's done beyond what's expected to try to get back as quickly as he can. We're hopeful that we have all three of these guys healthy.''
---
For more NFL coverage: http://www.pro32.ap.org and http://www.twitter.com/AP-NFL
---
---