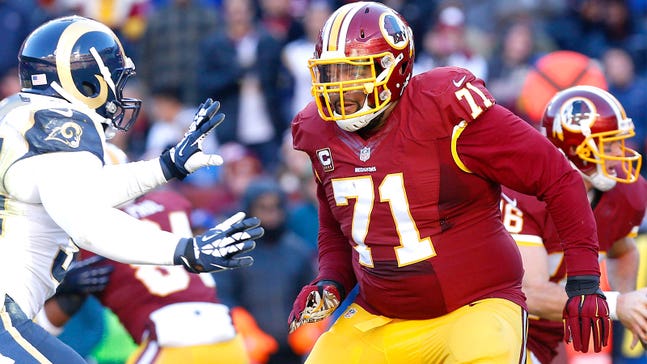 Trent Williams on if he'd like to be a Redskin for life: 'That's a no-brainer'
Published
May. 8, 2015 3:15 p.m. ET

Washington Redskins left tackle Trent Williams is one of the best and most consistent tackles in the NFL. If it were up to him, he would finish out his career as a Redskin.
On Thursday, Redskins.com TV's Larry Michael asked Williams if he would like to be a Redskin for life.
 "Of course. Of course. That's a no-brainer," Williams responded.
Williams is not positive that the feeling is mutual, but he remains hopeful that the team will offer him a fair long-term contract soon.
"We'll see," Williams continued. "Business has to work itself out. Obviously I'm not educated in that department, so I've got my representation, and I just let them guys talk and let them handle it, and hopefully we can get something done soon."
Redskins general manager Scott McCloughan said that the team is best suited taking extra time with a decision of this nature.
"We're not in a hurry, hurry to do it, but we'd like to." said McCloughan. "We see them as quality Redskin football players, and they're both highly talented. It's a big contract, but discussions are going on. We definitely have been staying in touch with the agents."
Williams will go out there and do his job like he always has, but the rest is out of his hands.
(h/t Washington Redskins)
Photo Credit: Geoff Burke-USA TODAY Sports
---
---