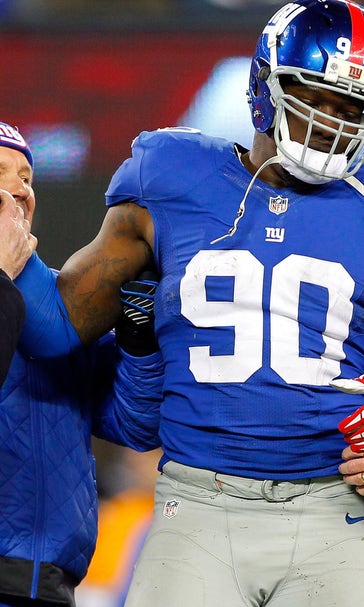 Tom Coughlin details the Giants' plan for JPP
October 28, 2015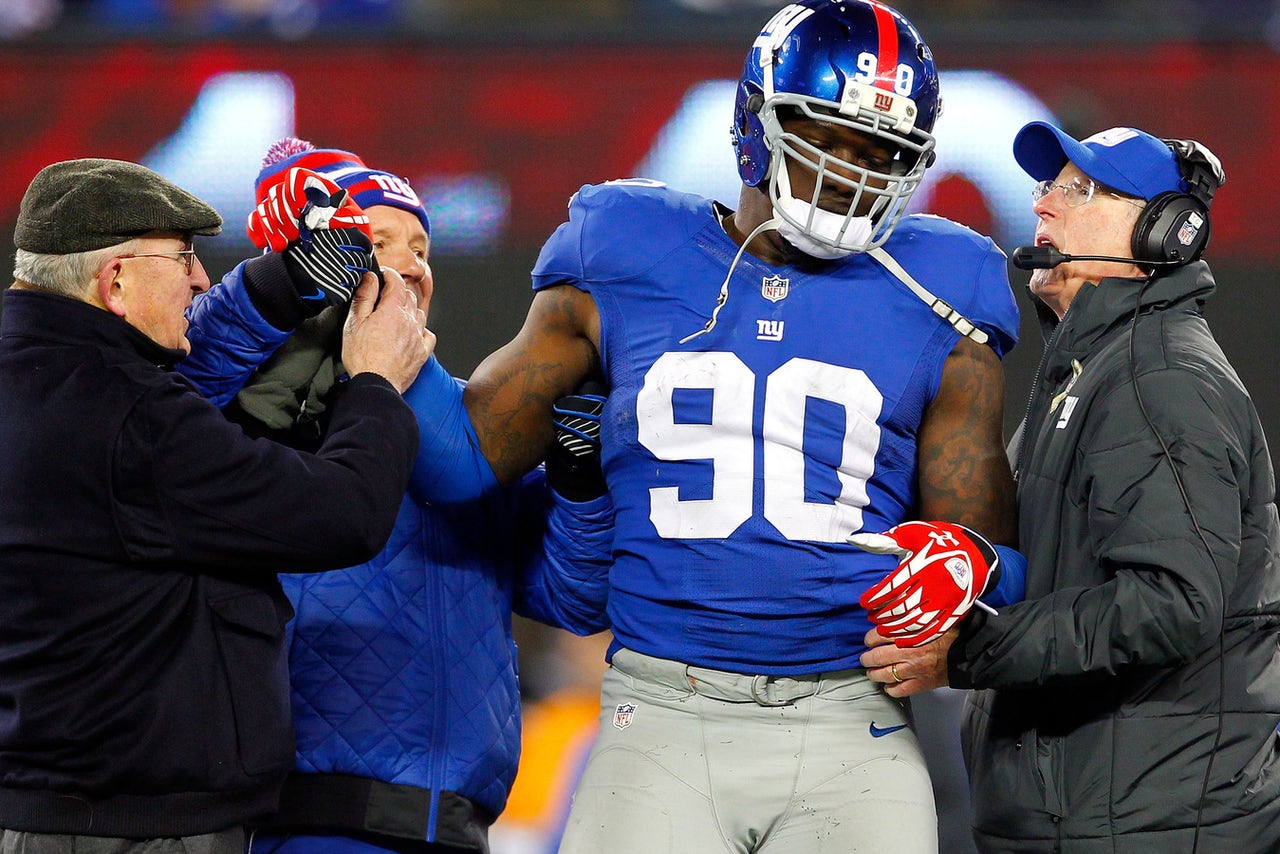 New York Giants head coach Tom Coughlin wants to make one thing clear -- the entire team is behind defensive end Jason Pierre-Paul and his return to the team.
Pierre-Paul was present at Giants practice on Monday, and while he participated with the team during their walkthrough, he spent most of the day doing individual work.
"He's been working, and we'll see how fast this comes along," said coach Coughlin to reporters after practice, per The New York Post. "He's excited about being here. He's anxious to get started. We're all rooting for him to be honest with you. He's had a very traumatic experience and he's done what appears to be an outstanding job preparing himself. He's mentally very upbeat, his attitude is outstanding.
"He's anxious to play right now, to be honest. But they're going to go relatively slow on that.''
There has been some speculation that Pierre-Paul will return for the Giants' Week 10 game at home against the New England Patriots. Others have speculated that he will return to action after the team's Week 11 bye.
For now, he will simply follow the plan laid out for him.
"I'm being brought along just like everyone else. He'll start with the medical team,'' Coughlin said. "He can do all the jogthroughs, he can be out there for whatever we're doing pre-practice. Then he's going to slide off to the side with the medical people and be under their supervision. How long that lasts is really according to how long they feel he's able to proceed.''
The Giants put Pierre-Paul through a string of tests and he passed them all with flying colors. Although Coughlin has already ruled out Pierre-Paul's participation in this Sunday's game at New Orleans, he admits that the veteran defensive end is getting close.
"He's told me that he's worked against bags, delivered blows on a board, and done all of those things,'' said Coughlin. "When he came in, he looked good. I asked him what he weighed, and he said 268. He was right on the money. He's worked, he's been working, and we'll just see how fast this comes along.'
"He was in a good frame of mind the first time he came in. This time (it's) very good, because he feels it,'' said Coughlin. "He senses that it's close and that whatever we ask him to do, he can do it.''
And what about that right hand -- how will he compete without the ability to pull? Coughlin has an answer for that question, or at least something he hopes will happen.
"I'm hoping he's as good as...if you study him (on tape)...he'll use that hand basically as he always has, not necessarily as a grabber but as a club," Coughlin said.
---
---