Tom Brady
Tom Brady
Tom Brady was ugly on Saturday; what does that mean for the AFC championship?
Published
Jan. 18, 2017 8:21 p.m. ET

In Saturday's divisional playoff against the Houston Texans, Tom Brady threw as many interceptions as he had in his entire 2016 season. That's two picks in 12 regular-season games (remember, Brady was suspended for the first four weeks of the year for some reason that doesn't immediately come to mind), and then two picks in the biggest start of his season. That's pretty staggering for the best quarterback in the NFL, no?

Tom Brady, 2016 regular season: 432 attempts, 2 INT

Tom Brady, 2016 divisional playoff vs. Houston (through three quarters): 31 attempts, 2 INT

He had a career low for completion percentage in the postseason (47.4%). Some passes fluttered. On one or two, you could almost close your eyes and see 2015 Peyton Manning. (Okay, maybe it wasn't that bad.) But looking ahead, Brady playing poorly against the Texans seemingly would be good news for the winner of Sunday night's Pittsburgh/Kansas City game.

Brady isn't going to be average two weeks in a row; he's Tom Brady! The regular season usually confirms that theory. In the past three years, Brady hasn't had a subjectively poor performance in back-to-back games. (Remember, poor for Brady would be good for, say, Brock Osweiler. It's all relative.) Historically though, one bad game in the postseason hasn't meant the same.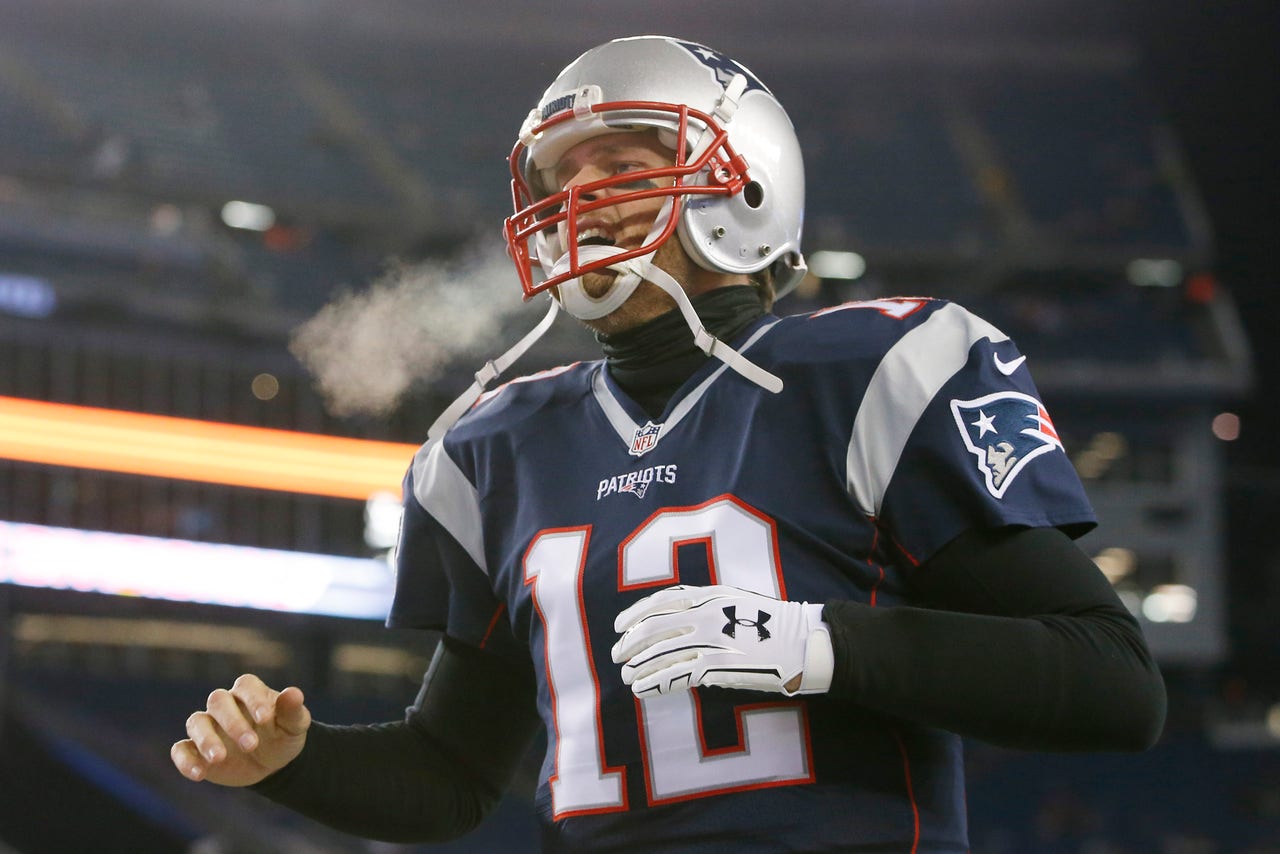 In 2006, Brady was average in a win against the Chargers (divisional) then in a loss to the Colts (AFC championship). The next year was more of the same: Brady was again so-so in victory against the Chargers (AFC championship), then was mediocre when New England blew its perfect season in the Super Bowl against the Giants. In 2011, Brady had a bad AFC championship (vs. the Ravens in the Lee Evans game) and was adequate, but not Brady-like, in another Super Bowl loss to the Giants. Notice the pattern?

Brady also has struggled in more playoff games than you think. Including Saturday, Brady has had one of his two worst games of the season* in seven of his past 11 playoff appearances — 2006, 2007, 2009, 2011, 2012, 2015 and 2016. (*That's in terms of QB rating, which is far from a perfect stat but it provides a base comparison.) Weather surely plays a role as does the quality of opponent. Even the Texans — 16-point dogs — still had the top defense in the league.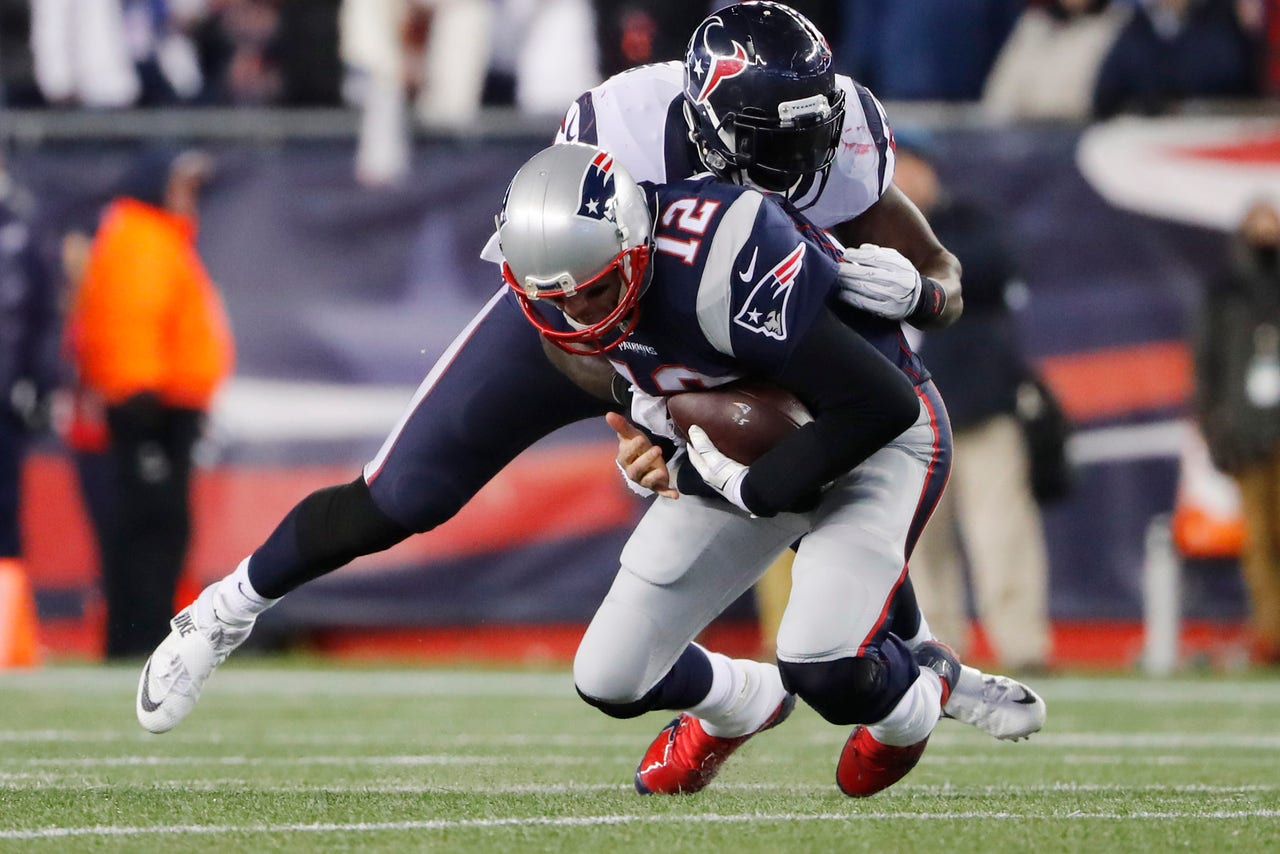 Stats are overrated anyway. Offensive line breakdowns. Drops. Bad routes. Deflections. That's why Brady's two picks in 2016 were a staggering statistic. He was immune to the quirks of football for the better part of three months. His first interception on Saturday — a slant to Michael Floyd that bounced off the receiver's hands and deflected right to A.J. Bouye — was a perfect example. Brady led Floyd a little too much or maybe had a little too much zip on the ball, but the pass should have been caught. But if it wasn't, there were dozens of ways the ball could have diverted and dozens of places Bouye could have been positioned that would have allowed the football to harmlessly fall to the turf, deflating ever so slightly while bouncing on the rock-solid turf. Instead, Floyd dove, pushed the ball up and directly into the chest of Bouye, who would have been burned for a big game if Floyd had caught the pass in stride. That's the difference between an interception and a routine completion/incompletion. The second pick also was deflected, but by a Texans player who could have intercepted it before his teammate.

It's surely a surprise that Brady threw two picks in a game (he's done it 34 times in his career but only three times in the past four seasons), but no surprise that the bounces finally went against him. He was due. More concerning was Brady's overall performance, which was middling, at best. He found success with the heave-and-go play but little else. If you're a Pats fan, it has to be concerning. Those postseason numbers mentioned above show you shouldn't buy into the belief that he got the bad one out of the way. Recently, when there's been smoke, there's been subsequent playoff defeat. Remember, if Russell Wilson doesn't throw that interception, the Pats would be on an 11-year Super Bowl drought. Perception is a funny thing — we'd be viewing Brady's Saturday performance a whole lot differently had things gone differently in Glendale.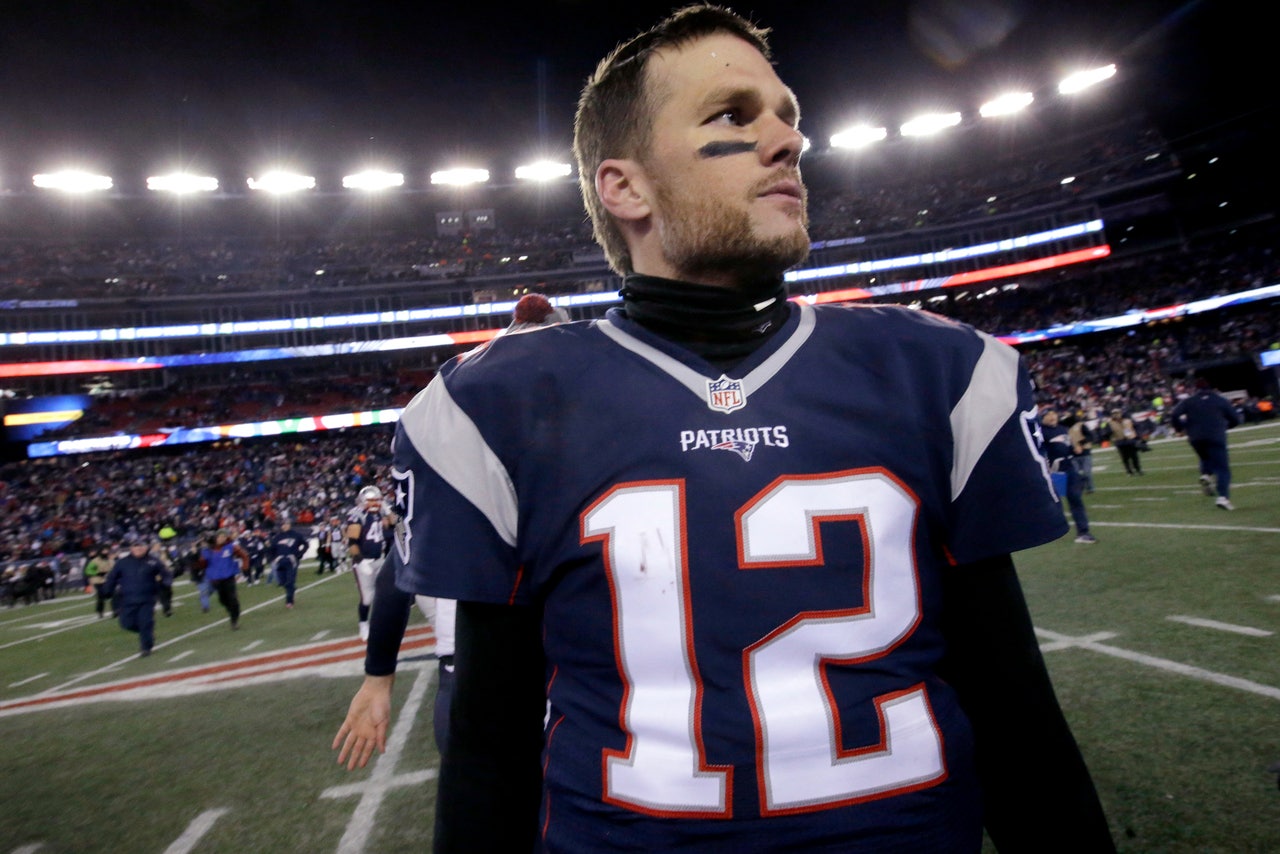 Again though, these are the vagaries of the game. One pass gets deflected and falls to the turf, another gets picked and keeps Osweiler's team in a game. One miracle ball gets caught and the Giants win a Super Bowl, then seven years later another miracle ball gets caught and the Pats do.

That's why, past performances be damned, the ultimate takeaway from Saturday is that there's nothing to take away. The NFL playoffs are a series of one-game tournaments. The first one is behind New England and its quarterback. On to the next one — at home in the AFC championship. Two picks or not, are you going to bet against Tom Brady?


---
---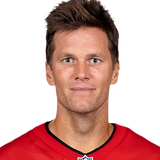 Get more from Tom Brady
Follow your favorites to get information about games, news and more
---