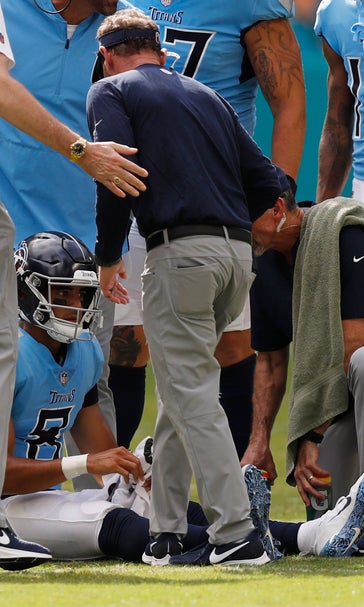 Titans limit QB Marcus Mariota at practice
September 13, 2018
NASHVILLE, Tenn. (AP) — The Tennessee Titans limited Marcus Mariota at practice Thursday and gave more work to backup Blaine Gabbert, and coach Mike Vrabel says they want to evaluate which quarterback will give them the best chance against the Houston Texans.
Mariota practiced fully Wednesday after an injured elbow knocked him out of Tennessee's 27-20 opening loss in Miami, and Vrabel said the quarterback should play Sunday in the home opener barring any setbacks.
On Thursday, Mariota's snaps were pared back, leaving him limited in practice.
Vrabel said Mariota remains the starter.
"That could change," Vrabel said. "We'll see where things go here as we get closer to game day."
Two-time Pro Bowl left tackle Taylor Lewan remained at home for a second straight day in the concussion protocol, and the Titans hope to re-evaluate him Friday. Right tackle Jack Conklin did not practice Thursday after being limited since being removed from the physically unable to perform list at the end of the preseason.
Dennis Kelly, who started in Conklin's place in the opener, did not practice Thursday because of illness. Cornerback Kenneth Durden also was added to the injury report with a hamstring that limited him.
The Titans got some good news with a pair of rookie linebackers practicing fully. Rookie linebacker Harold Landry was back after missing Wednesday's session, and Rashsan Evans practiced for a second straight day. Evans, the 22nd pick overall, said he expects to play Sunday after missing the opener and all four preseason games.
Linebacker Derrick Morgan also practiced fully after being limited.
Wide receiver Corey Davis was limited a second straight day with a hamstring, but he told reporters before practice that his hamstring was just fine.
---
---