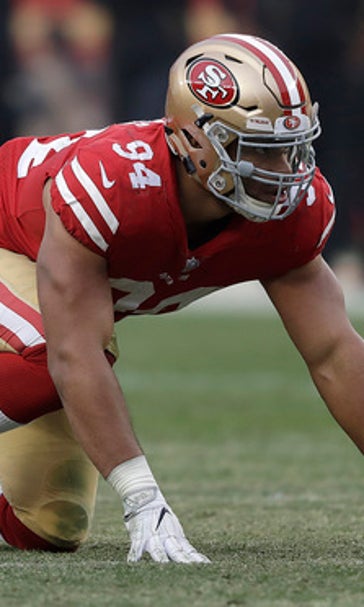 Thomas raising depression awareness after sister's suicide
June 1, 2018
SANTA CLARA, Calif. (AP) Solomon Thomas knows the pain of having a loved one take her own life after his older sister killed herself this offseason.
Thomas and his family now want to use the anguish from Ella Thomas' death on Jan. 23 for a good cause by raising awareness about the dangers of depression and trying to prevent other suicides.
''It's big to let people know it's OK to be sad, it's OK not to be perfect because you never are,'' Thomas said. ''There are so many things that happen in life, good, bad, stuff that you don't know about, and it's going to affect how you feel. That's huge. It's about changing the culture of how you're supposed to feel or act.''
Thomas, a second-year defensive lineman for the San Francisco 49ers, will return to his family's home in the Dallas area this weekend to take part Saturday in The Out of the Darkness Overnight Walk, which benefits the American Foundation for Suicide Prevention. Thomas has already raised more than $27,000 for the cause.
According to the Centers for Disease Control and Prevention, there are more than 44,000 suicides a year in the United States and it is the second leading cause of death for people between the ages of 15 and 34.
''That's insane,'' Solomon Thomas said. ''That's a huge deal. That's a lot of people who couldn't get help - a lot of people who need help and a lot of people being affected. It's more than that who are going through depression and going through all the sadness. That needs to be talked about. There needs to be help for everyone out there. I want people to know they can reach out and be loved.''
The 22-year-old Thomas got the news about Ella in a phone call from his father while working out back in Texas. He got plenty of support from the Niners right away with owner Jed York, general manager John Lynch, kicker Robbie Gould and former teammate Elvis Dumervil among the people who came to Texas for the funeral.
Others in the organization have been there with timely texts, cards and other good wishes that have helped Thomas get through this difficult time.
Ella Thomas had been dealing with depression for years and her family had tried to get her help. While Ella was open with her struggles, Thomas knows many others keep those thoughts hidden, sometimes out of fear of a stigma some put on mental illness.
That's why he thinks it was so important that NBA stars like Kevin Love and DeMar DeRozan have been open about their struggles with panic attacks and depression.
It's also why he is taking part in the walk to let others know they aren't alone in dealing with these issues.
''Mental health and suicide aren't things people want to talk about,'' Thomas said. ''Mental health, depression, it's a disease just like anything else. And when you talk about other diseases, people talk about them like, `We'll get you through this,' whatever. But, then, when you talk about depression or mental health or suicide, people kind of scare away because it's such a serious topic. You don't know how to handle it. You don't want to say the wrong thing to push someone over the edge. But it's such an important topic, such a serious topic, that people need to start talking about it.''
Like many siblings just two years apart in age, Ella and Solomon clashed at times as youngsters but started to grow extremely close when Solomon was in middle school and Ella started high school.
That friendship endured for the rest of Ella's life. Thomas, who played football at Stanford, was drafted by the 49ers with the third overall pick in the 2017 NFL Draft. She came out to watch about six of Solomon's games as a rookie last year.
''We finished each other's sentences, all that kind of stuff. She was my best friend,'' he said. ''We were always open with each other, never had anything bad, very transparent. If you couldn't go to Mom or Dad, we were always there (for each other). She always lit up the room. You always knew Ella was there, whether she was just being loud or whether she was just in there trying to talk to people. She was so good with people. She worked in the restaurant industry and obviously she had to be good with people and she always was. She could make a crying baby smile. You always knew Ella was there. She just had this heart, and she loved everyone as hard as she could, whether they deserved her love or whether they didn't deserve her trust or whether she just met them, she always loved them. That'll always stick with me, Ella's heart.''
Thomas keeps Ella's memory close him with a purple wristband that reads Ella Elizabeth Thomas with a heart symbol and the date of her death. He also never forgets a lesson his sister taught him after she went through a difficult time in high school when her best friend's brother died.
''She came up to me and she was like, `Solly, we never know when our last day is, I want us to make sure we take advantage of every day and be best friends and love each other as hard as we can for the rest of our lives,''' he recalled. ''That always stuck home with me, and that's a lesson I'll pass along to other people.''
---
More AP NFL: www.pro32.ap.org and www.twitter.com/AP-NFL
---
---