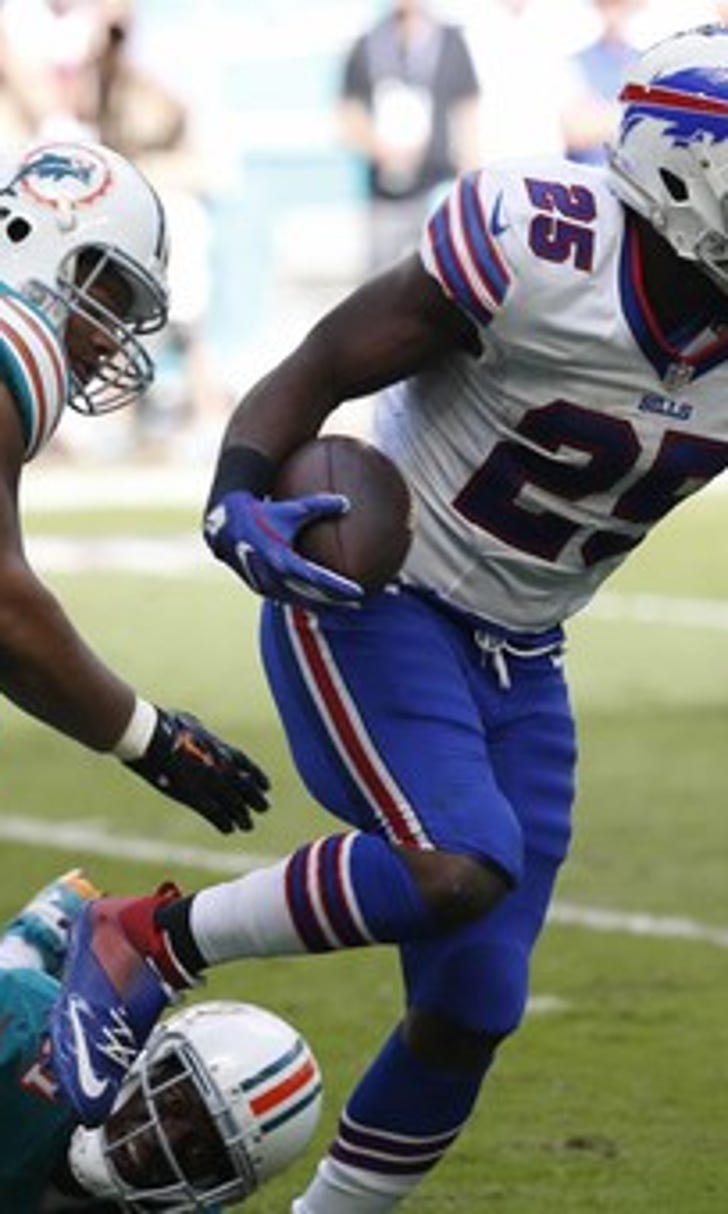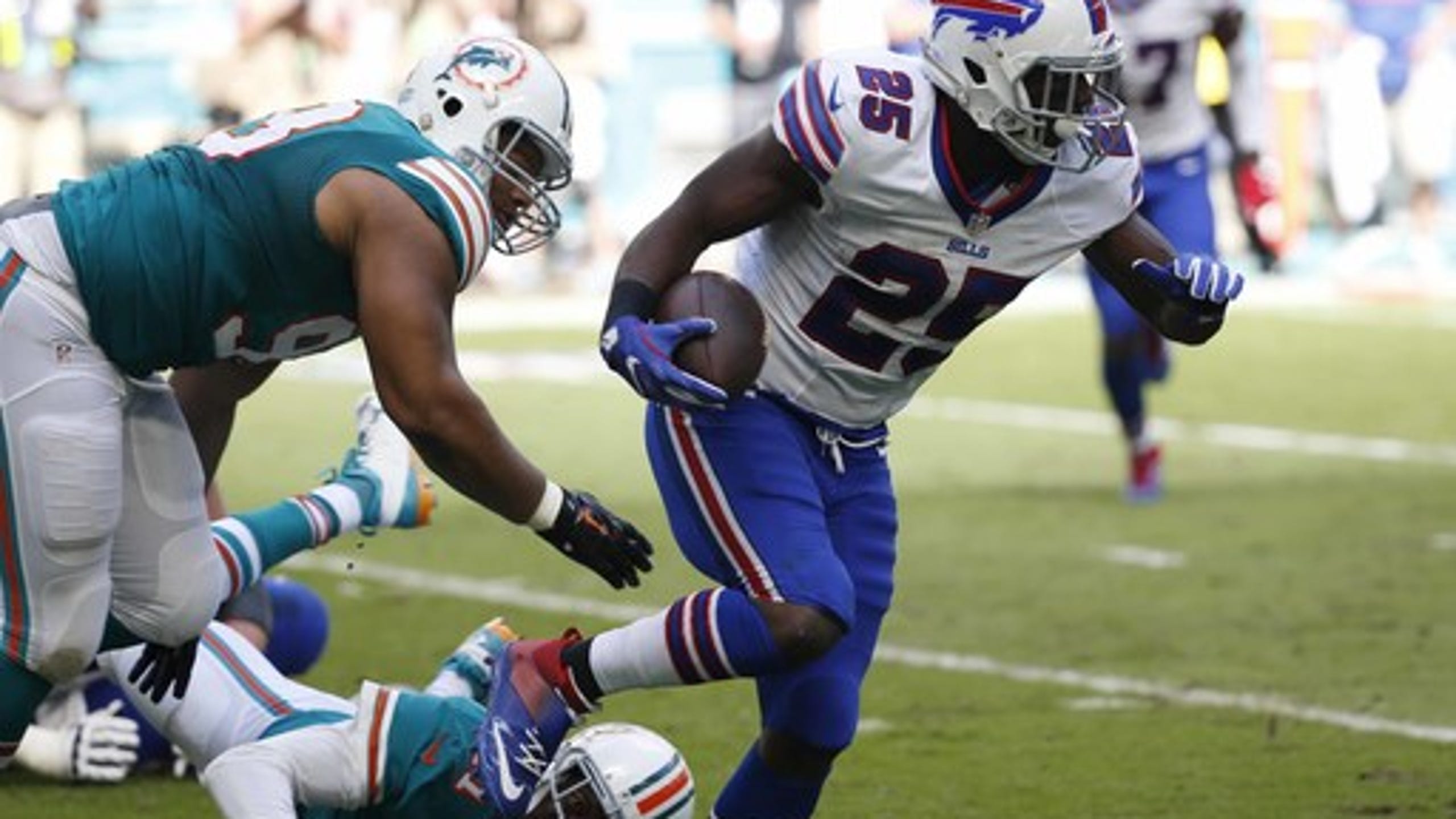 The Latest: Chargers DT Reid carted off with knee injury
BY foxsports • October 23, 2016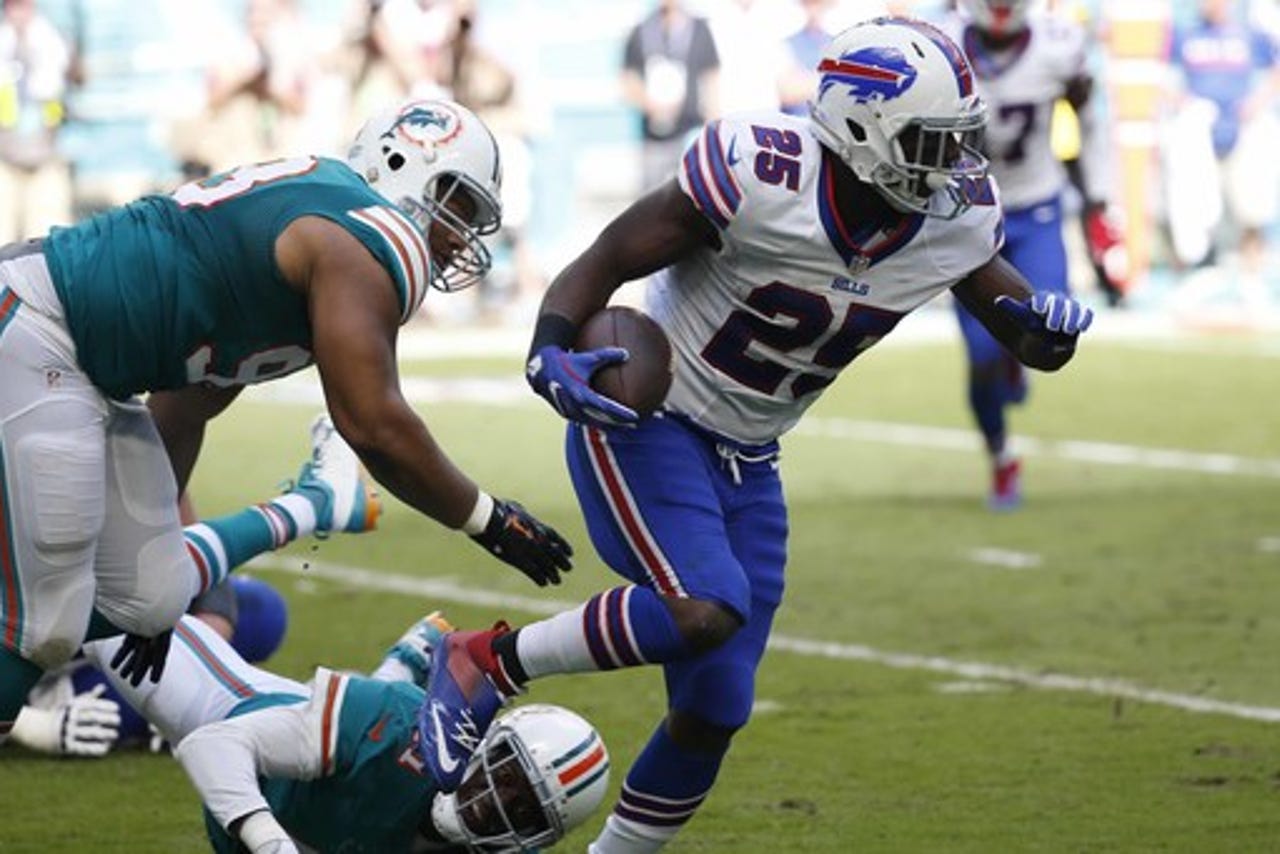 The Latest on the seventh week of the NFL season (all times Eastern):
4:46 p.m.
Chargers defensive tackle Caraun Reid was carted off the field Sunday with a left knee injury and listed as questionable to return.
Reid was injured midway through the first quarter when his teammate, linebacker Denzel Perryman, dove down and accidentally trapped Reid's left leg under the weight of his body. Both players were defending a catch by Atlanta tight end Levine Toilolo.
Reid, the No. 3 defensive tackle behind Corey Liuget and Brandon Mebane, lay on the turf for several minutes before getting helped to the cart.
---
4:02 p.m.
Five San Diego players raised their clinched right fists as their protest during the national anthem before Sunday's game at the Atlanta Falcons.
Standing together on the San Diego sideline, offensive linemen D.J. Fluker, Chris Hairston and Joe Barksdale and linebacker Joshua Perry held up their fists as they stood. Also, offensive tackle Tyreek Burwell, inactive and not in uniform, also raised his fist as part of the Chargers protest.
There were no protests from Falcons players.
- Charles Odum reporting from Atlanta.
---
4:03 p.m.
Colin Kaepernick, Eric Reid and Eli Harold once again kneeled during the national anthem before San Francisco's game against Tampa Bay.
Among the 49ers players to raise fists during the anthem were defensive backs Antoine Bethea, Rashard Robinson, Keith Reaser, Dontae Johnson and Jaquiski Tartt.
No Tampa Bay players protested.
- Josh Dubow reporting from Santa Clara, Calif.
--
3:30 p.m.
Colts kicker Adam Vinatieri has another record to his credit.
Vinatieri kicked two field goals Sunday against the Tennessee Titans, extending his streak without a miss to 43 consecutive field goals for an NFL record. He tied former Colts kicker Mike Vanderjagt (42 made between 2002 and 2004) with a 28-yard field goal in the second quarter.
Then Vinatieri took the record to himself with a 33-yarder with 3:46 left in the third quarter, which gave Indianapolis a 20-13 lead.
- Teresa M. Walker reporting from Nashville, Tennessee
---
3:10 p.m.
Bills running back LeSean McCoy left the game at Miami in the third quarter after aggravating left hamstring injury.
McCoy, ranked second in the NFL in rushing, had been questionable after hurting himself in practice Wednesday. He started the game but totaled only 11 yards in eight carries before departing.
- Steven Wine reporting from Miami
---
2:48 p.m.
Washington Redskins cornerback Josh Norman has been ruled out for the rest of the game with a concussion and appeared to injure his left shoulder.
Norman landed hard as Marvin Jones caught a 52-yard pass for the Detroit Lions. Norman lay on the turf before walking off the field very slowly and being carted to the locker room.
Also in the game, Detroit cornerback Darius Slay was listed as questionable with hamstring injury in the second quarter. He was replaced by Johnson Bademosi.
Slay, Detroit's best player in the secondary, made a victory-sealing interception two weeks ago against Philadelphia.
- Larry Lage reporting from Detroit.
---
2:15 p.m.
Dolphins receiver Jarvis Landry was flagged for unnecessary roughness for a block that injured Bills safety Aaron Williams in the second quarter.
Williams suffered a head and neck injury when Landry hit him high, leading with his shoulder. Williams remained on his back for a couple of minutes before he slowly rose and was led to the locker room.
As Williams left the field, Landry walked over to him, said something and appeared chastened. The penalty was declined because Bills instead accepted an unrelated penalty on the Dolphins.
Landry was penalized earlier in the game for unsportsmanlike conduct for taunting.
Williams missed most of last season when he underwent neck surgery following an injury that threatened his career.
-Steven Wine reporting from Miami
---
2:17 p.m.
It's Fitz Magic time again for the New York Jets.
Ryan Fitzpatrick replaced an injured Geno Smith with 4:34 left in the second quarter against the Baltimore Ravens. Smith injured his right knee while taking a sack from Baltimore's Matthew Judon, was taken to the locker room and listed as out for the game after returning to the sideline in street clothes.
Smith took over as the Jets' starter in place of Fitzpatrick, who had started the first six games but had thrown an NFL-leading 11 interceptions and just five touchdowns.
Smith got New York on the board when he tossed a short pass to Quincy Enunwa, who motored down the left sideline and outran two Ravens for a 69-yard touchdown to cut the deficit to 10-7. An excited Smith ran all the way down the field to celebrate as fireworks went off.
New York also lost center Nick Mangold to an injured right ankle in the first quarter, and linebacker Bruce Carter injured a quadriceps in the second quarter.
- Dennis Waszak reporting from East Rutherford, New Jersey
---
2:10 p.m.
Eagles wide receiver Josh Huff returned a kickoff 98 yards for a touchdown against the Vikings, the first time in team history they've had a kick return for a score in consecutive games.
Wendell Smallwood returned a kickoff 86 yards for a TD in last week's 27-20 loss at Washington. Huff had a 107-yard TD return as a rookie in 2014.
- Rob Maaddi reporting from Philadelphia
---
1:55 p.m.
Browns quarterback Cody Kessler is out and will not return to the game against Cincinnati after suffering a concussion.
He was hit hard while throwing a shovel pass on a scramble. He was replaced by rookie Kevin Hogan from Stanford.
Kessler was 9 of 11 for 82 yards while leading Cleveland to a 10-7 lead over state rival Cincinnati.
- Joe Kay reporting from Cincinnati
---
1:45 p.m.
The Tennessee Titans already have lost right guard Chance Warmack to injured reserve, and now left guard Quinton Spain has been carted off the field.
Spain went down during an incomplete pass by Marcus Mariota with 14:23 left in the second quarter. Trainers and a doctor examined his right knee, then put him on a cart to take him to the locker room. An undrafted free agent last year out of West Virginia, Spain worked his way into the starting spot at left guard late last season and kept that job this season.
He was replaced in the lineup by Brian Schwenke.
- Teresa M. Walker reporting from Nashville, Tennessee
---
1:45 p.m.
Eagles cornerback Ron Brooks was carted off the field after suffering a right knee injury late while making a tackle in the first quarter. Brooks stayed down on the ground for a few minutes and appeared to be in pain while trainers worked on his leg. He was immediately ruled out.
Earlier in the quarter, Vikings safety Andrew Sendejo injured his ankle and was questionable to return.
- Rob Maaddi reporting from Philadelphia
---
11:15 a.m.
Lawrence Brownlee was chosen by the New York Jets to sing the national anthem before their game against the Baltimore Ravens, but the operatic tenor faced a difficult decision.
In a statement Sunday morning, he said he found himself ''being torn in two different directions.'' As the son of a veteran, Brownlee wrote, he was honored to be given the opportunity to sing the anthem - as he has before.
''I am grateful for the fact I have far more opportunities to succeed today as a man of color than my ancestors who were alive when the anthem was written,'' he said.
He added, however, that he ''cannot ignore how protests around the national anthem have escalated as of late. My fellow Kappa Alpha Psi fraternity brother Colin Kaepernick began the movement by silently protesting the anthem in hopes that the public discourse regarding race relations, police brutality and misconduct toward people of color would change.''
Brownlee said the San Francisco quarterback's decision is ''an act of protest which I agree with and support wholeheartedly.'' The opera star said he's hopeful ''people are gradually moving toward equality in all areas,'' and asked himself whether he would sing the anthem before the game or ''stand in silent solidarity.''
''In the end, I decided to use the voice that God has given me to sing,'' Brownlee wrote, ''to sing with the conflicting emotions that pull at my heart ... the honor, the pride, the frustration, the sadness ... Colin Kaepernick's message, the hope of my ancestors, and the sacrifice of those who gave their lives protecting our flag.
''And I will keep on singing until I can no longer do so.''
- Dennis Waszak Jr. reporting from East Rutherford, New Jersey.
---
---