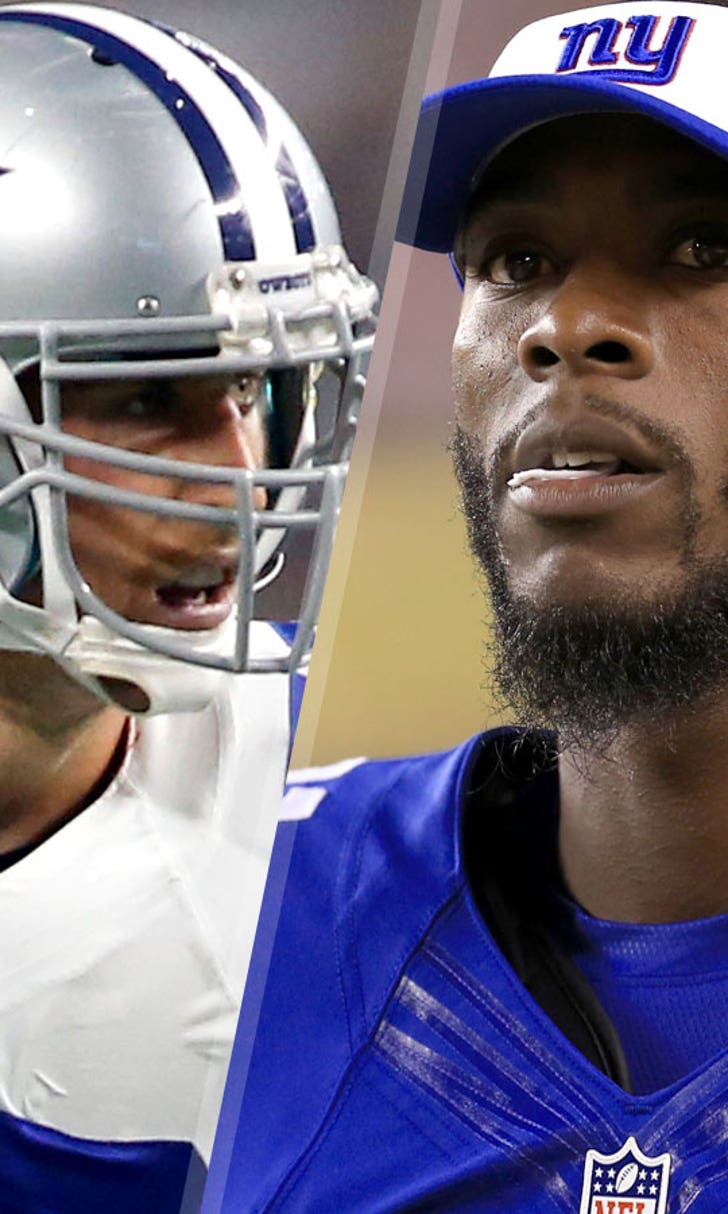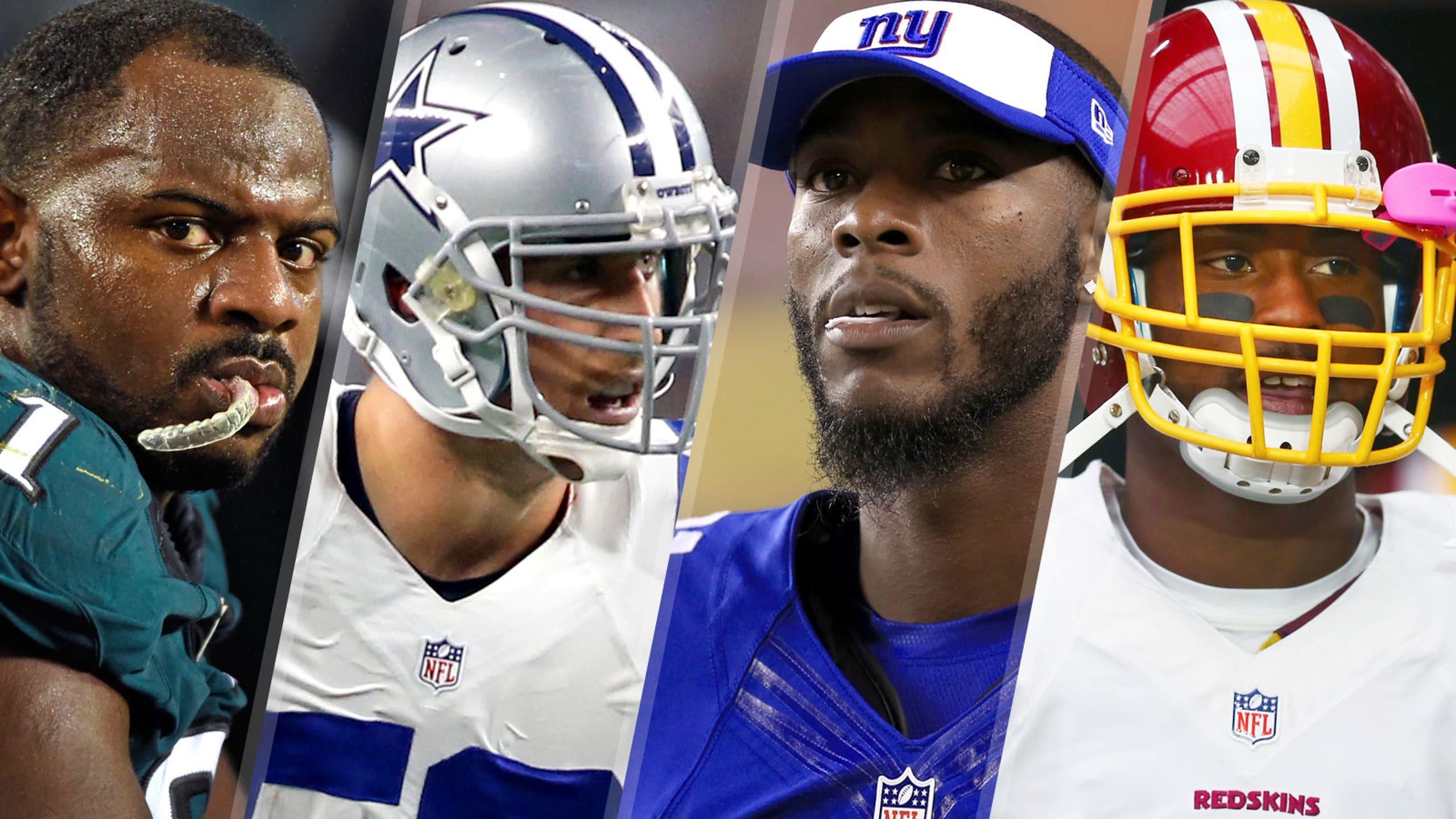 The 2015 All-NFC East team (Defense)
BY foxsports • February 3, 2016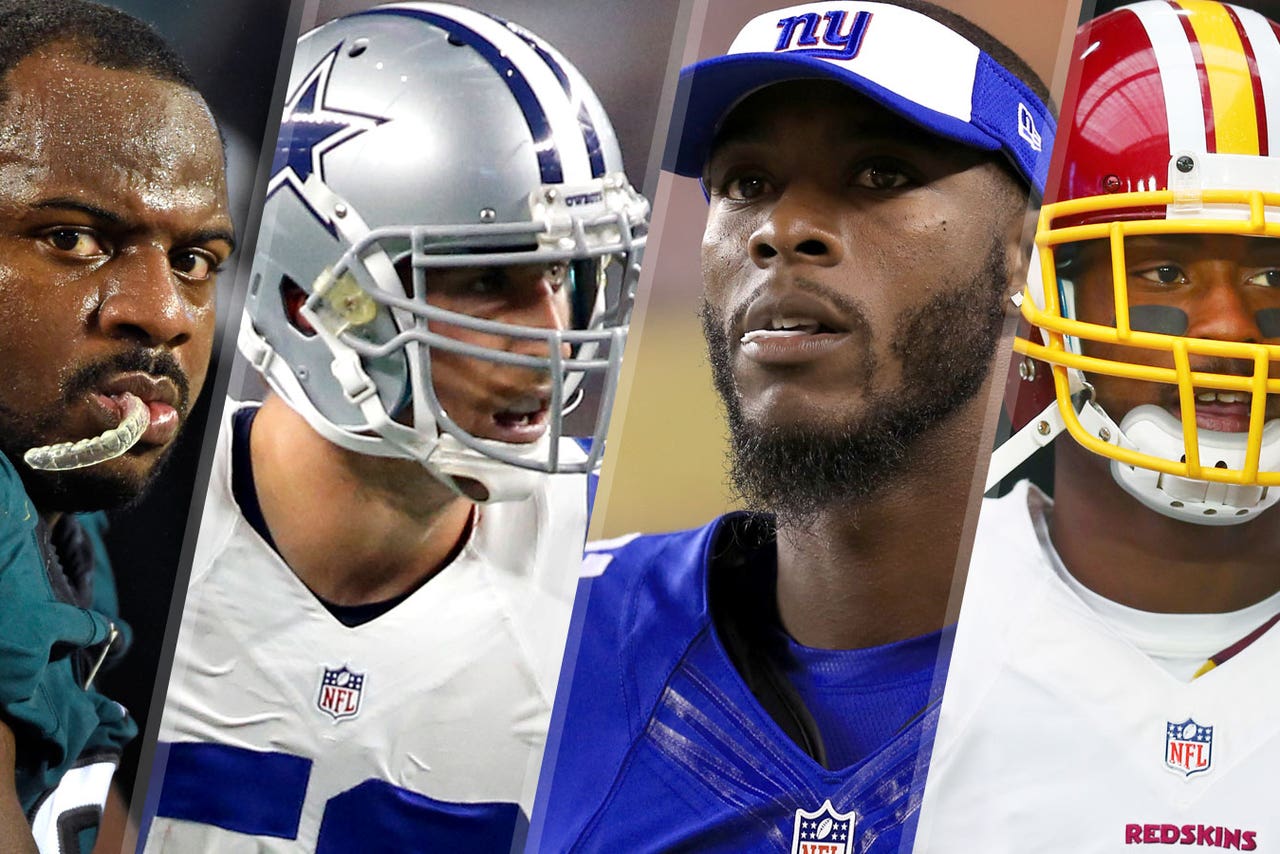 As we enter the final week before we can wrap up the 2015 season for good, we will put our final touches on what we witnessed.
Using a base defensive scheme, with four down linemen and three linebackers, we have put together the 2015 All-NFC East defensive team. All four teams in the division are represented, but you might be surprised to find out which team ended up with the most representation.
Fletcher Cox, defensive end
Cox continued his dominant ways in 2015. Despite playing the defensive end spot in a 3-4 defense, he created the type of interior havoc you would expect from a defensive tackle in a 4-3 defense. Cox finished with 77 combined quarterback sacks, hits and hurries -- 23 of those were sacks or hits. On the interior line, only J.J. Watt and Muhammed Wilkerson had more combined sacks and hits. It's scary to think about what Cox will be able to accomplish in 2016 when the Eagles move him to defensive tackle in their new 4-3 scheme.
Chris Baker, defensive end
The Redskins went out and spent big free-agent dollars on interior defensive linemen Terrance Knighton and Stephen Paea this past offseason. One season before that, they signed Jason Hatcher to a lucrative multi-year deal. However, it was the savvy veteran Chris Baker who emerged as the team's most dominant interior lineman under new defensive coordinator Joe Barry. The sixth-year veteran had struggled for the most part through his first five years in the NFL, but he broke out as both a run defender and pass rusher in 2015. He finished with 17 combined quarterback sacks and hits.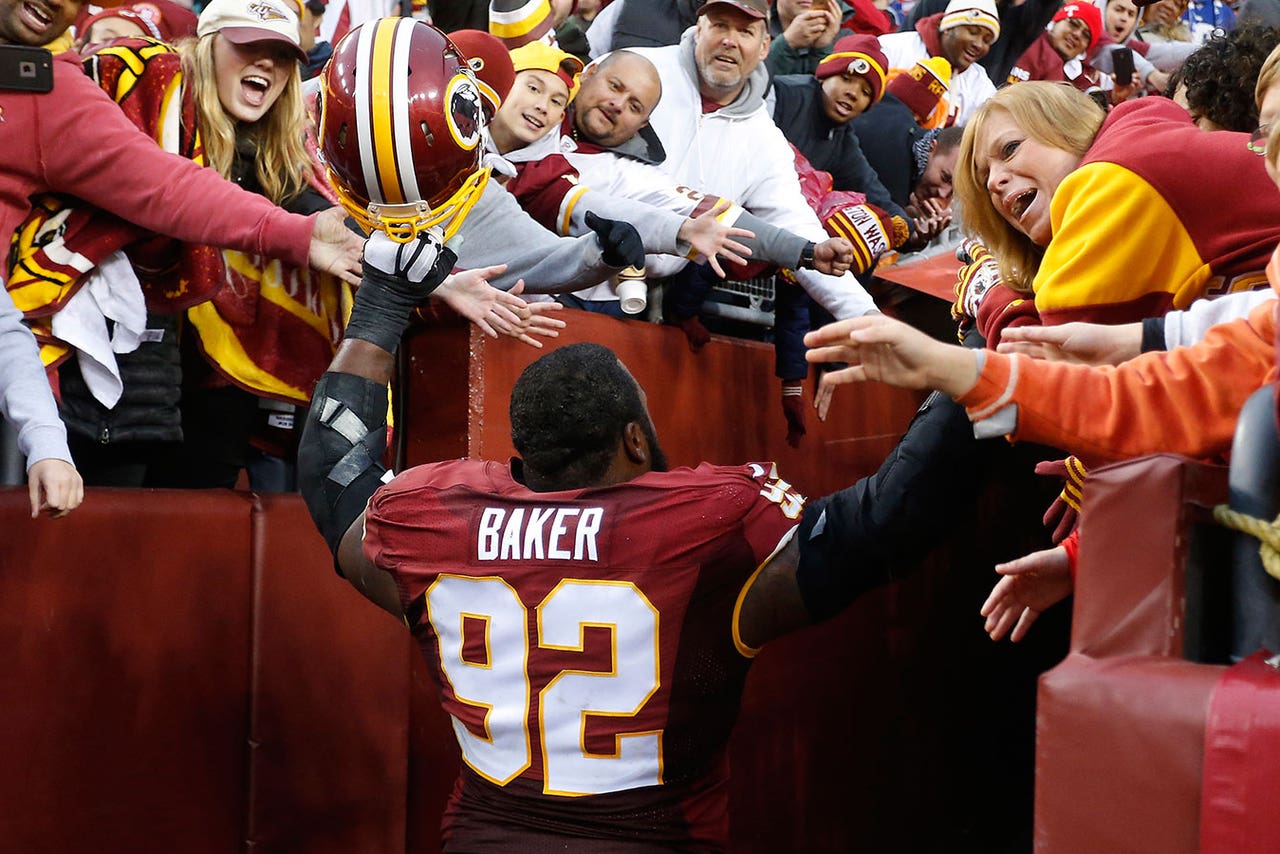 In his sixth NFL season, Redskins interior lineman Chris Baker had a breakout year.
Bennie Logan, defensive tackle
Injury cut Logan's season short in Week 15, but when he was active, he was one of the best run-stopping defensive tackles in the NFL. Logan occupied blockers and created gaps for Cox, Graham and the rest of the Eagles' edge rushers to get up field and rush the passer. Logan, however, struggled to generate any pressure at all -- finishing with just 13 combined quarterback sacks, hits and hurries. It will be interesting to track his transition to a 4-3 defense in 2016.
Johnathan Hankins, defensive tackle
The Giants' third-year defensive tackle was off to another strong season before a pectoral injury shut him down for good in Week 9. Despite playing next to a host of replacement-level talents at defensive tackle and defensive end -- this was before Jason Pierre-Paul returned to action -- Hankins remained a dominant run defender. He earned a positive run defense grade from Pro Football Focus in all but one game this season.
Sean Lee, outside linebacker
After missing the entire 2014 season, the Cowboys' Lee returned with a vengeance, picking right up where he left off when he got injured. Lee made a seamless transition to outside linebacker after playing in the middle his entire career. As he has been throughout his entire career, Lee made the short and intermediate passing game that much more difficult for opposing quarterbacks. He allowed just 346 yards and one touchdown against in pass coverage all season long. Lee has entered the next chapter of his career -- at outside linebacker -- but he remains the same All-Pro talent he has always been.
Sean Lee showed no signs of rust after missing the entire 2014 regular season.
Brandon Graham, outside linebacker
After flashing in a limited role throughout his career, the Eagles decided to offer Graham a lucrative multi-year contract this past offseason. He responded with his best season in his new expanded role. Graham finished with a ridiculous 59 combined quarterback sacks, hits and hurries. Graham should have no trouble transitioning to defensive end in new defensive coordinator Jim Schwartz's 4-3 "wide 9" scheme. He is arguably the second-best pass rusher in the NFC East.
Rolando McClain, inside linebacker
It was a down year for inside linebackers in the NFC East. Giants linebacker Jasper Brinkley flashed as a run-stopper and Eagles rookie linebacker Jordan Hicks flashed in coverage, but neither player eclipsed the 500-snap mark. McClain struggled at first after being reinstated from his suspension in Week 5, but he finished the season strong over the Cowboys' final six-game stretch. Over the past two seasons with the Cowboys, McClain's biggest asset his been his ability to defend the pass.
Bashaud Breeland, cornerback
As a rookie in 2014, Breeland was plagued by his inconsistencies in pass coverage. Following the conclusion of the 2015 season, it's safe to say he took an incredible leap in his second NFL season under new defensive coordinator Joe Barry. Although the Redskins signed Chris Culliver to be their No. 1 outside cornerback, injuries cut his season short -- this allowed Breeland to inherit the role. Breeland allowed just a 56.3 completion percentage against while often matching up with an opponent's top wide receiver. He was also an excellent tackle in the run game, finishing with just six missed tackles on his way to earning PFF's top run defense grade among all cornerbacks.
Dominique Rodgers-Cromartie, cornerback
It wasn't a banner season for the Giants' defense, but veteran cornerback Dominique Rodgers-Cromartie put together another strong showing in pass coverage. Unlike other top cornerbacks, Cromartie didn't move around the formation very often -- he stayed at left cornerback almost exclusively. However, quarterbacks found it difficult to beat him on a consistent basis. He allowed just a 59.5 completion percentage against and a 62.3 passer rating against. He also added four interceptions and allowed just one touchdown against.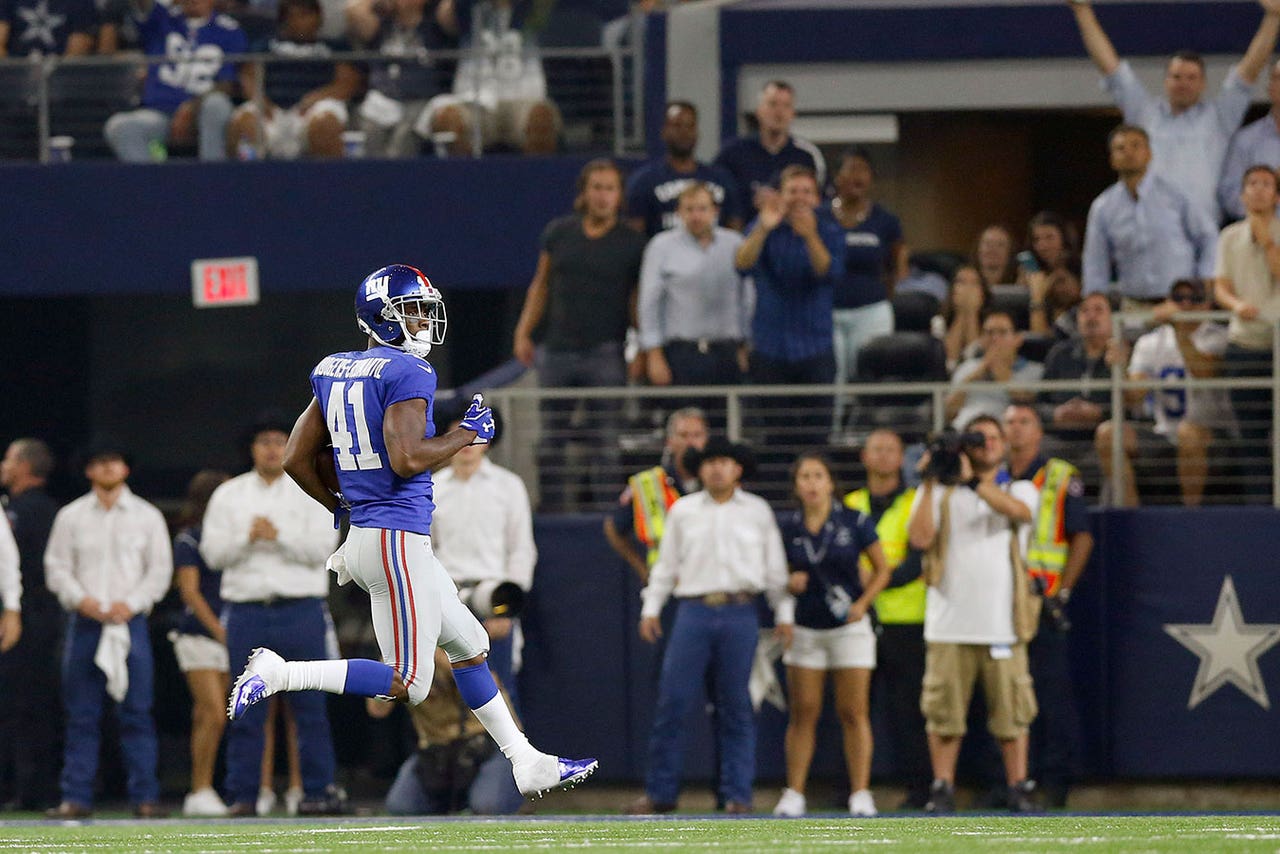 Dominique Rodgers-Cromartie has emerged as the one constant on the Giants' defense.
Malcolm Jenkins, safety
Arizona Cardinals defensive back Tyrann Mathieu wasn't the only defender to dominate while doubling as a safety and slot cornerback. Jenkins evolved as a defender in Billy Davis' scheme in 2015 -- he lined up at safety but also in the slot, at times, when the Eagles moved into their nickel package. Jenkins finished as Pro Football Focus' top-graded safety in the entire NFL, and for good reason. He was excellent against the run -- suring up some of his tackling issues from the past. He did his best work in pass coverage when tasked to defend the slot. Jenkins has emerged as one of the best and most versatile safeties in the NFL.
Walter Thurmond, safety
When the Eagles decided during their first minicamp to use Thurmond at safety, it came as a major surprise. Throughout his career, dating back to his days at Oregon, Thurmond played the cornerback position. This move proved to be one of former head coach Chip Kelly's best decisions. Although he faded down the stretch as the Eagles' pass rush and cornerback play fell off, Thurmond had a solid first season in the NFL at the safety position. He finished with two sacks, two forced fumbles, three interceptions and two additional quarterback hits.
*All stats on quarterback pressures and pass coverage come from Pro Football Focus.
---
---