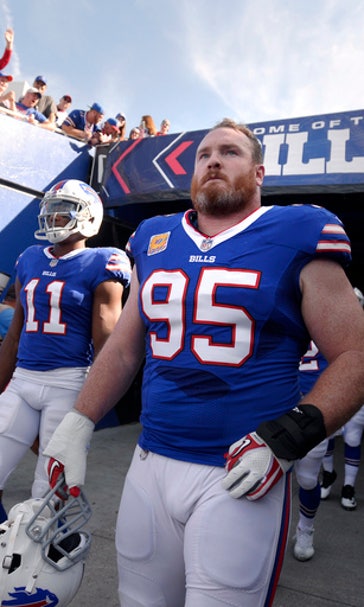 Tank-talk motivates Bills in preparing to host Raiders
October 26, 2017

ORCHARD PARK, N.Y. (AP) Try reminding Jerry Hughes how the Bills were supposed to be tanking in light of how deep their offseason roster purge had become last summer, and Buffalo's top pass-rusher will shake his head in disgust.
''That certainly did (tick) us off,'' Hughes said Thursday, recalling the overriding response after Buffalo traded receiver Sammy Watkins and cornerback Ronald Darby in separate deals on Aug. 11.
''Just to hear the outside noise, people who don't really know this team, don't really know us as individuals, and they were already calling our season a tank.''
Rather than tanking, the Bills (4-2) are rolling in showing great resolve by overcoming a patchwork and thinly experienced roster that opened the season with 29 newcomers.
And they're following the lead of rookie coach Sean McDermott, who spent the week reminding players how they were once discounted as motivation in preparing to host the Oakland Raiders (3-4) on Sunday.
''We don't want to be satisfied with being 4-2,'' Hughes said. ''We understand that the stakes have risen, and so does our game.''
The Bills are succeeding by relying on clutch performances from all three phases, which was particularly evident in a 30-27 win over Tampa Bay last weekend.
The Tyrod Taylor-led offense scored 10 points in the final 2:28, including Stephen Hauschka's 30-yard field goal with 14 seconds left. And the game-winning drive was set up by rookie cornerback Tre'Davious White forcing a fumble by punching the ball out of receiver Adam Humphries hands.
It marked just the third time since 2015 the Bills won by overcoming a fourth-quarter deficit, and first time they did so on their final drive.
''We're trying to change that,'' Hughes said, referring to previous struggles. ''Not really too worried about the past, but how we can move forward and get better.''
The Raiders have much to prove for an altogether different reason. Pegged among the preseason favorites to return to the playoffs, Oakland was in jeopardy of extending its skid to five in a row before pulling out a 31-30 win over Kansas City on Michael Crabtree's 2-yard touchdown catch with no time remaining on Oct. 19.
Phew, coach Jack Del Rio said.
''Never did I appreciate a Thursday night game more than that one because it came quick,'' he said. ''We believe in what we're doing. ... We expect to play better football as we continue to go through the season.''
Some things to look out for as Oakland will stay on the East Coast after facing Buffalo to prepare to play at Miami on Nov. 5:
WINNING STARTS: Buffalo has missed the playoffs the previous three times it opened 4-2 or better during the franchise's 17-year playoff drought. That includes 2008, when Buffalo opened 5-1 before losing eight of its final 10.
The Raiders have a chance to go 4-4 or better through eight games for the third consecutive season, which would mark Oakland's best streak since a five-year run from 1998-02.
BANGED-UP SECONDARY: Buffalo's defensive backfield is limping with the status of starters Jordan Poyer (right knee) and E.J. Gaines (hamstring) uncertain. That's a concern for a unit that's allowed a combined 712 yards passing the past two games and facing Derek Carr, whose 417 yards passing against Kansas City were the second-most of his career.
MINI BEASTS: Raiders will be without running back Marshawn Lynch. He's serving a one-game suspension for running off the sideline during a scuffle and shoving an official. That leaves Oakland relying on a pair of smaller backs: Jalen Richard and DeAndre Washington.
Though the Raiders might miss Lynch's powerful ''Beast-Mode'' runs, Richard and Washington are bigger threats in the passing game.
''We'll be able to spread out the defense, and defenses won't know what's coming,'' Richard said.
INSIDE OUT: Held to nine catches for 51 yards during Oakland's four-game skid, receiver Amari Cooper had a breakthrough performance against the Chiefs. He caught 11 passes for 210 yards and two touchdowns in the second-most prolific receiving game in franchise history.
Some of that production came from a wrinkle on offense that put Cooper in the slot more often than usual to get better matchups.
BOWMAN'S BOOST: Linebacker NaVorro Bowman figures to have a better understanding of Oakland's defense than he did in his debut last week.
Four days after signing with Oakland after being released by San Francisco, Bowman played 60 of 62 snaps, led the team with 11 tackles, and delivered a big hit on Alex Smith to force a punt in the fourth quarter.
''I didn't want to let them down, and I also wanted to step up to the challenge,'' Bowman said. ''With me having this full week of preparation I look to get better at the calls and the defense.''
---
AP Pro Football Writer Josh Dubow, in Alameda, California, contributed to this report.
---
More AP NFL: www.pro32.ap.org and www.twitter.com/AP-NFL
---
---