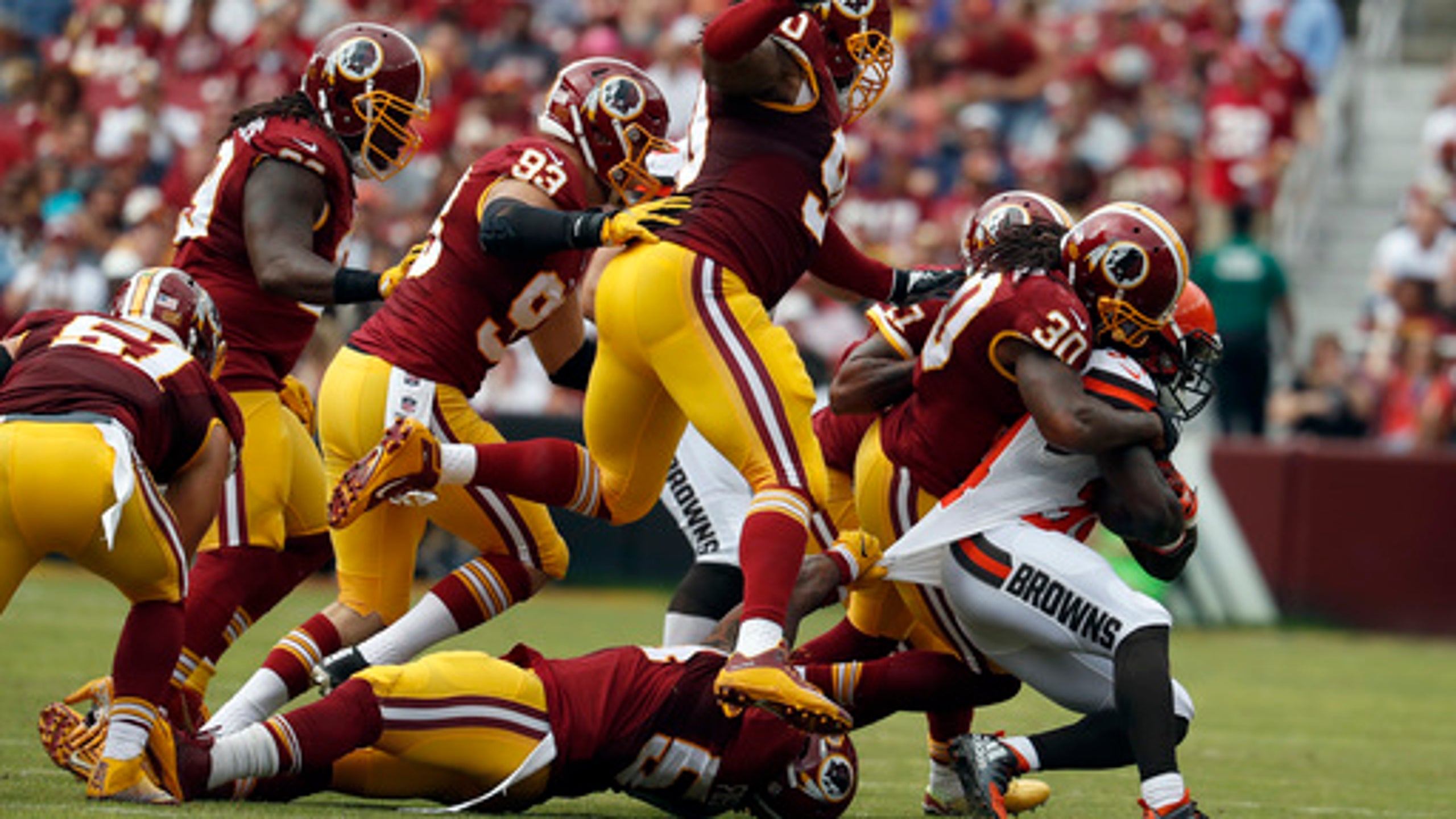 Tackling woes, 3rd-down defense problems plaguing Redskins
BY foxsports • October 3, 2016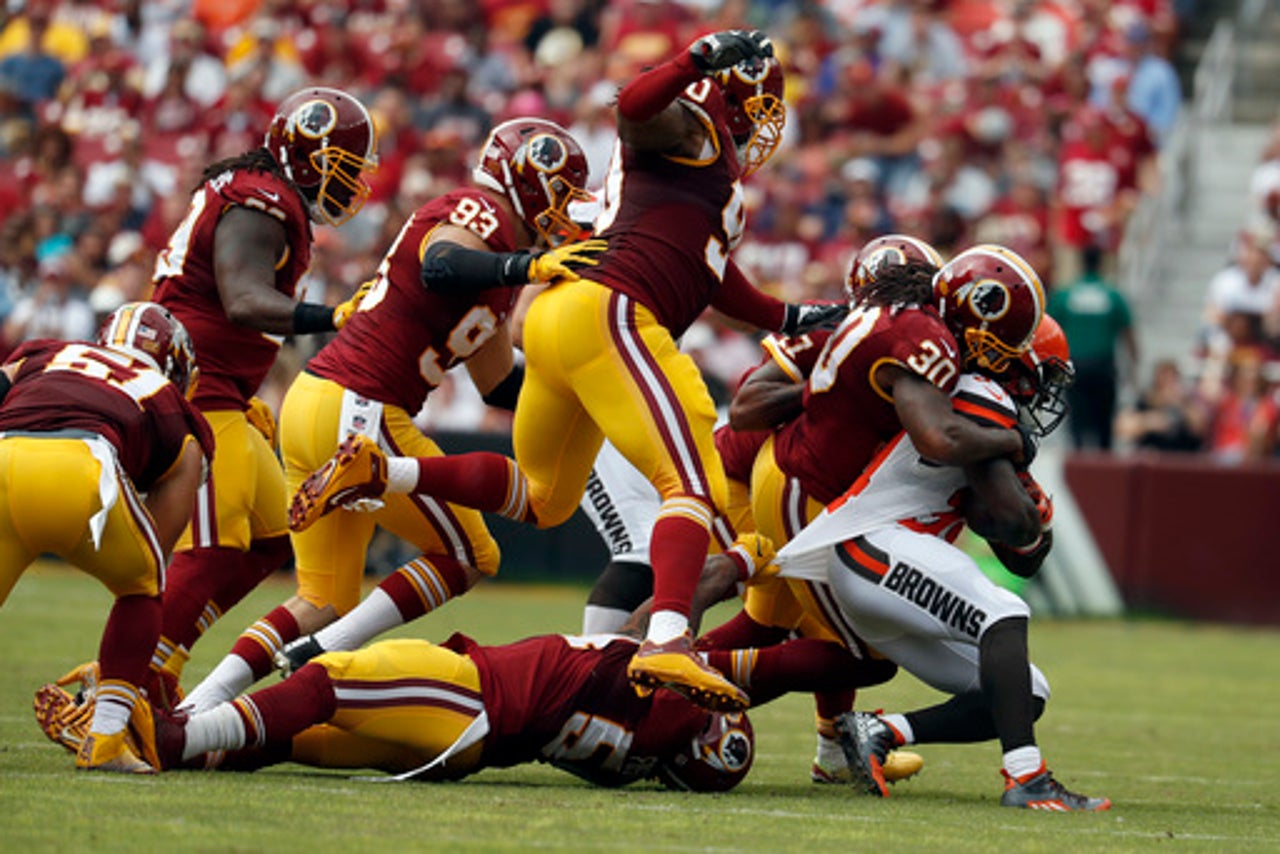 ASHBURN, Va. (AP) Forcing three second-half turnovers helped the Washington Redskins get back to .500 after a 0-2 start and masked a whole host of problems plaguing the defense this season.
Injuries to several starters, tackling woes and third-down inefficiency are among the top issues going into this week's game at the Baltimore Ravens. The Redskins may get back linebacker Ryan Kerrigan and cornerback Bashaud Breeland, but whoever's on the field will have to wrap up opponents better than against Cleveland.
Coach Jay Gruden counted 11 missed tackles in Sunday's 31-20 victory over the Browns, more than a few of which came in crucial situations as Washington fell to last in the NFL in third-down defense. The Redskins are allowing conversions on third down 57 percent of the time, and Gruden wants that mark at 35, especially important with a veteran quarterback up next in the Ravens' Joe Flacco.
''We're not even close right now,'' Gruden said. ''It's an issue. We have to get better on third down. These teams that we play are very good coming up. Baltimore is an excellent team, Flacco, and we're going to have to get better on third down.''
So far the Redskins have tried a little bit of everything with man-to-man and zone coverages and haven't managed to solve the problem. The lack of a consistent pass rush hasn't helped.
''We're just going to continue to mix it up and do some things and hopefully get more pressure on the quarterback and cover better,'' Gruden said. ''That's all we can do.''
Tackling in the open field would be a positive step, too. Browns running back Isaiah Crowell picked up many of his 115 yards after contact, and Redskins players took responsibility. Defensive end Ricky Jean Francois said the Redskins showed a ''lack of fundamentals - and that's on the players, not the coaches.''
This week will include film study and talk about tackling. Gruden isn't sure if players are ducking their heads too much but is confident players will make the necessary adjustments.
It'll be an automatic improvement if the Redskins get back Kerrigan, who left the Browns game with a hyperextended left elbow, and Breeland, who sat out with a left ankle injury. Gruden said they're day to day and that safety David Bruton and linebacker Su'a Cravens are in concussion protocol after getting knocked out of the game.
Safety DeAngelo Hall (torn ACL) and nose tackle Kedric Golston (strained hamstring) are already out for the season, but the other injuries left the Redskins in no man's land, unsure of who will be able to play.
''These injuries are tough because they could be OK,'' Gruden said. ''You'd hate to bring in a bunch of new people and have to make roster changes when these guys might be OK to play. That's the biggest problem with them right now. I think in-house we're OK right now without having to bring anybody else in unless we get worse news on some of these injuries.''
Some stability would help on that front, especially in red-zone situations and in run stopping, where the Redskins have struggled.
For all their problems, the Redskins are 2-2 after games against the Pittsburgh Steelers, Dallas Cowboys, New York Giants and Browns. And they have an awareness that things are far from rosy at the quarter mark of the season.
''We've got to play better,'' linebacker Will Compton said. ''Fortunately we're 2-2. Our ceiling is way higher than what we've had in seasons past.''
NOTES: Gruden expects guard Shawn Lauvao to practice mid-week after missing the Cleveland game with an ankle injury. ... Rookie receiver Josh Doctson is going through ''his gradual progression of rehab'' on a left Achilles tendon injury, according to Gruden. ... Dr. James Andrews performed surgery on Hall to repair the torn ACL in his right knee on Monday.
---
AP NFL website: www.pro32.ap.org and www.twitter.com/AP-NFL
---
---