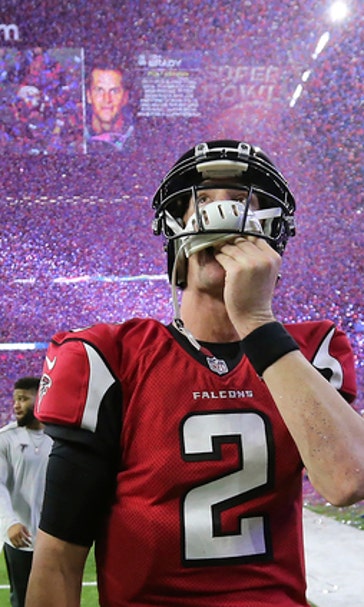 Super Bowl reminders abound ahead of Pats, Falcons rematch
October 19, 2017

FOXBOROUGH, Mass. (AP) The score 28-3 will forever live in infamy for the Atlanta Falcons.
For the New England Patriots it's a shining symbol.
That's the 25-point deficit they overcame this past February on their way to posting the largest comeback win in Super Bowl history . In the first Super Bowl that went to overtime.
For the Falcons it represents the seemingly insurmountable lead they squandered on the NFL's biggest stage.
One game. Two realities.
As the teams prepared for Sunday night's rematch, their approaches were as different as the feelings they left the field with eight months ago.
The Patriots (4-2) tried their best to downplay the historic victory, which has spawned countless internet memes, commemorative T-shirts, and endless jokes at the Falcons' expense.
''We've been given really highly strict rules that we are not allowed to talk about that game, so you're not really going to get any information from anyone about that,'' said tight end Rob Gronkowski, who sat out the game following back surgery late last season. ''I'm just looking forward to this week.''
James White, one of many heroes in helping New England secure its fifth championship ring, was equally coy.
''I put the same pressure on myself every week, no matter who we're playing,'' he said.
The Falcons (3-2) have no desire to relive that night, of course, though they are aware of its presence as they head into New England. Atlanta coach Dan Quinn acknowledged the topic has come up on a few occasions since his team trudged off the field in Houston.
''Maybe three or four times,'' he said.
After a grating loss like that, quarterback Matt Ryan said, ''it's always going to be a part of you.''
''That's every athlete, right?'' he said. ''There's things throughout your life that motivate you to be the best player that you can be, that get you out of bed in the morning. For sure, from a big-picture standpoint, you use all those things as motivation.''
Here are some things to watch for on Sunday:
MAKING IMPROVEMENTS: The Patriots enter Sunday coming off back-to-back wins, but they have hardly looked like the defending Super Bowl champions . Cracks have shown everywhere, from a defense that ranks last in the league in yards allowed and passing, to an offensive line that has already allowed Tom Brady to be sacked 16 times.
But they are making progress. The defense produced a pair of turnovers in last week's win over the Jets, and held its second straight opponent to less than 20 points. New England entered that game allowing 28.4 points per game.
RYAN'S SLUMP: Ryan is far off the numbers he produced during his MVP season . Most notably, he's got six interceptions - one fewer than he had all of 2016 - and he's thrown touchdowns on 3.5 percent of his pass attempts, less than half of the 7.1 percent scoring rate from a season ago.
In particular, the Falcons must get All-Pro receiver Julio Jones more involved in the offense. He has yet to catch a touchdown pass through the first five games, matching the second-longest scoring drought of his career. This would seem an opportune week for Ryan and Jones to get going. The Patriots have allowed by far the most passing yards in the league - more than 300 yards in every game for an average of 325 that is 29 yards more than the next-worst team.
TURNOVER MARGIN: The Falcons rank near the bottom of the league in turnover margin. They've given up the ball seven times, while forcing only three turnovers from their opponents. New England, on the other hand, ranks among the top 10 with a plus-3 margin.
GREATEST EVER: Atlanta's first-year defensive coordinator knows he'll have his hands full trying to stop Brady and the Patriots' offense.
Marquand Manuel calls Brady ''the best to ever play the game,'' admiring his ability to keep winning championships with an ever-changing cast around him. ''It doesn't matter who lines up with him,'' Manuel said. ''The consistency he plays with, I know he does it in practice, because you see it on Sunday.''
Manuel also got a firsthand look at the intangible quality that allowed Brady to lead the Patriots back when they faced that 25-point deficit in the second half against the Falcons. ''Regardless of what the circumstance is, regardless of how many times you hit him, he has never quit,'' Manuel said.
---
AP Sports Writer Paul Newberry in Atlanta contributed to this report.
---
For more NFL coverage: http://www.pro32.ap.org and http://www.twitter.com/AP-NFL
---
Follow Kyle Hightower on Twitter at http://www.twitter.com/khightower
---
---