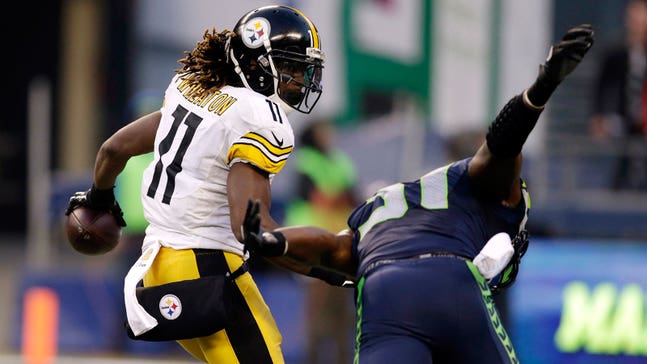 Steelers' Wheaton doesn't think big game was a fluke
Updated
Mar. 4, 2020 8:09 p.m. ET

PITTSBURGH (AP) Markus Wheaton had become the forgotten man in the Pittsburgh Steelers passing game until last Sunday.
Seemingly out of nowhere, he had the biggest game of his three-year career, catching nine passes on 13 targets for 201 yards in a 39-30 loss to the Seahawks at Seattle. All career bests.
Wheaton had just 16 catches for 273 yards in the first 10 games, being targeted just 32 times, while playing in the shadow of fellow wide receivers Antonio Brown and Martavis Bryant.
So it's not clear whether the performance was an outlier or if the Steelers have found another star.
Wheaton is optimistic that his performance is the beginning of bigger things.
''Anyone can break out at any time,'' he said. ''It could happen to (reserve wide receiver) Sammie Coates if he had to come in. For me, it's about staying on my assignments, blocking when I have to block and catching the ball when it does come to me.''
Wheaton says he feels he's been consistent but easy to overlook because he hasn't caught many passes.
Steelers coach Mike Tomlin, though, wasn't so impressed by Wheaton's star turn. He attributed it more to the Seahawks' celebrated Legion of Boom secondary paying closer attention to Brown and Bryant, who line up wide while Wheaton handles the slot.
Furthermore, a rib injury that forced tight end Heath Miller to leave the game in the second quarter also opened up routes in the middle of the field for Wheaton. Twelve of his targets came after Miller exited.
''When you're playing a team like that, if they're matching (cornerback) Richard Sherman, then other guys not named Antonio Brown are going to have opportunities, and that's what it's about,'' Tomlin said. ''Let's not make too much out of that. Markus did a nice job, no question.''
Wheaton, the Steelers' third-round draft pick in 2013, had never had a 100-yard receiving game, tough he did have 53 receptions last season for 644 yards.
Moved inside to the slot this year, Wheaton hasn't had many balls thrown his way. Offensive coordinator Todd Haley admits the Steelers haven't had as many opportunities to get Wheaton involved this season.
While wide receivers have a reputation for being divas, especially when they aren't getting what they feel are a fair share of targets, Haley is impressed with how Wheaton has handled the situation.
''Everybody can't handle that,'' Haley said. ''You have one of the best in the league that you need to be targeting a bunch, a guy who makes a lot of plays, and the guys who aren't getting it for chunks of time have to stay mentally tough and sharp. Markus has been doing that. Even though he's a young guy, he's showing a lot of signs of being a true pro.''
Staying prepared kept Wheaton sharp when his time came last week. How many targets he will get this Sunday night when the Steelers host the Indianapolis Colts in a matchup of 6-5 teams remains to be seen but Wheaton says he will stay ready.
''No matter what position, you have to think like that,'' he said. ''Just playing football you have to think like that whether you're a linebacker playing special teams or a receiver in my situation. You always have to be ready for your time to come.''
NOTES: QB Ben Roethlisberger was a full participant in practice Wednesday after being removed from the NFL's concussion protocol. He was struck in the head late in last week's 39-30 loss at the Seattle Seahawks and eventually left the game. . LB Ryan Shazier, who also suffered a concussion against the Seahawks, was a limited participant in practice as was LB Sean Spence (hamstring). . Miller, Bryant (hip), LB James Harrison (knee), S Mike Mitchell (knee) and TE Matt Spaeth (knee) did not practice.
---
AP NFL website: www.pro32.ap.org and www.twitter.com/AP-NFL
---
---