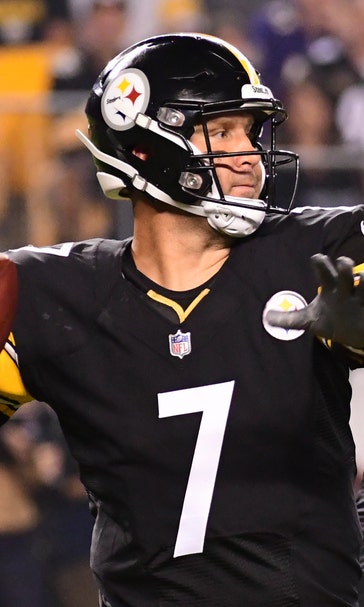 Steelers offense sputters in second half against Ravens
October 1, 2018
PITTSBURGH (AP) — The Pittsburgh Steelers can't blame their latest loss on a struggling defense.
The Steelers defense kept Baltimore out of the end zone in the second half, but Ben Roethlisberger and the offense struggled to find rhythm as Justin Tucker kicked four second-half field goals, leading the Ravens to a 26-14 victory on Sunday night.
"I just didn't make enough plays," Roethlisberger said. "I'll take ownership on this game. I just wasn't good enough."
Roethlisberger led the offense from a 14-point hole and threw for 224 yards in the first half. The Steelers offense managed just 47 yards in the second half, and converted 2 of 12 third downs in the game as Roethlisberger finished 27 of 47 for 274 yards with a touchdown and an interception.
"I didn't make enough throws and we didn't convert first downs," Roethlisberger said. "We were terrible on third downs and that's on me."
The Steeler defense allowed Kansas City's Patrick Mahomes to throw for six touchdowns in Week 2, while Tampa Bay's Ryan Fitzpatrick threw for more than 400 yards last Monday.
The Steelers (1-2-1) struggled defensively at the outset against Baltimore (3-1) as the Ravens held a 14-0 lead less than seven minutes into the game. They settled down and allowed four Tucker field goals the rest of the way, but it wasn't enough.
"We were able to tie it up at half and the score was 0-0 to me," defensive end Cam Heyward said. "We didn't get off the field and our offense didn't score. When we do that and don't get off the field, it's not a good recipe for success."
Quarterback Joe Flacco completed 28 of 42 passes for 363 yards, with TD passes to John Brown and Alex Collins as the Ravens ended a three-game losing streak to their AFC North rivals. Tucker accounted for all the scoring after halftime as Baltimore ended Pittsburgh's long run of success on Sunday nights.
Pittsburgh came in having won nine straight Sunday night appearances, a streak that included a pair of victories against the Ravens. Baltimore brought Pittsburgh's run to an abrupt end by shutting down Roethlisberger and the Steelers in the second half. The Ravens have allowed just nine points after halftime in four games.
Roethlisberger threw for more than 500 yards and led four fourth-quarter scoring drives the last time the Steelers met the Ravens a Heinz Field. He tossed a memorable ball-over-the-goal-line extension touchdown to Antonio Brown that secured a division title for the Steelers on Christmas night in 2016.
Flacco and the Ravens started strong on Sunday. Flacco completed his first six passes for 73 yards and two touchdowns, as he led the Ravens on an 8-play, 75-yard scoring drive and quickly capitalized on a Steelers' turnover.
Brown caught the Ravens' first touchdown with Joe Haden and Cam Sutton giving chase on the 33-yard deep pass. Ravens' S Tony Jefferson ripped the ball from tight end Vance McDonald's grasp, and Flacco tossed a 3-yard swing pass to Collins three plays later.
The Ravens looked like they were going to add to their lead following a Chris Boswell 34-yard field goal.
Brown beat Terrell Edmunds on a 71-yard deep ball, but the Steelers' rookie first-round pick recovered a Collins fumble on first-and-goal from the 2-yard line three plays later. It was the first time the Ravens didn't score a touchdown in the red zone this season, going a league record 13-of-13 in four games.
It also briefly swung momentum in Pittsburgh's favor as Roethlisberger led the Steelers back from the early deficit.
Antonio Brown, who caught five passes for 62 yards, scored his second touchdown in as many weeks following a Boswell 39-yard field goal. The 2-point conversion to James Conner evened the score.
But then, Flacco and the Ravens took over.
Tucker kicked a 47-yard field goal on the Ravens' second possession of the second half, and then ended two clock-churning drives, spanning more than 11 plays and six minutes with field goals of 49 and 28 yards, increasing it to a 23-14 lead with less than four minutes to play.
"They drained the clock on us," Heyward said. "Whether it was quick passing on the outside or over the middle, we have to get better."
Tucker's final field goal, a 31-yarder, came four plays after a Roethlisberger interception.
"I don't think I'm on the same page as anybody right now because I'm not playing well enough," Roethlisberger said. "Today was just a bad day at the office. We've all had them. I had one today and I promise I'll be back to play better."
---
---