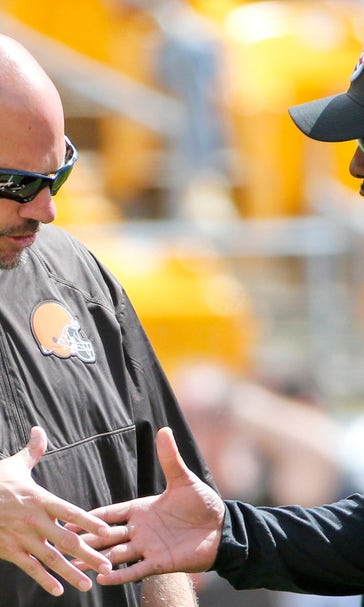 Steelers-Browns Preview
BY foxsports • December 30, 2015
After their playoff chances suffered a colossal hit against a struggling rival, the Pittsburgh Steelers have to avoid making that mistake two weeks in a row.
No longer in control of their destiny, the visiting Steelers look to do their part to reach the postseason by recording their 28th victory in 32 meetings with the woeful Cleveland Browns on Sunday.
Pittsburgh needed a road victory over Baltimore and a loss by the New York Jets to New England last weekend to secure a postseason berth for the second straight season.
Stunningly, neither happened. The Steelers (9-6) had their 10-game December winning streak snapped in a 20-17 loss to the injury-ravaged Ravens and the Jets upset the Patriots in overtime to move into the sixth and final seed in the AFC playoff chase.
Pittsburgh now needs to win at Cleveland and have Buffalo upset New York to reach the playoffs for second straight season and sixth time in coach Mike Tomlin's nine years.
"We just have to put all of our focus on this game and control what we are able to control," tight end Heath Miller told the team's official website. "That is going to Cleveland and trying to get a win versus the Browns and see what happens there. We just have to put all of our efforts into this game."
Ben Roethlisberger will have to lead that charge after he threw for 215 yards and two interceptions last Sunday, posting a 62.7 rating that's his second-lowest of the season. He has been turnover prone with five picks in his last three.
The four-time Pro Bowler has thrown five interceptions in his last four meetings with Cleveland, though the Steelers are 19-2 in the series when Roethlisberger has played. He's thrown 28 touchdowns and 10 picks in his last 17 against the Browns.
Roethlisberger came on in relief of Landry Jones against Cleveland on Nov. 15, going 22 of 33 for 379 yards with three scores and one interception in a 30-9 home win. Antonio Brown had 10 catches for 139 yards and two touchdowns, giving him 31 receptions for 460 yards and three scores in his last four matchups.
DeAngelo Williams was a bright spot last weekend with 100 rushing yards and two touchdowns. He'll face a Cleveland team that ranks 29th in the NFL with 26.9 points allowed per game and last with 135.0 rushing yards allowed.
''It's less about the nameless gray faces that we play this week that happen to be the Browns,'' said Tomlin, whose team has lost seven of its past 11 against sub-.500 opponents. "It's more about us getting rightly focused and getting back on track."
After scoring 13 points each time in consecutive losses at Seattle and Kansas City, the Browns (3-12) have dropped 17 of 20. That's led to further speculation this week that coach Mike Pettine might not be back for a third season.
''I have a job to do, and the job is to prepare this team as well as I can to play the Pittsburgh Steelers,'' Pettine said. ''I don't get caught up in that.''
Embattled quarterback Johnny Manziel's future is also uncertain. He went 13 of 32 for 136 yards and one interception last Sunday, though he rushed for 108 yards - the most by a quarterback in team history - in nearly leading a comeback victory.
Manziel, however, will almost certainly not play against the Steelers after entering the league's concussion protocol Wednesday. He complained of concussion-like symptoms this week, and because it typically takes several days for symptoms to subside, it's highly unlikely Manziel will be cleared in time to play Sunday.
Austin Davis would get the nod instead. He went 25 of 38 for 230 yards and an interception in a 37-3 home loss to Cincinnati on Dec. 6.
The Steelers have struggled against the pass, ranking 30th with 278.2 yards allowed per game. They're tied for fourth with 41 sacks, but only three have come in the past two games.
---
---